Walmart's Dividend Growth and Yield Are Nothing To Brag About, But…
It's time for a Walmart stock analysis. Why? Because I have been asking myself if Walmart is still a good dividend stock.
Or, has Walmart's dividend growth become an afterthought to company management?
So let's assess the stock and its dividend. By completing a Walmart stock analysis. Let's see what we can uncover about dividend growth, dividend safety, stock valuation, and more.
Most noteworthy, Walmart is a long-time member of our Dividends Diversify model dividend stock portfolio.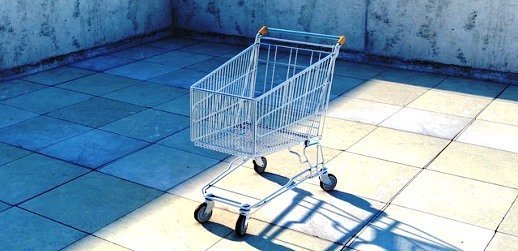 Disclosure: At no cost to you, I may get commissions for purchases made through links in this post.
Let's get started by answering some key questions. Then, dig into the details that support the answers.
Is Walmart A Good Dividend Stock?
I do not consider Walmart a good dividend stock. Just my humble opinion, but today's stock analysis reinforces my view.
Why is Walmart no longer a good dividend stock? First, its dividend yield is too low for a portfolio of stocks paying regular income. We know Walmart's dividend yield is usually less than 2%.
Furthermore, annual dividend growth is slow, also about 2%. And management allocates a significant amount of cash to share repurchases. Rather than dividend increases.
But, from my dividend investor's perspective, Walmart has a couple of redeeming qualities. What are they?
For one, limited investment risk. Also, a high degree of dividend safety. Because I'm quite certain future dividend payments from Walmart are safe and secure from a possible reduction.
Finally, managing investment risk is important if you want to retire on dividends. And Walmart scores high as a low-risk dividend stock.
Is Walmart A Good Stock To Buy And Hold Long-Term?
Now, let me broaden my investment perspective. Once I do so, I consider Walmart in a group of good stocks to buy and hold long-term.
First, I believe Walmart is meeting the challenges of competing at a high level for e-commerce revenue. Furthermore, they have reinvented themselves to become an omnichannel retailer. Finally, their operational expertise, scale, and financial backing are forces their competition will have to deal with for years to come.
Most importantly, when I look back over recent bear markets, Walmart stock has been one of my best performers. First, during the financial crisis of 2008-2009. And more recently, during the short but steep bear market of 2020.
I like having 1 or more holdings in my dividend stock portfolio with a stable track record of performance during difficult economic times. And Walmart has proven that not just once but twice over my long-term stock holding period.
Thus, for me, it's one of those stocks to buy, hold and forget about. Perfect for an IRA where long-term investing is important.
Have you been thinking about opening an IRA? If yes, don't delay planning for your future.
Is Walmart Stock A Buy Now?
Finally, you may be interested if I think WMT is a buy or sell.
Unfortunately, Walmart stock does not appear to be a good buy now.
My opinion is not based on traditional valuation metrics. For my investments, the current dividend yield and projected dividend growth combination aren't attractive.
So, I consider Walmart stock a solid long-term "hold" in my portfolio. And a buy only on significant price dips that will cause the dividend yield to rise.
Finally, we can always hope that management will loosen up their purse strings and allocate more cash to dividend increases in the future. But hope is not one of the best dividend portfolio-building tips I have to offer!
What Is Walmart's Stock Symbol?
Walmart trades on the New York Stock Exchange under the ticker symbol WMT. (NYSE: WMT)
Most importantly, be sure to keep your investment costs low. Furthermore, buy and sell your dividend stocks for free.
I use the Webull app to do so. It's fast and easy to use. Plus, has some excellent research capabilities.
Best of all it's free to sign up and offers zero-commission trades. You can learn more about Webull here.
Next, a little background on this big company…
Walmart Company Background
Walmart is an American multinational retail corporation. They operate a chain of hypermarkets, discount department stores, and retail grocery stores including Sam's Club retail warehouses.
The company has thousands of stores and clubs in dozens of countries. Plus a robust online presence.
Headquartered in Bentonville, Arkansas, Walmart was founded by Sam Walton in 1962. And was incorporated on October 31, 1969.
Source: Wikipedia
Walmart Operating Segments
Walmart does business through 3 operating segments.
Walmart U.S.
First, Walmart U.S. is the largest segment and operates retail stores in the 50 United States, Washington D.C., and Puerto Rico. They have 3 primary store formats plus digital retail through Walmart e-commerce.
The U.S. segment has historically contributed the greatest share of company sales and operating income.
Walmart International
Walmart International is the second largest segment, and consists of operations in dozens of countries outside the U.S. International operations include numerous store formats and digital retail.
Sam's Club
Sam's Club consists of membership-only warehouse clubs and operates in most of the United States, Puerto Rico, and internationally. This segment also offers digital retail for customers.
Sam's Club accounts for the smallest portion of net sales. As a membership-only warehouse club, membership income is a significant component of the segment's profit.
Walmart Business Strategy
Walmart believes that price, access, assortment, and experience drive a customer's choice of retailer. Historically, Walmart led on price and assortment.
However, retail environments are more competitive today. Especially with the increasing demand for e-commerce shipments to our homes.
So to win, Walmart strives to
Lead on price
Invest in better customer access
Be competitive on assortment
Deliver a great customer experience
They want to understand not only what their customers want and need but also where they want it and how they want to experience it.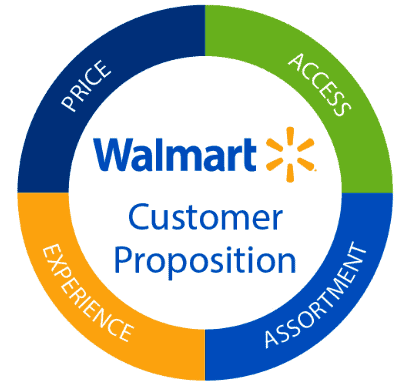 My Personal Experience With Walmart's Customer Proposition
I have never been a big fan of Walmart's in-store experience. Large, congested parking lots and stores to navigate. And battleship-style shopping carts. This has never been my favorite way to spend time.
In contrast, I like the low prices for commodity goods and brand-name products. Because of this, I am willing to put up with the inconvenience to save money in-store from time to time.
I have only ordered online from Walmart on a few occasions. The online experience was pretty smooth, and the product arrived quickly with free shipping.
On the other hand, I wanted to return a product purchased online because it did not meet my needs. The product had a no-return policy. I wasn't exactly sure why.
I speculated it was due to the product being directly shipped from the manufacturer. It was a small purchase, so I didn't let it bother me.
Ultimately, the question is whether Walmart can compete effectively with Amazon for online sales. Only time will tell.
That's enough about my Walmart shopping experiences. I'm an investor. Not much of a shopper.
So let's return to the Walmart stock analysis with a special focus on Walmart's dividend. Because I want to cover everything we need to know about the dividends paid by Walmart…
The Walmart Dividend
First of all, the company pays an annual forward dividend.
The annual forward dividend is the last dividend payment approved by the company. Multiplied by the number of times a company pays dividends each year.
By taking the forward dividend divided by the stock price we get dividend yield…
Walmart Dividend Yield
The Walmart dividend yield is a little low for my taste. I prefer a dividend yield between 3 and 5%.
When a stock's dividend yield is as low as Walmarts, I like to see higher dividend growth in the range of 7-9%. Otherwise, the dividends become irrelevant to me.
We will get to Walmart's dividend growth shortly.
But first, a couple of other questions and answers about the Walmart dividend.
How Often Does Walmart Pay A Dividend?
Walmart pays its dividend 4 times per year. But they do not follow a typical quarterly dividend payment pattern. Since dividend payments are not made in 3-month intervals like most U.S.-based companies.
In What Months Does Walmart Pay Dividends?
Walmart pays dividends in the following months. Dividends start in January and typically continue in April, June, and September.
What Is The Ex-Dividend Date For Walmart Stock?
Do you want to receive Walmart's next dividend payment? Then, you must complete your Walmart stock purchase before the ex-dividend date.
Walmart's ex-dividend date usually falls in the middle of the month before it pays a dividend. Since the date varies, it's good to check Walmart's dividend history on its investor relations website. There you will find the exact ex-dividend date for each quarterly payment.
Here is another interesting point about Walmart's dividend payment pattern and practices. They typically declare and approve all 4 quarterly dividend payments at the beginning of the year.
In contrast, most United States-based dividend stocks declare and announce each quarterly dividend payment individually. And do so as the year progresses.
Walmart Dividend History
Walmart has a dividend history rich in achievement.
They declared their first annual dividend in 1974. And have increased their annual cash dividend every year since then.
Walmart Is A Dividend Aristocrat
This represents a remarkable streak of annual dividend increases. It qualifies the company as a Dividend Aristocrat.
Aristocrats are companies trading in the S&P 500 stock index. Also, they have paid and increased their dividends for at least 25 consecutive years.
Furthermore, I am quite certain Walmart will become a Dividend King.
Dividend Kings are rare and special companies. They have increased their dividend payouts for at least 50 consecutive years.
Both Kings and Aristocrats are excellent options. For any investor looking to make reliable and consistent income from dividends.
But, I promised I would get to Walmart's dividend growth rate. Let's see what that looks like now.
Walmart Dividend Growth Rate
Walmart's dividend growth rate is quite low. This is not what I like to see when Walmart stock also has a low dividend yield.
In chart 1, check out how the Walmart dividend growth rate flatlined. Prior to 2014, the Walmart dividend grew rapidly.
But the flat slope to the annual dividend rate line indicated in the chart and starting in 2014 tells a different story. Specifically, management reduced Walmart's dividend growth dramatically.
Chart 1: Historical Walmart Dividend Growth Rate in Dollars Per Share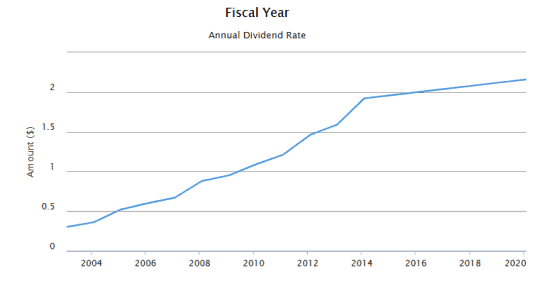 Next, let's transition from dividend growth to business fundamentals.
Walmart Revenue
Walmart's business strategy states it well. Competition in the retail environment is challenging with the likes of Target, Walgreens, Aldi, and others competing for the same customers.
The competition has taken a toll on Walmart's revenue growth. Revenue finally started to grow slowly in fiscal years 2018 and 2019. But the growth rate only amounted to about 2-4% per year.
Then, in the fiscal year 2021, Walmart benefited from the global health crisis. And the trend of spending more time cooking and relaxing at home that came with it. Also increased online shopping. For which Walmart was well-positioned.
On the other hand, it's very hard to grow revenue rapidly based on their current size. Because Walmart is one of the largest companies in the world as measured by annual revenues. Thus, I expect only small annual revenue gains moving forward.
Let's move back to the dividend and look at payout ratios…
Walmart Dividend Payout Ratio Based On Earnings
Several one-time factors pressured Walmart's earnings per share in the past. They included:
With those one-time charges out of the way, subsequent years provide a normalized view of Walmart's profitability. And a better view of Walmart's dividend payout ratio.
I see a dividend that is well covered by earnings. Specifically, the Walmart dividend payout ratio based on earnings has been running at a moderate and sustainable level.
Walmart Dividend Payout Ratio Based On Cash Flow
Next, let's check Walmart's dividend payout ratio against free cash flow.
I know Walmart makes significant investments in technology to compete with Amazon. And they spend additional capital on stores to improve the customer in-store shopping experience.
All of those expenses and capital expenditures take cash. And our dividends are paid from the cash that is left over.
Fortunately, Walmart generates ample free cash flow. Furthermore, management has maintained the Walmart dividend payout ratio based on that cash flow at a conservative level.
Walmart uses the rest of its free cash flow to buy back stock, pay down debt, and improve its liquidity position.
I have no issue with the use of cash to reduce debt. On the other hand, I would prefer to see some of the cash allocated to share buybacks go toward larger dividend increases.
My review indicates that Walmart has the capacity for larger annual dividend increases. However, they choose not to follow through with them.
Walmart Dividend Policy
A company, like Walmart, that has paid increasing dividends for nearly 50 years has a dividend policy. However, I have not seen formal communications from the company regarding the elements of that policy.
By looking at Walmart's dividend history, I can put the Walmart dividend policy in my own words. Here it is…
Walmart has plans to pay dividends each year. And they intend to increase the dividend rate per share each year by at least a small amount.
Beyond those 2 conclusions, I can not speculate further. So, that leads me to my Walmart dividend growth rate forecast.
Walmart Dividend Growth Rate Forecast
I get no indication from reading Walmart's investor materials that they plan larger dividend increases in the near future.
My best forecast is that Walmart's future dividend growth will be similar to recent years. So, I am going to use a 2% Walmart annual dividend growth rate for my income planning and Walmart stock valuation purposes.
Walmart Financial Position
As previously mentioned, Walmart often uses its free cash flow to reduce debt. So, debt to equity checks in at a very reasonable level.
Plus they typically have a large chunk of cash sitting on their balance sheet. To cover upcoming debt payments if need be.
Furthermore, Moody's and S&P give strong investment grade credit ratings at the time of publication.
Credit Rating Evaluation Grid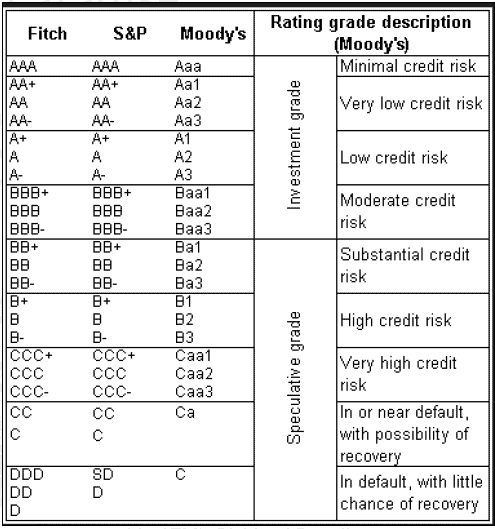 It is rare for a company to be rated much higher than Walmart. The diversified health care company Johnson & Johnson and tech giant Microsoft are the only 2 US-based companies with AAA credit ratings.
To conclude, Walmart has a strong balance sheet and high credit ratings. Thus, I conclude their financial position is very strong.
My conclusion on the company's financial position naturally leads me to thoughts on dividend safety.
Walmart Dividend Safety
I judge Walmart's dividend to be very safe from a reduction for the foreseeable future. I make this assessment based on:
Walmart's dividend payout ratio
Excellent financial position
Stable business model
Next, let's look at Walmart's stock valuation. Then, I will wrap up.
Walmart Stock Analysis: Stock Price Valuation
First, note the valuation analysis below is as of the date of this article update. Furthermore, valuation can change quickly. Based on moves in the stock price or shifting business fundamentals.
For all the latest dividend metrics. A call on stock valuation. And dividend stock recommendations. I like and use the Simply Investing Report & Analysis Platform.
Nevertheless, let's look at Walmart stock value using two methods and see what it tells us…
Dividend discount model
The Simply Investing Report
Walmart Dividend Discount Model
The Gordon discount model considers several factors I have discussed thus far.
Current dividend payment
Projected dividend growth
Plus, my desired annual return on investment.
Using these assumptions, the dividend discount model is not kind to Walmart's stock valuation.
The dividend discount model doesn't like the low Walmart dividend combined with low dividend growth. And it judges Walmart stock to be significantly overvalued.
Dividend growth would have to be much higher for the dividend discount model to suggest Walmart stock is a buy.
The Simply Investing Report
Let's cross-check my Walmart stock analysis with the Simply Investing Report. As I mentioned, it's an excellent tool that provides dividend stock research and recommendations.
In brief, the Simply Investing Report considers Walmart stock overvalued.
Simply Investing places a lot of emphasis on dividend yield for valuation purposes. Specifically, the current dividend yield must be higher than the average dividend yield over the past 20 years.
Furthermore, Simply Investing grades Walmart a 6 out of a possible 10 using the Simply Investing criteria. This is still a good score.
Walmart Stock Analysis & Dividend Review Wrap Up
This completes the Walmart stock analysis and assessment of the Walmart dividend. So, what did we learn?
Walmart is a high-quality buy-and-hold stock. For long-term investors.
However, the stock's dividend metrics are not all that impressive for a dividend investor. Furthermore, the shares look a little overvalued based on the share price as of the time of this article. Especially when using dividend yield and dividend growth as an indicator of value.
Further Reading About Dividend Investing And Dividend Stocks
My Favorite Dividend Investing Resources
The dividend investing resources I mentioned in this article are summarized here for your convenience.
I use all of them. To make the most of my money and investments.
Author Bio, Disclosure, & Disclaimer: Please join me (Tom) as I try to achieve my goals, find my next place to live, and make the most of my money. However, I am not a licensed investment adviser, financial counselor, real estate agent, or tax professional. Instead, I'm a 50-something-year-old, early retired CPA, finance professional, and business school teacher with 40+ years of DIY dividend investing experience. I'm here only to share my thoughts about essential topics for success. As a result, nothing published on this site should be considered individual investment, financial, tax, or real estate advice. This site's only purpose is general information & entertainment. Thus, neither I nor Dividends Diversify can be held liable for losses suffered by any party because of the information published on this website. Finally, all written content is the property of Dividends Diversify LLC. Unauthorized publication elsewhere is strictly prohibited.
I own Walmart stock & receive the Walmart dividend.