In Case You Are Thinking About Moving To Virginia
How about we step through the pros and cons of living in Virginia today.
Perhaps you are wondering if Virginia is a good place to live. Or have been mulling over the pros and cons of retiring to Virginia.
Whatever your reasons. Be they work, play, proximity to family, or just looking for a fresh start in life.
We have it covered. So, let's not delay.
And get on with the living in Virginia pros and cons for today…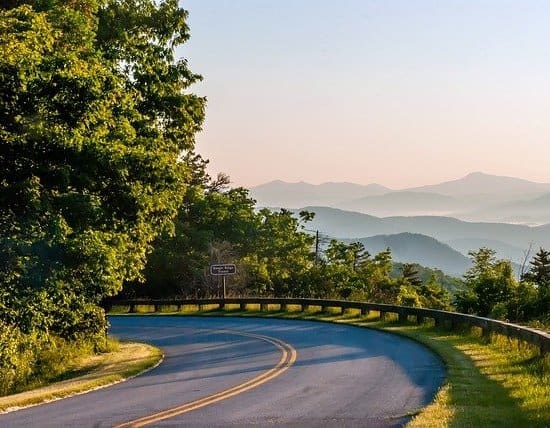 Disclosure: At no cost to you, I may get commissions for purchases made through links in this post.
Pros And Cons Of Living In Virginia
Here is our top 10 list of moving to Virginia pros and cons:
Welcoming and safe environment
Economic growth and jobs
Top-rated educational system
An abundance of outdoor options
Access to quality health care
High cost of living
Excessive tax burden
Bad traffic congestion
Lack of public transportation
Unfamiliar things to get used to
We are going to go through each of these living in Virginia pros and cons in a bit.
But first, how about we address the big question of the day…
Is Virginia A Good Place To Live?
Yes. This state is a very good place to live.
Because the Virginia quality of life is considered quite high. For several reasons.
Let's be a little more specific. And unpack those reasons next…
Benefits Of Living In Virginia
Nicknamed "The Old Dominion State". You will find a range of environments and experiences. To suit your exact tastes.
From the hustle of urban living. To a heaping helping of slow-paced southern hospitality. Offered up in the smaller towns.
Where either living option you choose. Or anything in between.
Offers a high degree of safety. From crime and violence.
A range of political views. For fitting in no matter your political leanings.
And if you are in search of personal and professional development. This state has a robust economy. While the educational options are second to none.
Then for your play-time during off-hours. Or, in your retirement years.
The ocean, the beaches, the mountains, and the state's historical sites have a ton to offer. For recreation and the pleasure-seeking side of life.
Finally, when the occasional health issue creeps into your life in Virginia.
Be comforted to know. You will be surrounded by top-notch hospitals. And competent professionals to provide the necessary medical care.
But, like any place. You should make yourself aware of the worst things about living in Virginia.
Before picking up and moving to "The Old Dominion State".
It's all part of the pros and cons of Virginia. Such as…
Reason Not To Live In Virginia
First of all, some of the most attractive parts of the state. Be it for jobs. Or, the pleasure of coastal living.
Tend to bring with them hefty living costs here. And you won't get a break on taxes either.
Because income, sales, and gas taxes will all take a share. Of your per month expense budget.
And those same places in the state. Being so popular for work or play.
Can have you suffering from bad traffic congestion. Created by both workers and tourists.
Finally, throw in
Noise pollution from military jets
Risks created by several nuclear plants
A few odd-ball laws
Tourists crowding your favorite beach or hiking trail
And you have a few annoying things to accept. While otherwise enjoying your Virginia lifestyle.
Okay. We have those highlights about living in the state of Virginia life taken care of.
But don't go. Because learning more about why move to Virginia is important.
And to help out…
Next, I want to dive into the 10 living in Virginia pros and cons. In much greater detail. Then you can decide if this is one of the best states for your desired lifestyle.
Starting with the best things about Virginia…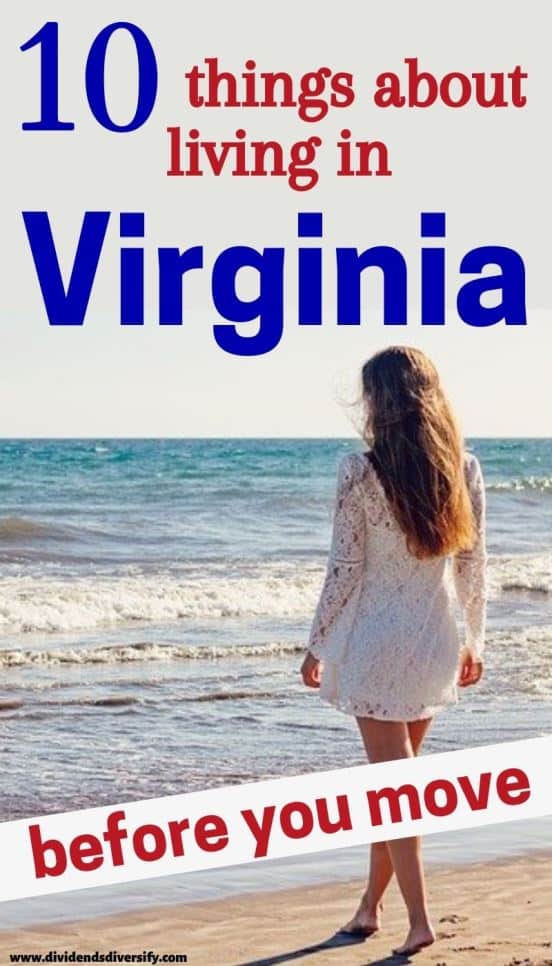 Welcoming and Safe Environment
I think you are going to feel welcome and safe. After moving here.
And I can't think of any more important qualities. When thinking about moving to a new place.
Let's explore these good things about Virginia. Since they arise in a variety of ways…
Living In Virginia Means Southern Hospitality
First of all, the residents of this state are friendly. And have an air of politeness about them.
Perhaps it is due to the southern hospitality. That is part of the culture.
And the relaxed pace that is part of living in a southern state.
Or, could it be? hat studies have shown Virginia residents feel good about their community. And like where they live.
All of these things contribute I think. To one degree or another. To a welcoming atmosphere.
Low Crime Rates
Furthermore, this state has an excellent track record of low crime rates.
Making Virginia one of the safest states in the US in which to live.
And this is reflected in both the low levels of violent crime. Also, modest property crime statistics too.
U.S. News recently ranked the state in the top 10. For the lowest crime of all states in the county.
With the state's violent crime rate ranking as one of the best, you will find.
So, you should have no issue. With your personal, or your family's safety.
Here's another way you can fit in. After moving here…
Moderate Politics When Living In Virginia
There is a have a mix of political views in this state. So, you will be sure to find some folks that think along the same lines as you.
But understand, politics do follow certain geographic lines.
For example, in and around northern Virginia. Near Washington D.C.
Residents tend to be liberal. And the majority lean toward the left of the political spectrum.
On the other hand, in the southern and western portions of the state. Folks are more conservative. And generally, cast their votes for Republican candidates.
Perhaps the state's diverse political views. Stem partly from its deep part of American history. As our country came of age as a free, democratic, and united society.
How about we talk about this a little more.
Because for the history buffs reading. The state's place in American history. Is second to none.
And truly one of the good things about Virginia…
Rich In American History
The first British colony was established in Jamestown, Virginia, in 1607. And the area became one of the 13 original colonies in America.
If you want to see this colonial history up close and personal. Then make sure to visit Colonial Williamsburg.
It is a historic district and museum. That depicts daily colonial time.
Furthermore, the revolutionary war came to an end in Yorktown, Virginia.
Where the British were forced to surrender. Leading shortly thereafter to America's independence.
The Virginia city of Richmond became the capital of the Confederacy. During America's civil war. That war ended in this state too.
Where Robert E. Lee surrendered the last major Confederate army. To Ulysses S. Grant at Appomattox Courthouse.
The state is also sometimes called the "Mother of Presidents". Because eight were born here.
Including the nation's first president, George Washington. Finally, many of these past president's homes are open for tours.
Okay. That concludes our history lesson.
But I think it's easy to see. This state is rich in American history.
It's crazy. Because I remember having to learn all of that stuff as a junior high school student.
Next, it's time to move on to another one of the advantages of living in Virginia…
Economic Growth And Jobs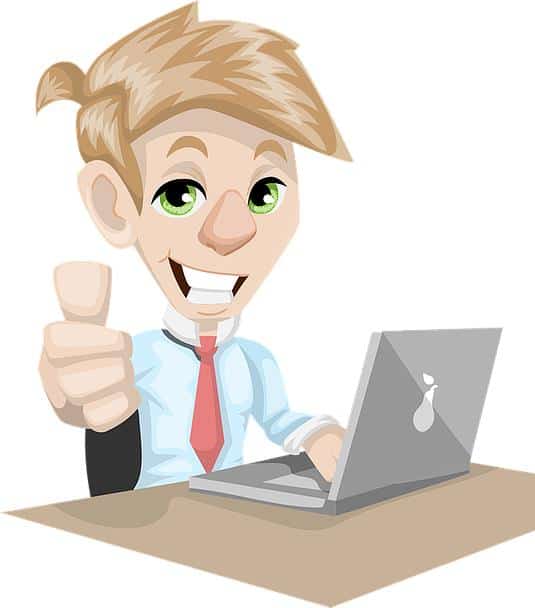 Because working. And earning a living.
Or, taking up residence within a vibrant economy. To live out your retirement dreams.
Are more things to consider. As well as one of the reasons to live in Virginia.
Let's discuss these points next…
Strong Economy
Based on economic output. Virginia has one of the top 15 largest economies. Versus other states in the country.
Furthermore, over the past 10 years, Virginia's economic output has nearly doubled.
Factor in that the state's population is growing. Which is a good sign.
Plus some other positive conditions. And you have a nice mix for economic prosperity.
And here is a big stabilizing force for the economy…
Large Military Presence
Virginia has more than 25 military bases. And currently, all branches of the US military have operations within the state.
And it's no surprise. Because of the proximity to the Pentagon. Where large military spending decisions are made every day.
So, when the economy hits a soft spot. Or in the worst cash, recession.
Government and military spending normally remain strong. Reducing any negative impacts on Virginia's economy.
So, you will find that government and government contractors. Are some of the biggest employers in Virginia.
But there is more to the state's economy than military operations.
Since another one of the pros of living in Virginia is economic diversity. Making for other employment options too…
Ample Job Opportunities
First of all, the unemployment rate in Virginia is low. And consistently falls below the national average.
Furthermore, there are nearly 40 Fortune 1000 companies based in the state.
Some of these big companies include:
General Dynamics
Northrop Grumman
Capital One Financial
Dollar Tree Stores
CarMax
Altria
Dominion Energy
Norfolk Southern
And Amazon has also located its second headquarters in the state. A sprawling campus located near Arlington, VA.
Finally, other sectors that provide large numbers of jobs include:
Technology
Education
Shipbuilding
Farming and fishing
All of these, along with the military. Are important aspects that create jobs of all kinds in Virginia.
Top-Rated Educational System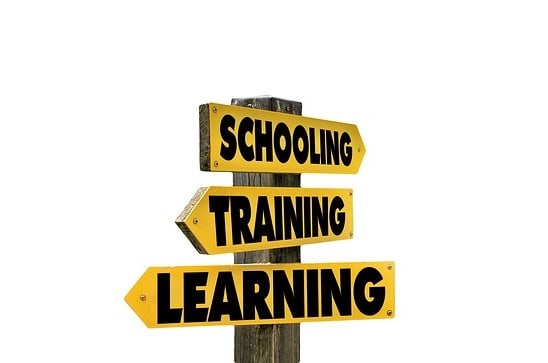 If you are raising a family. And want your kids in a state known for the best in education.
Or, as an adult, you are looking to augment your skills. Through a college degree program.
Then moving here makes a lot of sense.
Here's why. Adding to our tally of big perks of living in Virginia…
K-12 Education
Because the state has a high-ranking public school system. Leading to excellent high-school graduation rates.
So, you can have access to great public schools. And do not need to budget for private school tuition for the kids.
You will find some of the better school districts sprinkled throughout the state. Including…
Fairfax County
Prince William County
Loudoun County
Virginia Beach City
Chesterfield County
Then, when the kids (or you) are ready for college. Virginia has some great options.
Higher Education
Once again you can choose from excellent public schools. And benefit from lower in-state tuition rates.
Several highly ranked public universities need mentioning.
First, the University of Virginia. Founded by Thomas Jefferson. Our nation's 3rd president.
Second, Virginia Polytechnic Institute and State University. Known as Virginia Tech.
Finally, there is the College of William and Mary. It is the second-oldest higher-education institution in the United States. Founded in 1693.
Other great schools include:
George Mason University
James Madison University
Washington & Lee University
University of Richmond
So, no matter where you choose to live. You won't be far from a good campus. To further your or your children's education.
Next, this might be my favorite. Of all the reasons to move to Virginia…
An Abundance Of Outdoor Options
Because when it comes to the outdoors. Virginia living is at its finest. Since this state has many outdoor attractions.
First of all, be sure to consider the many miles of coastline.
Furthermore, the state has four major rivers. That all feed into the Chesapeake Bay.
The bay is a beautiful body of water. Shared with Virginia's northern neighbor, Maryland.
Finally, there are hundreds of miles of forested land. Capped off by the Blue Ridge Mountains. Located in the western part of the state.
Depending on where you live. You will only be a few hours away. To visit the beach in the summer. And the mountains at any time of the year.
Let's explore these 2 special features more closely. Since they are a big part of the pros and cons of living in Virginia…
Beaches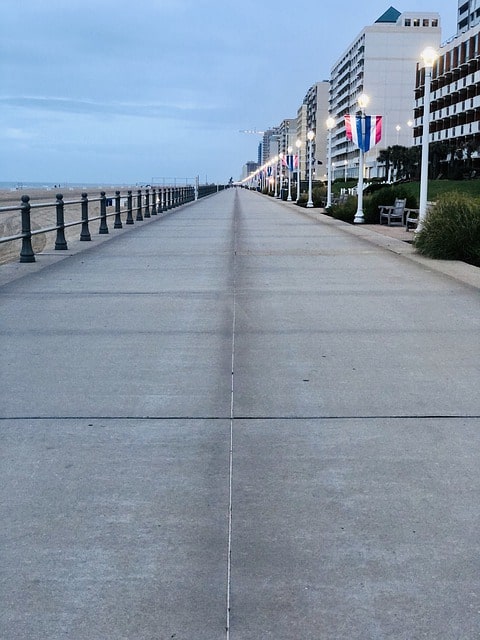 Virginia Beach is the state's largest city. And has the best-known beach area.
Since this coastal community has plenty of attractions. And is a great place to live.
And it puts you close to other coastal towns. For example, Norfolk, and Chesapeake. Two of the state's other largest cities.
From there, you can take the Chesapeake Bay Bridge north. And visit Assateague Island National Seashore.
It is a 37-mile barrier island. Similar to the Outer Banks off the coastal state of North Carolina.
It is part of the National Park Service. And has many sandy beaches. And outdoor recreational options.
But there are so many more beaches to consider. Such as…
Buckroe
Cape Charles
Chic's
Colonial
Croatan
False Cape State Park
First Landing State Park
Ocean View
Sandbridge
Willoughby
From crowded to relaxed to pet-friendly. Whether you want to get some sun. Or surf the big waves.
You can find "your beach" when living here.
And when you are done enjoying Virginia's coastal area. Head west.
To find another one of the cool things about Virginia…
Mountains
Since the mountains located here are incredible. First of all, let's discuss the big picture.
The state has eight mountain ranges, with five summits towering more than 5,000 feet.
While Mount Rogers is the highest. If you are keeping score.
Next, a few more specifics about what you can expect.
Start hiking. Because about one-quarter of the Appalachian Trail is located in the state.
Visit one of the top-rated National Parks. Since Shenandoah National Park is located less than 2 hours from Washington D.C.
It is a natural wonder with waterfalls, hiking trails, and hundreds of campsites.
Take a scenic drive. By following the Blue Ridge Parkway.
It runs for more than 200 miles. And offers amazing views and overlooks.
And don't miss out on Skyline Drive. It runs more than 100 miles north and south.
Along the Blue Ridge Mountains in Shenandoah National Park. Most noteworthy, it is the only public road through the park.
In total, there are nearly 60 state and national parks. With plenty of mountains in this state. Standing ready and waiting for your next adventure.
And, in the winter. Get your skis ready.
Since the state has miles of groomed slopes accessed by dozens of ski lifts. Provided by the different ski resorts located in the area.
And what makes all of these outdoor attractions come together?
Just another one of the benefits of moving to Virginia…
Living In Virginia Means Nice Weather
Since the weather is very nice. And good for enjoying the great outdoors.
First of all, the state has four distinct weather seasons.
And unless you choose to live in higher elevations. Where you will find most of the state's snow. You are in store for a shorter, easier-to-handle winter.
On the other hand, the summer season can be quite warm and humid. A perfect time to spend near the ocean coastline. Or, in and around the mountain peaks.
Springtime brings seasonal rains. And warming temperatures.
But the fall is probably the best time of year.
Because of the amazing fall foliage display. And cooling crisp temperatures. As the summer season recedes into the past.
Just be ready for changes no matter the season. Because of the ocean and the mountains. They can cause significant variations. Both in temperatures and precipitation from day to day.
Finally, extreme or destructive weather is unusual. Most noteworthy, hurricanes rarely launch a direct hit here, on this state's coastline. Unlike neighboring states up and down the eastern seaboard.
Next, here's another one of the important things to know about before moving to Virginia…
Access To Quality Health Care
Specifically, the state has an excellent health care system.
Hopefully, you won't need much care. But, you never know.
And it's good to feel confident. If and when the time comes to address a health problem.
First of all, the state has more than 100 hospitals. Furthermore, many of them meet the highest standards of care.
Finally, here are some of the top-rated facilities in the state:
Inova Fairfax Hospital – Falls Church
University of Virginia Medical Center – Charlottesville
Sentra Norfolk General – Norfolk
Virginia Commonwealth University Medical Center – Richmond
Winchester Medical Center – Winchester
Okay. That completes my top 5 benefits of living in Virginia.
But an article about the 10 living in Virginia pros and cons would not be complete. Without addressing the reasons not to move to Virginia in the first place.
Let's do that now…
High Cost Of Living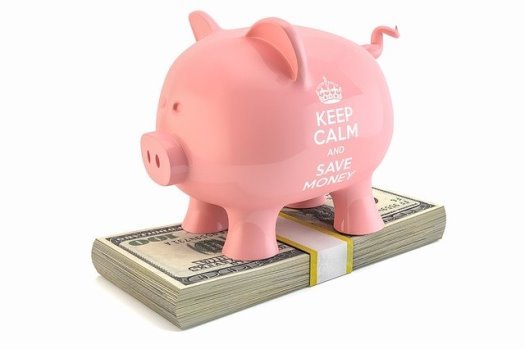 I bet you are thinking about this question. Is it expensive to live in Virginia?
And this is what I have to say about it…
If you're moving for a job near Washington D.C. Or, you desire a property in one of the popular coastal towns.
Living here can be expensive. Since it has experienced a strong real estate market. In recent years.
On the other hand, compare this state's cities. To the big cities on the east coast. And you may consider your life in Virginia to be a bargain.
It all depends on what your point of comparison is. For our purposes, let's look at the numbers as compared to the national average.
By running it up against the average cost of living in Virginia…
First of all, the state's median home value is about 13% higher. As compared to other states in the country.
While rent is also costly. Running about 20% higher. According to World Population Review.
Depending on exactly what type of living arrangement you are looking for. And, as I just mentioned, where you want to live in the state. Both make a big difference.
Then there are groceries, utilities, and transportation. They all run at about the national average.
So, pay attention to your Virginia home costs. Since they almost always consume the largest part of a household budget.
You may want to consider some of the smaller towns and cities. In the central and western parts of the state.
Closer to the state of West Virginia. Where living costs are quite low.
Especially if you are investigating retiring in Virginia pros and cons. Since you won't have to worry about commuting to a workplace.
And will have more time for travel to the coast. Reducing the need to live there.
Also, consider these next options. For making Virginia life a little more affordable…
Ways To Save Money Living In Virginia
Get the best rent or mortgage rates by maintaining a high credit score.
You can check yours for FREE. Using Credit Karma.
Then get to work. Making any necessary improvements.
Next, get the best deal on a mortgage for your home and save time by shopping online.
Then, earn get cashback on all of your online purchases by signing up for the Rakuten cash rebate app.
These steps will help. To make your money go a little further.
Last but not least. Pull all of your finances together in one place. Before, during, and after your move.
Whether you are putting together your monthly budget. Or, just want to see your investments in one place.
You can do these tasks using the FREE online tool from Personal Capital.
Because Personal Capital saves time. And makes managing your money less of a chore.
Best of all? These tips and tools work anywhere you choose to live!
Next up. I have another one of the bad things about Virginia. And I'm not done with your money…
Excessive Tax Burden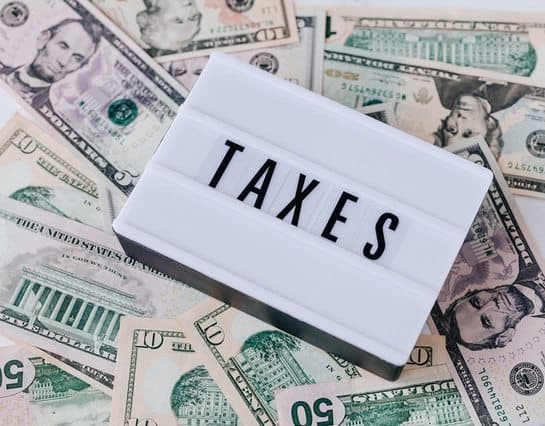 Because living here means paying high taxes. Let's break this down into some bite-size pieces…
Living In Virginia Means High Income Taxes
First of all the state has a progressive tax system. That's just a fancy way of saying this…
The more money you make. The higher the tax rate you will be charged on your income.
And the state's top individual income tax rate is 5.75%. Also, it doesn't take much of an income to get into this highest tax bracket.
Not even $20,000 a year. And for making that amount of money. You will be awarded "the honor" of paying almost 6% of your income to the state in taxes.
If you are considering retiring in Virginia. The good news is the state does not tax social security income.
But if you have pension income. Or, you are withdrawing money out of a 401(k) or traditional IRA.
Those funds will be included in your taxable income. Although a tax exemption is available for a small portion.
Are the state taxes getting you down? Then head west into Tennessee.
Since the state does not have an income tax.
Or, go a little farther south into Florida. Another state tax haven. For those looking to move.
Next, we have consumption taxes…
Sales And Gas Taxes
Since the state also has a sales tax. Where the state's base rate is over 5%. And local municipalities can tack on some more.
Bringing the state's average sales tax rate close to 6%.
Plus you will pay almost 30 cents a gallon in taxes. When you fill up your car at the gas pump.
On the other hand, you can relocate a little farther north. But staying on the east coast.
If that is of interest. Spend some time investigating the state of Delaware. Where there are zero sales taxes!
Property Taxes
Then, on a positive note, the average real estate tax rate isn't too bad.
But when you apply that rate to the higher home values. As compared to other states in the country.
You will still find that property taxes. On a median-priced home in Virginia. Are in the top half of all the United States.
Thus, we keep finding our way back to property values. And how they impact the average cost of living in Virginia.
So, find a home that fits within your budget. And you should be okay.
Otherwise, the Virginia price of living is on the high side. Especially when you consider taxes.
Okay. Enough about money and taxes.
Let's move on to another one of the disadvantages of living in Virginia…
Bad Traffic Congestion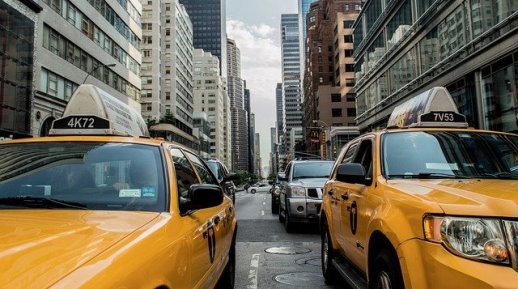 Because depending on exactly where you choose to live. Traffic congestion on the roadways can be heavy.
Let's just say this. You won't confuse Virginia. With a rural state like Vermont.
And you will find the worst traffic in Northern Virginia. Arlington, just outside the nation's capital, is a good example.
So, if you live anywhere near Washington D.C. Consider public transportation.
The DC metro, a rapid transit system, serves the area. Including Northern Virginia. And it is a smart choice.
Because commute times in a car. Can easily consume an hour or more.
Furthermore, rush hour traffic is bad here. In and around the state capital of Richmond.
On the other hand, if you are relocating from New York City, Chicago, or Los Angeles. Richmond traffic will probably seem light in comparison.
Finally, the summer and fall tourism season add to the state's congested traffic too.
Because of the ocean beaches. And the mountains are a popular place for visitors and residents alike.
Next, here is another one of the pros and cons of living in Virginia. And I'm still on the topic of getting around the state…
Lack Of Public Transportation
When you leave the state's three major metropolitan areas. Centered around Arlington, Richmond, and Virginia beach.
Public transit is almost non-existent.
You may find some bus networks. And Amtrak trains.
But you will be dealing with a limited system. That is slow. And sometimes behind schedule.
So, unless you plan on relocating to one of the state's metropolitan areas. And plan on staying put for both work and play.
You will need a car.
Okay. One last of the pros and cons of moving to Virginia. Then I will wrap up. I promise!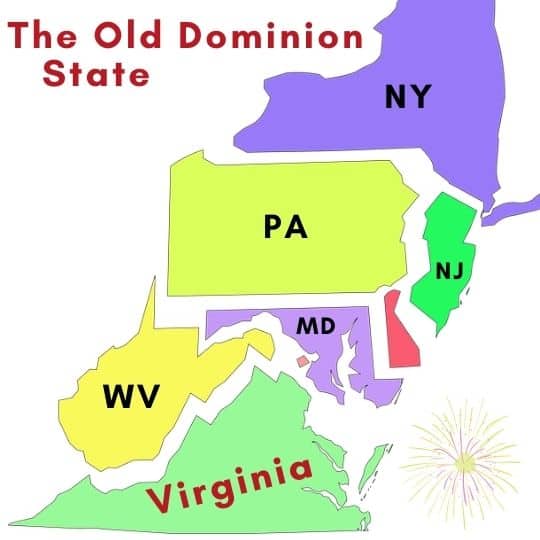 Unfamiliar Things To Get Used To
Every state has some unique things to get used to. And this state is no different.
Here are a few of those things. As you are thinking about moving to Virginia.
Jet Noise When Living In Virginia
First, you will have to get used to overhead noise from military jets.
Since the military conducts extensive training operations in the state.
Nuclear Facilities
Next, the state has four nuclear power plants.
You'll find two of them about 40 miles northwest of Richmond. And another two about 17 miles from Newport News. A town near the Atlantic coast.
The U.S. Navy also operates nuclear-powered vessels. Based in the state.
So, keep this in mind. If living around nuclear operations is one of your concerns.
Tourists
Summer brings droves of tourists here. And Virginia's Hampton Roads become tourist towns.
Hampton Roads is where the mouth of the Chesapeake Bay. Meets the Atlantic Ocean.
And where the following cities are clustered:
Chesapeake
Franklin
Hampton
Newport News
Norfolk
Poquoson
Portsmouth
Suffolk
Virginia Beach
Williamsburg
Furthermore, 6 of the 10 largest population centers in the United States. Are located within 750 miles of Hampton Roads.
Making for a serious number of summer-time visitors. Pouring into the area. And adding to the traffic congestion.
Thus, popularity comes at a price.
So, if you don't like dealing with tourists. In and around your home town. Enjoying the things that you are thinking of moving to Virginia for in the first place.
Then, you may want to reconsider. Exactly where you should move.
Finally, on a lighter note…
Odd Laws
The state has some odd laws. Fortunately, law enforcement officials do not take them too seriously.
And I won't even bother to mention them. Since they are silly.
On a positive note. If you like to throw around the occasional swear word.
And who doesn't when the traffic is bad. And the tourists are getting on your nerves.
The state recently repealed its law. That fined people for swearing in public.
Since the old law violated free speech. Thus, it was unconstitutional.
That's it for today. Let's wrap it up with a summary…
Pros and Cons Of Living In Virginia
Just like any state. There are some benefits of moving to Virginia. And some reason not to move to Virginia too.
So, in summary, here is my top 10 list of the pros and cons of living in Virginia:
Welcoming and safe environment
Economic growth and jobs
Top-rated educational system
An abundance of outdoor options
Access to quality health care
High cost of living
Excessive tax burden
Bad traffic congestion
Lack of public transportation
Unfamiliar things to get used to
Hopefully, today's article has helped you think through some important questions. Such as…
1) Is Virginia a good state to live in?
And
2) Why should I move to Virginia?
Best of luck with your decision. No matter where you decide to live!
More Reading About Living In Virginia And Beyond…
My Favorite Money Resources For Living In Virginia (or anywhere)
During the article, I mentioned some great tips and tools. For making the most of your money.
They are summarized here for your convenience.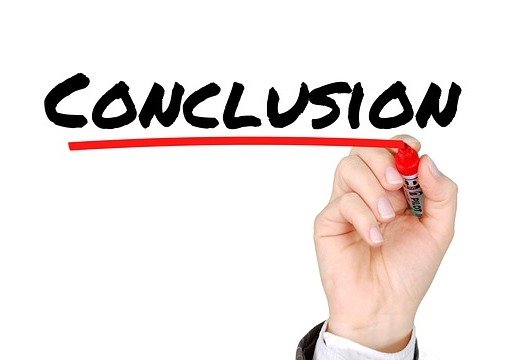 Author Bio, Disclosure, & Disclaimer: Please join me (Tom) as I try to achieve my goals, find my next place to live, and make the most of my money. However, I am not a licensed investment adviser, financial counselor, real estate agent, or tax professional. Instead, I'm a 50-something-year-old, early retired CPA, finance professional, and business school teacher with 40+ years of DIY dividend investing experience. I'm here only to share my thoughts about essential topics for success. As a result, nothing published on this site should be considered individual investment, financial, tax, or real estate advice. This site's only purpose is general information & entertainment. Thus, neither I nor Dividends Diversify can be held liable for losses suffered by any party because of the information published on this website. Finally, all written content is the property of Dividends Diversify LLC. Unauthorized publication elsewhere is strictly prohibited.
The Pros And Cons Of Living In Virginia Explained