Important Things To Know Before Moving To Carmel, IN
Often recognized as one of the best places to live in the country, let's pull back the curtain and closely examine the pros and cons of living in Carmel, Indiana.
Whether you are considering retirement living in Carmel. Or, looking for your next professional work opportunity. Moving to this northern suburb of Indianapolis may be just the ticket to the life you desire.
So, let's get on with it…
Pros and Cons Of Living In Carmel, Indiana
The moving to Carmel pros and cons that made our top 10 list include:
Strong evidence of wealth and affluence
A clean and well-maintained environment
Excellent school system
An amazing and unique downtown area
Family-friendly
Expensive housing
Only one very large high school
Midwest suburban bland
Little racial or ethnic diversity
Outsiders think it's pretentious
Next, allow me to give it to you straight. And boil down these pros and cons by answering this important question…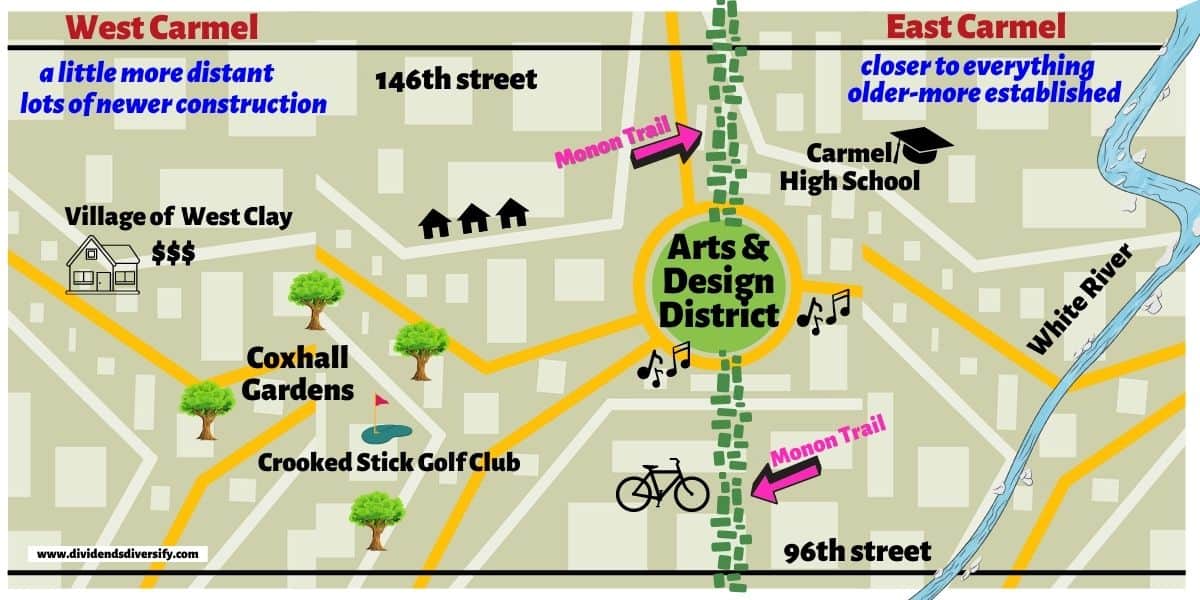 Disclosure: At no cost to you, I may get commissions for purchases made through links in this post.
Is Carmel, Indiana A Good Place To Live?
Carmel is a good place to live offering a clean, safe community with excellent schools and a vibrant downtown area. It has fast become a place for upwardly mobile young professionals and executive leaders. Thus, for anyone who can afford the cost of living and is not troubled by the lack of diversity. Then, this is a great place to live.
Now, allow me to go through the pros and cons of Carmel one by one…
Strong Evidence Of Wealth And Affluence
The median household income in the United States has been running at nearly $70,000 per year. Next, hold onto your hat…
Because the median household income in Carmel is nearly double that. Not quite, but almost. Ranking it as one of the wealthiest cities in the Midwestern United States.
So, this creates some questions in my mind. Maybe yours too? For example…
Do the transplants moving to Carmel make a lot of money?
Or…
By living in Carmel, do residents have access to higher earning opportunities?
Well, the answer to both questions is yes.
Because it is not cheap to live here. More on this point in today's cons. For anyone looking for a less expensive place to live in Indiana.
As a result, the people relocating to Carmel. Yes, most already make a sizeable income before settling here.
Next, allow me to answer the second question…
Living And Working In The Carmel Area
It is also possible to improve your income after moving to this city.
Because the unemployment rate is low. And there is a productive business community.
Consider these facts offered by carmel.in.gov:
First of all, the city's Meridan Street corridor has the second largest concentration of office workers in the state.
Furthermore, the city is also home to more than 80 corporate headquarters including:
ADESA: international headquarters
Allegion: U.S headquarters
CNO Financial Group: U.S headquarters
Delta Faucet: international headquarters
MISO Energy: U.S headquarters
Monster.com: regional headquarters
NextGear Capital: U.S headquarters
Telamon: International headquarters
Also, consider that most of the Indianapolis metropolitan area is accessible within about a 30-minute drive.
So, you can live in Carmel, for all it has to offer. Yet find the perfect job in the much larger nearby Indiana city of Indianapolis.
Carmel Living And Commuting To Work Or School
However, don't get your hopes up about public transportation. Because it's unlikely you will be able to live in Carmel and work in Indy, without commuting by car.
What you will find as you travel the area is a lot of roundabouts on the roadways. Because Carmel has the most of any city in the country.
They can be a little confusing if you aren't used to navigating them. However, roundabouts are touted for a variety of benefits. Such as…
Shortening commute times
Eliminating traffic lights
Reducing emissions
So, if you are ready to take advantage of the career opportunities after moving to Carmel. Be sure to have your resume in tip-top shape. For this, I recommend you use MyPerfectResume.
Okay. That's a lot of good things to think about already.
But, we are just getting warmed up. So, let's address another one of the benefits of living in Carmel. As the pros and cons of living in Carmel, Indiana march on…
A Clean And Well-Maintained Environment
First of all, you will be impressed with this Midwest city. And how well-kept it is. Pristine might be a good word to describe it.
You won't find many (if any) parts of town that are run down. Or, in need of significant repair.
Furthermore, because of the productive economy, government services are well funded.
So, the parks are nicely-maintained. The roads are in good condition. And the city sidewalks are tidy. Perfect for taking a stroll whenever you need to stretch your legs.
Here is another one of the advantages of living in Carmel. Also a result of the high-quality government services…
Excellent School System
Yes. You can send your kids to a private school. That choice is yours. Furthermore, there are plenty of good private schools to choose from in the area.
However, there is no need to do so. Because the Carmel Clay School District is considered one of the best in the state.
As of this writing, the district encompasses 11 elementary schools, 3 middle schools, and Carmel High School. The schools serve the entire population. Currently, a Midwest city with more than 100,000 residents.
It operates as a feeder system. Where 3-4 of the elementary schools feed the 3 middle schools. And all of the middle schools, in turn, feed the high school.
So, your kids get more individualized attention when they are younger. And can also maintain their friendships as they progress.
As a result, Carmel High School touts a 98% graduation rate. And the kids feel very well prepared for college. If that is the path they choose to follow.
Okay. We have talked about working, living, and going to school here.
Next, let's talk a bit about the more fun sides to life. Adding to our reasons to live in Carmel…
An Amazing And Unique Downtown Area
The city has a really pleasant downtown. Let me rephrase that…
It has a unique downtown, amazing for what is a relatively small city. It makes up what is a great aspect of the Carmel lifestyle.
Officially, it is called The Arts and Design District. Aptly named due to the abundance of public art, design shops, art galleries, and venues for live performances.
It is the cultural hub of Carmel. Built to give a heart to the city.
Where people can go to walk, dine, shop, and enjoy live entertainment of all kinds. Or, just hang out on a nice Midwest summer day.
It's a bustling area. Especially on the weekends.
And can be loosely divided into a northern section and a southern section. Within ongoing development serving to join the two areas.
The Northern And Central Parts of Carmel's Downtown
The northern section is populated with many homes and apartments and plenty of restaurants.
As you travel south through the district. There is an area called Midtown Plaza.
It is a revitalization of Carmel's old industrial area. Known for urban-style living, commerce, music, movies, games, festivals, and other forms of entertainment.
The Southern Area Of Carmel's Downtown Arts District
While the southern end of the district is home to The Center For Performing Arts. With several distinct venues. A great area for entertainment of various kinds.
First, there is The Palladium. A 1,600-seat concert hall.
Second, you will find the Booth Tarkington Civic Theatre. A contemporary theatre where you can see performances of all kinds.
Then there is the Studio Theater. A more intimate space that seats 200 people. For a variety of smaller musical and theatrical productions.
Capping it off is the Center Green. A large open area for festivals and ice skating in winter.
Finally, near city hall is the Gazebo. For live outdoor music and concerts during the summer.
Next up, is another one of the many good reasons to move to Carmel…
Family-Friendly
We already know the city is well-maintained, has good schools, and comes with some fun things to do. These are all things that make living in Carmel, Indiana a family-friendly place for living.
However, one more important point needs to be addressed. Before concluding without a doubt that this is a great family environment.
Specifically…
Is Carmel A Safe Place To Live?
The crime rate in Carmel is much lower than the average U.S. city. Scoring an A+ according to CrimeGrade.org.
So, the city gets high marks for safety and little crime. This is typical for wealthy communities in democratic societies.
Other Attractions For Family Life In Carmel
Next, throw in all of the parks.
Such as Coxhall Gardens, a 125-acre park with playgrounds, trails, fishing, and an outdoor music pavilion. Not to mention all of the smaller and more intimate community parks in and around the area.
Finally, I would be remiss without mentioning Monon Trail. With more than 25 miles stretching from Indianapolis to Sheridan, Indiana. It is great for walking, running, or biking.
And better yet, the Monon Trail cuts right through the heart of Carmel's Arts and Design District. So get out with the kids. Let them burn off some energy and get fit while spending a little time with the family!
Okay. That completes all the great things about living in Carmel.
But…
You knew that was coming. Didn't you?
Because an article about living in Carmel pros and cons would not be complete. Without discussing some of the disadvantages of living here.
Let's do that now…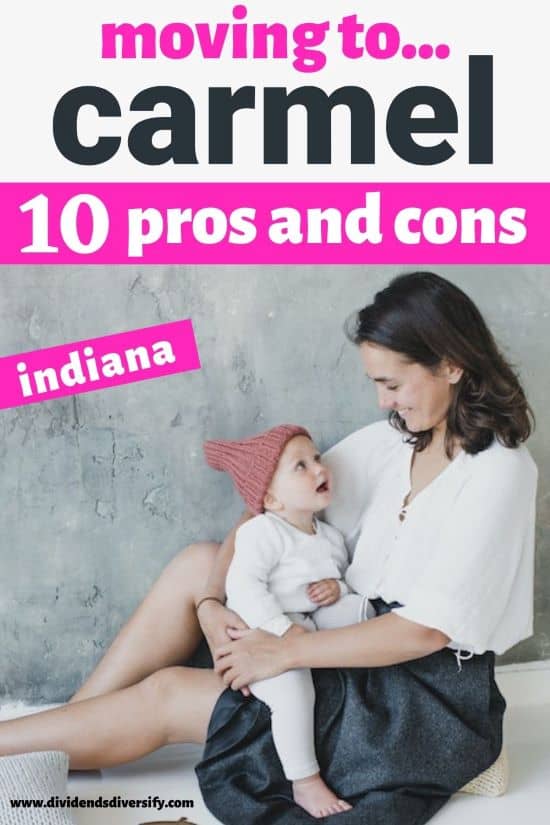 Expensive Housing
The first is the price of entry. Because for anyone wanting to move here from elsewhere in the state or the country.
In a word, it's not cheap. Mainly because of the cost of homes.
The Price Of Housing When Living In Carmel
Since the median home price here is significantly more. Versus the average in the rest of the state or the U.S. as a whole.
As of the time of this writing. And depending on which data source I selected. For example Zillow, Redfin, or local real estate sites.
I found that home values run at 25%-50% premiums. So by choosing to move to Carmel, you are going to get a lot less house for your money here.
As a result, you must put your best foot forward to compete as a buyer in this market. Do so by making sure your credit score is in good shape.
You can check yours for free using CreditKarma.
So, housing is what jacks up the cost of living in Carmel. Beyond that…
Other Costs After Moving To Carmel
You will catch a break on other costs. Because as a whole, Indiana is an affordable state. As it relates to things like taxes, gasoline, and groceries.
However, be sure to factor the cost of a car into your budget.
Because unless you can pull off living, working, and recreating in a confined area. The public transportation here won't allow you to get by without an automobile.
Here's one suggestion. If you feel moving to Carmel is going to stretch your budget…
Specifically, pull your budget, spending, and investments together in one place online. Do so by signing up for and using the free app from Empower.
Because getting your financial house in order is critical. No matter where you choose to move.
Next, while looking for a place to live here, you might find it interesting to know…
Living in East Carmel Or West Carmel?
While there are no official geographic boundaries within the city. The east and west sides of town do have a noticeably different feel about them.
For example, East Carmel consists of older more established homes and neighborhoods. Further development is limited because of the border established by the White River.
On the other hand, West Carmel is dominated by more recent construction.
Since many of the homes were built starting from the year 2000 and newer. It is where you will find some of the most expensive homes in the city.
Then, most anywhere to the north beyond the city limits. It turns more rural quickly. As you exit the Indianapolis metropolitan area.
So, you aren't far removed from farmland after moving to Carmel.
Okay. Here's another one of the reasons not to move to Carmel…
Only One Very Large High School
Yes. On one hand, we have established that the public schools are very good.
On the other hand, you may have noticed in my earlier discussion. That all of the elementary and middle schools feed into only one high school.
Making it the largest high school in Indiana based on student enrollment. More than 5,000 students in total.
First of all, that type of learning environment might not be right for every student. Furthermore, it makes competition very tough for the sports, music, and arts programs.
Unlike much smaller schools. Where a high participation rate is required. Just to field teams and have music and arts programs of adequate size and scale.
Midwest Suburban Bland
Now, the Arts And Design District is Amazing. But, once you get beyond that area this is about moving to the Midwest and living in the suburbs.
With house after house, residing in somewhat cookie-cutter neighborhoods. Hey, it's a little bland and homogenous, if you know what I mean.
So, if you need a more eclectic urban vibe. With a great diversity of people and places. You may be better served looking at some other Indianapolis area neighborhoods.
Speaking of diversity, that may be another one of the disadvantages of living in Carmel…
Little Racial Or Ethnic Diversity
Because the area does not have much racial diversity. Specifically, residents are nearly 85% white. While the black population is one of the smallest. Comparatively speaking of anywhere in Hamilton County.
It is interesting to note that roughly 10% of residents are of Asian descent. This is a high percentage when compared to other parts of the Midwest.
You will see similar demographics in the school system. As teachers and administrators are predominantly white.
Finally, the IndyStar has reported allegations of racism. As well as lawsuits the city has had to settle in the past.
To sum it up, if you are looking for a more racially diverse community to live in. Carmel probably won't be for you.
Okay. One more item on our list of worst things about living in Carmel. Then I will wrap up. I promise!
Outsiders Think It's Pretentious
This city has a reputation for being wealthy and pretentious.
Because everything seems so prim and proper, plus a high degree of culture is always on display downtown.
Furthermore, the wealth is evidenced by the cost of housing here. It has priced many families out of the market.
Thus, as an outsider looking in. Or an insider looking out. Sometimes it feels like a case of the "haves and the have-nots".
In my opinion, it is partly because so much about Indiana is its makeup of humble, down-to-earth small towns.
Most of which are doing just fine. But certainly, the numbers show there is not as much prosperity in the surrounding communities that Carmel displays.
So, if the idea of this makes you feel self-conscious or uncomfortable. I'm quite certain you can find another nice place to live where you will fit right in and feel at home.
All right. That's all I've got for you today. Please allow me to wrap up with a few parting thoughts…
Pros And Cons Of Living In Carmel, Indiana
How is living in Carmel? By now I think you should have a pretty good idea.
In my opinion, the pros of living in Carmel certainly outweigh the cons. Especially for families with school-age children looking for a safe and vibrant community to settle in.
Unfortunately, the area's popularity has dramatically increased home values. It is to a point where a family making an average household income may not be able to afford it here.
If you fall into the latter category, do not despair. Because there is a right place for everyone.
And I'm certain you can find your perfect place in our…
City and State Guides about Where to Live
And good luck. No matter where you choose to settle down!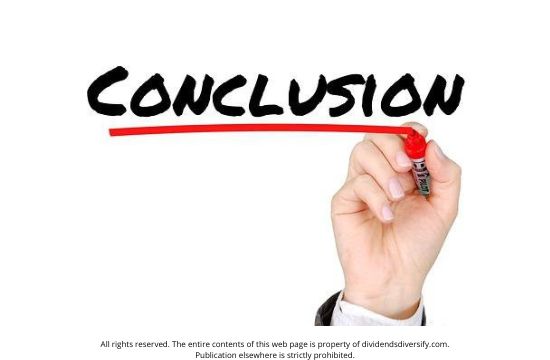 Author Bio, Disclosure, & Disclaimer: Please join me (Tom) as I try to achieve my goals, find my next place to live, and make the most of my money. However, I am not a licensed investment adviser, financial counselor, real estate agent, or tax professional. Instead, I'm a 50-something-year-old, early retired CPA, finance professional, and business school teacher with 40+ years of DIY dividend investing experience. I'm here only to share my thoughts about essential topics for success. As a result, nothing published on this site should be considered individual investment, financial, tax, or real estate advice. This site's only purpose is general information & entertainment. Thus, neither I nor Dividends Diversify can be held liable for losses suffered by any party because of the information published on this website. Finally, all written content is the property of Dividends Diversify LLC. Unauthorized publication elsewhere is strictly prohibited.
The Pros And Cons Of Living In Carmel, Indiana Explained