For Anyone Asking: Should I Move To Detroit, Michigan?
Today we are covering the pros and cons of living in Detroit. One of the most affordable urban places to live in the U.S.
This town, known as the Motor City, has a whole lot to offer. Whether your goal is to find a new job, raise a family, or just relocate to a fun place with a lot going on.
Enough said, let's get moving…
Pros and Cons of Living in Detroit, MI
Our top 10 moving to Detroit pros and cons include:
Unique community atmosphere
Low cost of living
Opportunities to get ahead
Lots of entertainment options
An enjoyable outdoor scene
The winter weather
Subpar public schools
Issues with transportation
High crime and poverty
Excessive tax rates
We will cover each of these good and bad things about Detroit in a moment.
But first, allow me to address some important questions that are probably on your mind…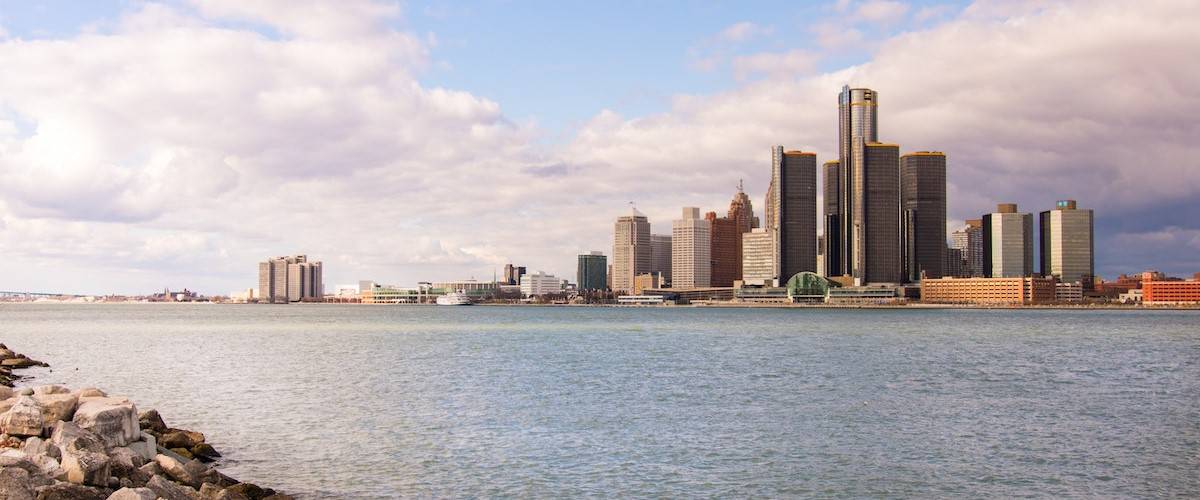 Disclosure: At no cost to you, I may get commissions for purchases made through links in this post.
Is Detroit A Good Place To Live?
Detroit is a good place to live for anyone looking to live in a diverse U.S. urban area. Without having to over-extend financially to afford a big city lifestyle. The economy is improving, solid higher educational options are available, and there are plenty of fun things to do.
But living here won't be for everyone. Because certain public services are lacking despite the high taxes residents are forced to pay. Beyond the crime, poverty, and harsh winters people must endure.
Is Detroit Getting Better?
After years of corruption and surviving the largest municipal bankruptcy in U.S. history to date. There are signs of a revival underway in and around the city.
A recent University of Michigan research study tells us unemployment is falling and job growth is expected to accelerate in the coming years. All in all, there is an increasing sense of optimism that Detroit is getting better.
Alright. With those key highlights taken care of. Next, let's go through Detroit's pros and cons one by one. Then you can decide for yourself about living here.
Let's start with the top 5 pros of living in Detroit…
Unique Community Atmosphere
First, this community starts with a solid base of good people. And when I think of the residents here, I think of this…
People who are tough on the outside, good on the inside, resilient, and hard-working. Furthermore, a high level of racial and ethnic diversity is on full display.
While the city's population is predominantly African-American. There is also a large group of middle-eastern decent. Also, Hispanic, Caucasian, and Asian populations have been growing. Thus, increasing the city's mix.
Detroit Neighborhood Living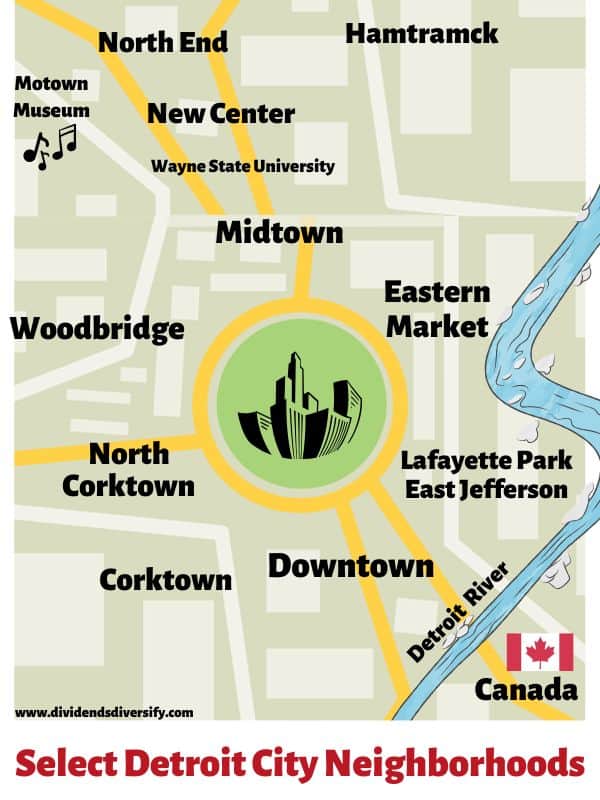 Furthermore, there have been many signs of neighborhood revitalization.
For example, there is Midtown. One of the city's most popular areas.
It is located near other up-and-coming neighborhoods. Specifically, New Center and Brush Park. With Corktown, one of the city's oldest neighborhoods, just to the southwest.
Let's move to another positive about the Detroit lifestyle…
Low Cost Of Living
It is the benefit of a low cost of living here. Allowing residents to have more money to spend or save at their discretion.
Home Values In Detroit
And it starts with the affordability of housing. Specifically, the median home value here is only a small fraction of the national average.
However, it's all going to depend on the neighborhood you choose. And going well above the average cost of a home here is a good idea if you can afford it.
Ensuring you will find a safe and enjoyable place. While still benefiting from the savings that can be had.
For example, homes in Midtown, Corktown, and the University District will run you more. But it's worth it for the safety, amenities, and conveniences these areas provide.
Other Costs Of Living In Detroit
Overall, other costs are affordable too. Since groceries, health care, and utilities run anywhere between 10-15% less. Versus the national average.
So, is Detroit expensive to live in? Well, I say the answer is clearly, no.
In many ways, it reminds me of another city located on Lake Erie. Specifically, Cleveland.
And here are a few tips to stretch your dollars a little farther…
Ways To Save Money Living In Detroit (or anywhere you decide to move)
If you want to save a little more money. You can balance your budget with a few tips that we use.
First, if you are moving to Detroit. And looking for a new home or apartment. Make sure your credit score is in good shape. To get the best deal on your new place.
You can check your credit score for free using Credit Karma. Because mortgage lenders and apartment landlords will do so for sure, thus, getting out in front of them is a great idea.
Second, save on the stuff you buy daily at the grocery store.
Traditionally there haven't been many big chains operating within Detroit's city limits. As a result, residents shopped at independently owned stores.
Fortunately, operators like Whole Foods. And more recently Meijer has opened a store near downtown. Giving people additional options and increasing price competition for shoppers.
Managing The Costs Of Your Detroit Lifestyle
Finally, manage your money for free with Empower.
You can budget, save, and invest all in one place online. The online app makes money management less of a chore. At the same time, you add up the money saved by moving to Detroit and continue improving your financial situation.
Okay. Enough about saving money and the Detroit cost of living.
Because I want to continue with some of the other benefits of living in Detroit. Specifically, how the city can further support your quest for a prosperous life…
Opportunities To Get Ahead
Yes. The economy here is still dominated by the auto industry. But it is evolving and improving. Just like the diversity of residents.
Living And Working In Detroit
Here are some highlights from a recent University of Michigan study…
First of all, the forecast takes an optimistic perspective for a city hit hard by the pandemic. And also not far removed from weathering the largest municipal bankruptcy in U.S. history.
Furthermore, estimates show the unemployment rate has dropped significantly. From the highs experienced earlier this decade.
Over the next several years, the city is expected to add more than 10,000 new jobs. And faster wage growth is projected for the city versus the state of Michigan overall.
Then, beyond the U of M survey. Note that many technology-based startup companies have come to the area. Spurred by organizations like TechTown…
A nonprofit entity that provides programs, education, and resources for early-stage small businesses and technology entrepreneurs. Operating out of a 135,000-square-foot facility near New Center. neighborhood
So, get ready for your move. And present your credentials in the best light to land that perfect job. For this, I like to use MyPerfectResume.
Or continue to build your skills and qualifications. Because being able to do so is another one of the benefits of living in Detroit…
Getting A College Degree While Living In Detroit
Finally, good higher education options are accessible here.
From Wayne State University, a public institution. To the University of Detroit Mercy. The largest Catholic university in the state.
Okay. We some aspects of life and work here.
How about having some fun next? That's another one of the great things about living in Detroit pros and cons…
Lots Of Entertainment Options
Because the entertainment scene has plenty to offer residents…
Music
First, there is an excellent live music scene in this city. After all, this is Motown.
Nicknamed after the first black-owned record company in the U.S. that was founded here back in 1959. And known for popularizing a certain style of rhythm and blues music.
Beyond those historical roots in the U.S. music scene. Today you can see great acts at epic venues here. Enjoy summer music festivals. Or rock to the local sounds in more intimate settings.
For example, check out these events and venues:
Annual Detroit Jazz Fest
Baker's Keyboard Lounge for jazz
Historic Fox Theatre
Magic Stick for rocking out
Small's for local acts
TV Lounge for techno music
…to just scratch the surface and name a few of the diverse options available for getting your groove on.
Next, another one of the advantages of living in Detroit…
Professional Sports
This is a great sports town. With all four major professional sports leagues represented.
Perfect for when you want to get out and go to the big game. Or, just hang on the couch with a beverage in your hand.
The pros sports teams are the…
NFL's Lions
NBA's Pistons
NHL's Red Wings
MLB's Tigers
And unlike some cities, all of the stadiums and arenas for these teams are located right in the downtown area. Leading to a great game day atmosphere.
College Sports
Then, hailing from nearby Ann Arbor. Just 45 minutes away. You can root for the college teams at the University of Michigan too.
Just be sure to develop a healthy dislike for their arch-rivals. Specifically, The Ohio State University. Being around the bend of Lake Erie and down into central Ohio where Columbus is located.
Good Foods To Enjoy
With this being a major U.S. metropolitan area. Of course, there is no shortage of excellent chefs and fine dining.
But, the locals will tell you to try some of the good regional comfort foods here. That Detroit is known for. Such as…
Diners Are Part Of Detroit Living
Coney Island. A classic type of American diner-style restaurant that is popular around the city. Where you can get almost anything to eat.
Be sure to try the Coney Dog. A chili-topped hot dog with mustard and chopped onions. Perfect with some chili cheese fries.
The Mexicantown Neighborhood
For Hispanic cuisine, there is an area of southwest Detroit, nicknamed Mexicantown. Where you will find dozens of independently owned restaurants.
Yes. You can eat your fill of traditional Mexican staples here. However, look hard enough and you can find some other good local fare like pizza, steak, noodles, and more.
Barbeque At Slows
Need some barbeque? No problem.
Give Slows Bar-B-Q a try. It is located in Corktown.
Detroit-Style Pizza
Finally, don't forget about Detroit-style pizza. Yes, the city has its own style of pie…
With its square steel pan-style thick, chewy, but crispy crust. Topped with cheese from the neighboring state of Wisconsin, and finished off with thick slices of pepperoni.
Next, to work off all of those calories from the comfort food here. The ability to get outdoors in an urban environment may be one of the best things about living in Detroit pros and cons…
An Enjoyable Outdoor Scene
The summers are great here. Not too hot like other areas of the Midwest. Because the city benefits from the cooling from Lake Erie and Lake St. Clair.
Also, the fall weather. with its crisp temperatures is beautiful too. These two weather seasons are some of the best things about Detroit, in my opinion.
So get out and enjoy…
First, the city has a terrific riverfront. It provides spectacular views of the river and the city skyline as you stroll, bike, or jog.
Or, enjoy the many area lakes. For boating, fishing, and swimming.
You can visit Bell Isle. An island in the Detroit River. A great place for family outings or just meeting up with friends.
Next, hop on your bike. And take advantage of the more than 200 miles of protected bike lanes. For fresh air and a bit of exercise.
Finally, feel free to take the bridge or the tunnel over to Windsor. And explore nearby Canada and everything it has to offer.
Okay. That completes our top reasons to move to Detroit.
But an article about the pros and cons of living in Detroit would not be complete. Without taking a hard look at the cons of living here.
Let's do that now…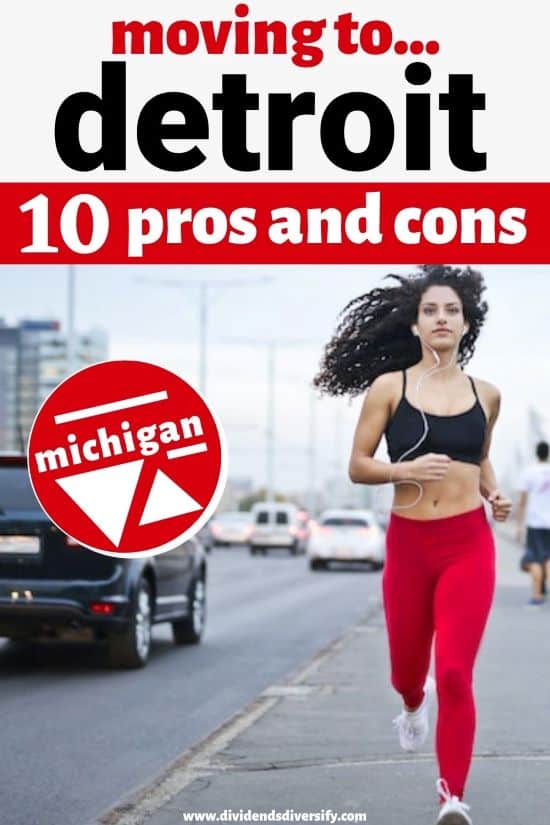 Winter Weather
You have to be of hardy stock to survive the winter here. This goes for most places in the Midwest. But Detroit a little more than others.
Because temperatures get very cold. For example, February daytime highs average about 26 degrees. With extreme conditions far below that.
Then, add in the winds off of Lake Erie or Lake St. Clair. And it gets bone-chilling.
Plus there is a lot of snow. And many dozens of cloudy days to endure.
As a result, heavy winter coats, hats, gloves, and snow removal equipment are required.
Furthermore, just because it snows. Don't expect the kids to get a snow day off from school. Because a little winter weather doesn't shut down this city.
So, if you like what this city offers. But can't handle the winter weather. Then…
I would suggest taking a close look at Memphis. Another city, in my opinion, with similar characteristics. But without the cold and snowy winters.
Next, and speaking of schools. One of the disadvantages of living in Detroit is…
Subpar Public Schools
If you have kids. And need to enter them into the Detroit Public School (DPS) system.
Then understand that the DPS is ranked near the bottom of many educational categories. When compared to other school programs across the country.
The classrooms are overpopulated and many schools have shut down. Corruption and lack of funding have plagued the system over the years.
Fortunately, there are some educational alternatives for your kids. Accessible throughout the greater metropolitan area.
First, many schools in the surrounding communities are quite good. For example, there is Novi High School, Northville High School, and Troy High School just to name a few of the best.
Furthermore, good private schools are also available in the metro area.
Such as the Cranbrook Schools. A private, K–12 preparatory school located on a 319-acre campus in Bloomfield Hills, Michigan. But be prepared to pay for the privilege of sending your kids there.
Finally, these options mean you are no longer living in Detroit. Or, if you do, the chore of commuting your kids to and from a distant private school has to be taken into consideration.
Speaking of commuting. Here is another one of the reasons not to move to Detroit…
Issues With Transportation
With this being the motor city. You wouldn't think there would be issues getting around. But there are a few to keep in mind…
First of all, the public transportation options are not ideal. Since they don't always take you where you need to go. When you need to get there.
However, there are options including:
DDOT. Providing local bus service.
SMART. Bus service to surrounding communities and counties.
People Mover. Elevated rail operating downtown
QLine. Streetcar service to downtown attractions
As a result, most residents depend on a car.
However, in comparison to other major cities, traffic congestion isn't all that bad outside of peak times. Because the infrastructure was built for traveling in automobiles.
On the other hand, the road surfaces aren't always the best. There are massive potholes. And seemingly endless lane closures due to ongoing construction.
Next, be ready to pay up for car insurance. As you will experience some of the highest rates in the nation here.
Finally, there is what is known as a Michigan left turn.
In many cases, to make a left. You are required to turn right before you effectively make a U-turn to go in the opposite direction.
After seeing this set up a few times. I don't suspect you will have much trouble with it. But the first few times, be on the watch out!
Next up, is probably one of the worst things about living in Detroit. As our top living in Detroit, Michigan pros and cons march on…
High Crime Rate And Poverty
First, the city has an unfortunate reputation for high crime. Since the crime rates are higher. Versus cities of similar size in the United States.
So, you are likely asking…
Is It Safe To Live In Detroit?
Yes, it is safe to live in Detroit. Despite the higher than desired crime rates.
By choosing your neighborhood wisely. And being aware of your surroundings, crime doesn't have to negatively impact your Detroit lifestyle.
As often is the case, crime goes hand in hand with this next disadvantage of living in Detroit…
Is Detroit One Of The Poorest Cities In America?
Because research shows that nearly 1 in 3 residents of the city lives below the poverty line. Making this one of the most impoverished cities in our country.
Next, I have one more negative point about Detroit. As part of our pros and cons of the Motor City. Then I will wrap up…
Excessive Tax Rates
Before moving to Detroit, it's important to know that the tax authorities here will take a good share of your money. Whether you are making it or spending it.
So, allow me to lay out the 3 main areas you are going to feel a financial squeeze. As it relates to your taxes.
All 3 are part of the reasons not to move to Detroit…
Income Taxes When Living In Detroit
First, the state of Michigan taxes income at a flat rate. The rate is 4.25% of your earnings.
To make matters worse, Detroit is one of the many cities in Michigan that tacks a local income tax on top of it. Hitting residents up for another 2.4% of their income.
It is the highest local income tax rate of any city in Michigan!
Thus, the city and state combined income tax rate is nearly 7%. A very high burden for residents, in my opinion.
High Property Taxes Come With Detroit Living
Next, the state of Michigan's property tax rate is amongst the highest in the country. So, it's no surprise that high real estate taxes are something the residents here have to deal with.
For example, a recent study showed Detroit's effective property tax rate is in the top 15 highest. Of all large cities in the United States.
To be fair, property values are lower here. As we know from our discussion about the average cost of living in Detroit. Compared to other big cities in the country.
So, homeowners do get a little break. Since the city's high real estate tax rate is applied to a lower base property value.
Last, but not least…
Sales Taxes Can Put A Crimp On Your Life In Detroit
Sales taxes take a toll too. Grabbing another 6%. On top of your spending for the goods required to sustain your Detroit lifestyle.
But here's a good tip to help you offset this cost. It is the cash rebate app from Rakuten.
Just sign up with Rakuten here for free, and get a $10 welcome bonus. Best of all, earn money back on everything you buy online moving forward.
It's just one small way to offset the cost of your purchases. Because every little bit helps!
Okay. That's all I have for today about the many reasons to move to Detroit. And some reasons you may want to choose someplace else to settle down.
So, allow me to wrap up with a few parting thoughts and additional resources…
Pros and Cons of Living in Detroit
How is living in Detroit?
Well, for anyone who is not interested in small-town living. But can't afford the cost of living that comes with many urban areas.
Then Detroit living just might be the perfect option. For the big city amenities without the big city price tag.
Beyond being able to stretch your budget a little farther. You will find a unique community spirit, a recovering economy, plus lots of fun things to do.
Finally, I hope this discussion has helped you think through some important questions. Such as…
1) Is Detroit a nice place to live?
and
2) Why move to Detroit?
Use the article as a guide. But, when moving to Detroit doesn't seem like the right choice for you and your family.
Then, feel free to check out all of our…
Guides to Living About the Country
Good luck with your decision. No matter where you choose to settle down!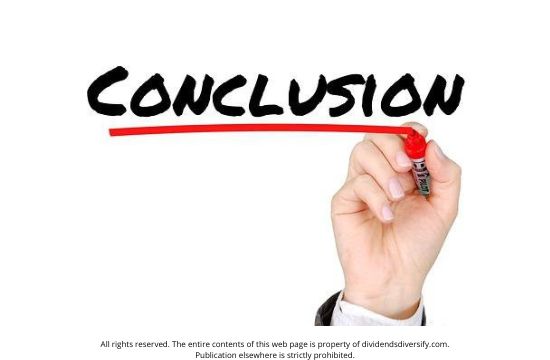 Author Bio: Tom Scott founded the consulting and coaching firm Dividends Diversify, LLC. He leverages his expertise and decades of experience in goal setting, relocation assistance, and investing for long-term wealth to help clients reach their full potential.
10 Living In Detroit, Michigan Pros and Cons Explained