For Anyone Thinking About Moving To Murfreesboro, Tennessee
Today I want to head to a fast-growing suburban city in the heart of the country. We are doing so to review the pros and cons of living in Murfreesboro, Tennessee.
Let's go through it before you load up the car and start to move it.
Pros And Cons Of Living In Murfreesboro, Tennessee
The moving to Murfreesboro, Tennessee pros and cons include the following:
Plenty of fun things to do
Rich in American Civil War history
Good public schools
Easy access to higher education
Conveniently located hospitals
Proximity to Nashville
Mild winter and four seasons
Tax and economic incentives
A rising cost of living
An excessive sales tax rate
Limited public transportation
Heavy traffic congestion
Plenty of college kids
Lack of robust nightlife
Extreme weather conditions
Lots of insects
A notch in the bible belt
I will dive into each point about your potential Murfreesboro lifestyle in a moment. But first, please allow me to address the big question of the day.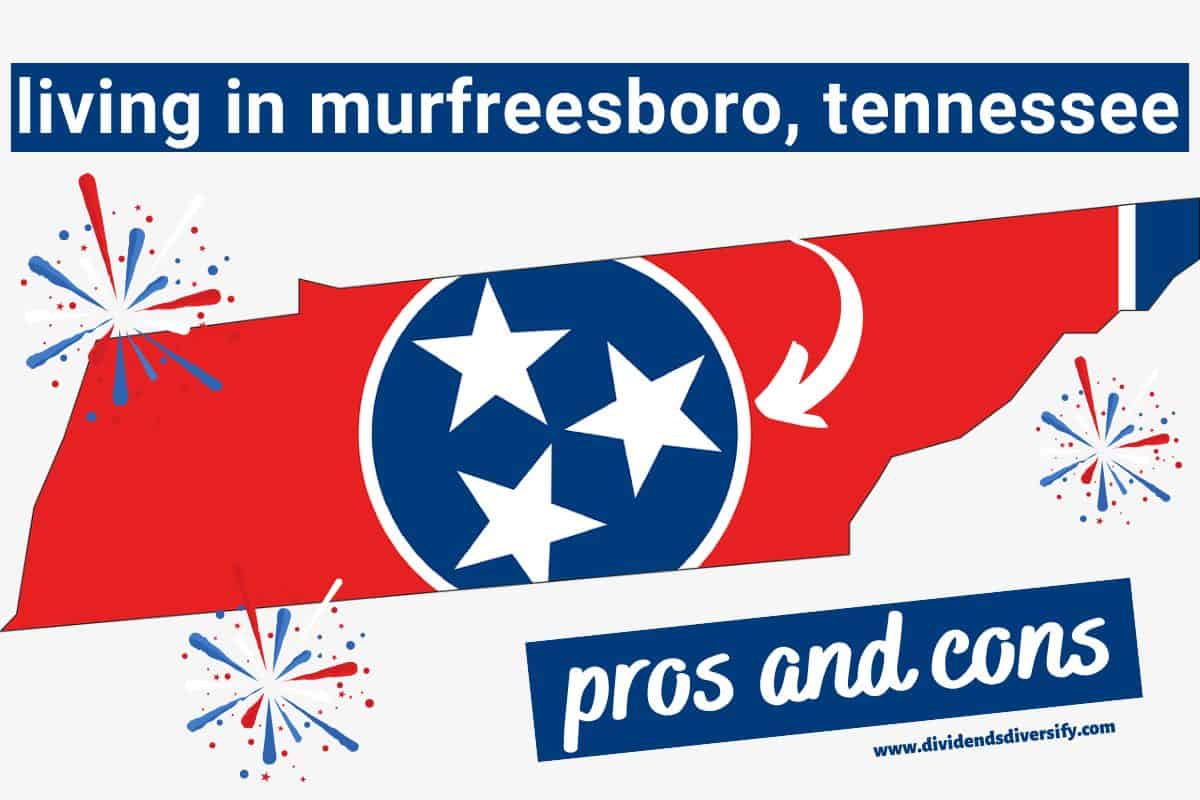 Disclosure: At no cost to you, I may get commissions for purchases made through links in this post.
Is Murfreesboro A Good Place To Live
Murfreesboro is an excellent place to live, offering a little something for everyone. Located in the heart of middle Tennessee, the city is about 35 miles from downtown Nashville. The 160,000 locals here enjoy a nice balance between big-city amenities and the slower pace of living in rural Tennessee.
However, life in Murfreesboro won't be for everyone. So next, let's carefully examine the pros and cons.
1. Plenty Of Fun Things To Do
One of the first things that may surprise you about moving to Murfreesboro is the number of family-friendly fun things to do.
Downtown Murfreesboro
Downtown and the main street area is also known as Murfreesboro square. The square is perfect for strolling, window shopping, and popping in and out of restaurants, stores, and coffee shops.
Hundreds of locally owned small businesses operate in and around the area, adding to the intimate community feel. More specifically, about 50 of these businesses are boutique shops and restaurants that residents and visitors love to explore.
Here is a small sample of local favorites for a beverage and a bite to eat:
The Alley on Main
Marina's on the Square
Puckett's Restaurant
Mayday Brewery
Arts, Sports, Culture, And Festivals
For fun, entertainment, a little culture, and festivals, consider the following after moving to Murfreesboro:
Boro Art Crawl
Center for the Arts Community Theater
Discovery Center children's museum
Fountains Winterfest
JazzFest
Middle Tennesse Songwriters festival
Uncle Dave Macon Days (roots music fest)
MTSU Blue Raiders college sports
Shopping
Excellent shopping centers are available.
Fountains at Gateway is a mixed-use space with restaurants, shops, and green areas.
The Avenue Murfreesboro is an open-air regional lifestyle shopping center. The complex has more than 100 stores.
Parks And Outdoor Recreation
Finally, after moving to Murfreesboro, you can get out and enjoy the beautiful natural surroundings. For example:
Murfreesboro's Stones River Greenway
Long Hunter State Park
Barfield Crescent Park
Hop Springs Beer Park
As you travel from the city to the south, you will see more farms and open land in the lush countryside around you. A great region for investing in the agricultural community through a stake in farmland or other types of land that interest you.
Another one of the benefits of living in Murfreesboro is its place in American history. So, all of you history buffs, take note of the next topic.
2. Rich In American Civil War History
Originally named Cannonsburgh, this not-so-well-known Tennessee city was recognized as the state capital until Nashville took over the distinction in 1826.
Today, visitors can tour Cannonsburgh Village. The site represents early Tennessee living and offers free self-guided tours.
The Battle of Stones River began on the last day of 1862 and was one of the bloodiest conflicts of the Civil War. Nevertheless, the battle produced important military and political gains for the Union.
Stones River National Battlefield is a museum and a beautiful 570-acre park along the banks of the Stones River commemorating this historic site.
For more history about this city in middle Tennessee, explore the Earth Experience – Middle Tennesse Museum. Also, the Oaklands Mansion.
Okay. As long as learning is on my mind, let's discuss the educational opportunities you and your family will have access to here. Thus, I will highlight another one of the many advantages of living in Murfreesboro.
3. Good Public Schools
Most locals will tell you that Murfreesboro has some of the best schools in the state, highlighted by:
A quality education
Teachers who care
Diversity
Safety
Innovative use of technology
Both city and county schools make up the system.
First, the city schools are elementary level specializing in prekindergarten through sixth-grade learning. As of this writing, the system has 13 schools and about 10,000 students. The student-to-teacher ratio is 14 to 1.
Second, Rutherford County offers elementary school education. Also, the county provides all of the middle schools and high schools.
The system is much larger. There are roughly 50,000 students and a student-teacher ratio of 16 to 1.
Some of the highest-rated schools to take note of include the following:
Central Magnet School (grades 6-12)
McFadden School of Excellence (grades K-5)
Thurman Francis Arts Academy (grades K-8)
Blackman High School
Fortunately, the learning opportunities do not end at grade 12. So, let's explore another one of the many educational perks of living in Murfreesboro.
4. Easy Access To Higher Education
Whether you want to keep the kids close to home for college or expand your mind through higher education, you have good options here.
First, there is Motlow State Community College, located 15 minutes away in Symrna.
Better yet, located right in Murfreesboro is Middle Tennessee State University (MTSU).
MTSU has more than 20,000 students attending classes and boasts one of the lowest tuition rates versus other major universities in the state. In addition, locals love the NCAA sporting events, especially Blue Raiders football games.
Next, as today's pros and cons roll on, here is another one of the great things about life in Murfreesboro.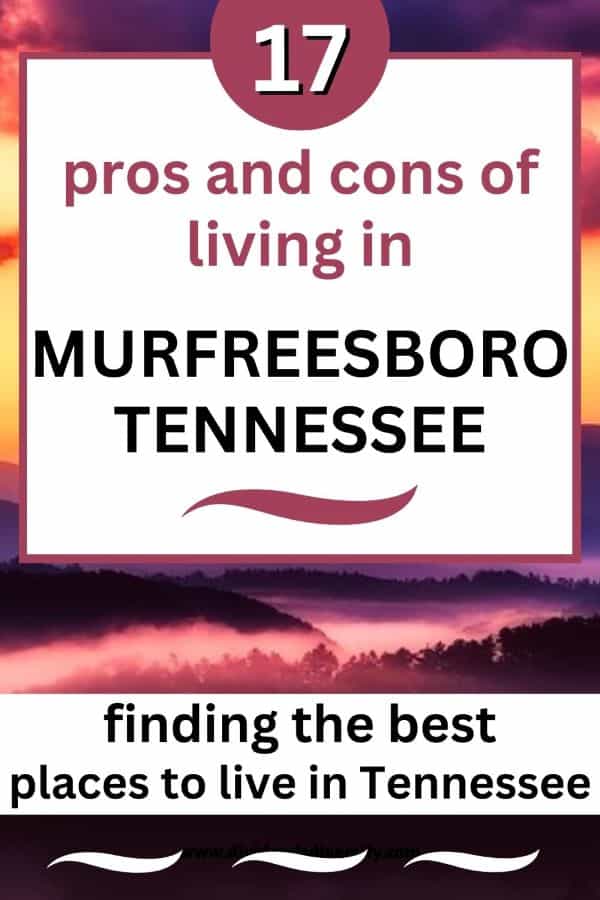 5. Conveniently Located Hospitals
Hopefully, you and your family will enjoy many healthy years after moving to the area. But you never know when a health issue will crop up.
Fortunately, you will have access to conveniently located hospitals to find the care you need.
Ascension Saint Thomas Rutherford is a critical care hospital with advanced specialty care services.
Alvin C. York Veterans' Administration Medical Center is on the east side of town. The center provides both primary and specialized services.
Finally, Vanderbilt University Medical Center is located in Nashville for some of the finest medical care in the state.
Speaking of Nashville, let's address another one of the best things about living in Murfreesboro.
6. Proximity to Nashville
The state's capital city, Nashville, is located 35 miles northwest. Depending on traffic, 35 to 45 minutes of traveling on Interstate 24 will have you in the heart of one of the fastest-growing cities in the United States.
Thus, whatever you need but can't find in Murfreesboro, I can almost guarantee you can find it in Nashville, including:
Jobs of all kinds
Live music
Robust nightlife options
Fantastic restaurants
Pro sports
Here's another one of the good reasons to move to Murfreesboro.
7. Mild Winters And Four Weather Seasons
Residents here enjoy all four weather seasons.
Better yet, the winters are comparatively mild, with only a few inches of snowfall each year. High temperatures during the coldest months often reach 50 degrees.
Finally, here is one of my favorite reasons to live in Murfreesboro.
8. Tax And Economic Incentives
First, there is no state income tax. So, make as much money as you like, and the state won't tax a penny. Tax savings is one of the big reasons people are moving to Tennessee.
Compared to other states with income tax rates of 3-5%, the average household can save several thousand dollars each year.
Second, the state has low real estate tax rates. They help to offset the rising costs of home ownership.
Finally, the economy in middle Tennessee is thriving, led by MTSU and the thousands of jobs it creates for the region. Other new or significant employers include:
Cintas
Demos Brands
Nissan North America
Rutherford County
As a result, low unemployment and healthy projected job growth bode well for area residents. Or anyone trying to get ahead with their finances.
Okay. That concludes my discussion regarding the best things about living in Murfreesboro.
Next, let's balance things out by looking at the cons.
9. Rising Cost Of Living
I had difficulty deciding whether to put the cost of living as a pro or a con because the price of living here is close to the national average.
At the time of publication, average home prices were in the mid-300 thousand dollar range. At the same time, the median home value had recently crossed over $400K. Furthermore, the demand for new construction has also increased the price of vacant land.
Thus, rapidly rising home and land prices tipped me over to put this point on my list of cons.
What it tells me is that the area's attractiveness has led to population growth. And population growth has put upward pressure on the price of everything.
So, it's not cheap to live here in Tennessee. However, comparatively speaking, it is much less costly than Nashville or Franklin.
Further stressing your pocketbook is another one of the possible reasons not to move to Tennessee.
10. Excessive Sales Tax Rate
Plan on paying almost 10% in sales taxes on goods you buy daily, restaurant meals, and some essential services too. Unfortunately, this is one of the highest sales tax rates in the country.
Think about it this way when you drop $2,500 on a new flat-screen television and furniture for your new family room. The sale tax will add another $250 to the price tag.
My wife and I use Rakuten to offset rising costs and sales taxes. Rakuten is the perfect app for earning cash back on all your online purchases.
You can learn more about Rakuten here. Why pay more if you don't have to?
Next, the following two items might be some of the worst things about living in Murfreesboro.
11. Limited Public Transportation
Public transportation is limited here. Similar to many of the best places to live in Tennessee.
Murfreesboro Transit operates a bus system during the day on weekdays. More limited time and route schedules are available on Saturdays.
So, if you were hoping to move to Murfreesboro and take a commuter train into Nashville for work, you would be disappointed.
As a result, unless you can pull off living, working, and recreating in a confined area, plan on owning a car to get around.
Next, I have yet another reason not to live in Murfreesboro.
12. Heavy Traffic Congestion
Population growth and the cars that have come with it have outstripped the capacity of the road infrastructure.
Thus, expect heavy traffic and long commutes as you go about your daily routine.
Road construction adds to the congestion. As a result, road stress causes some drivers here to be reckless and emotional.
Several hot spots that residents complain about include:
Medical Center Parkway before getting on Interstate 24. There is a 2-mile stretch that can add 15 minutes to your commute.
The Blackman area is located west of I24 and is very congested too. However, Blackman is one of the more convenient locations for commuting to Nashville.
Finally, there is plenty of traffic in and around Memorial Boulevard and further south on Church Street.
Are population growth, construction, and traffic a turnoff for you? If yes, consider living in some of the more remote parts of Eastern Tennessee.
Otherwise, it's a good idea to learn the traffic patterns. But, most importantly, be careful spreading yourself out between work, home, and school if spending extra time in your car is undesirable.
Remember this next point when you are thinking about moving to Murfreesboro.
13. Plenty Of College Kids
Understand that more than 20,000 kids descend on this city yearly for classes at MTSU. That means about 15% of the population are students.
So, know you are moving to a big Tennessee college town and getting everything that comes with it.
Next, I have another negative point about Murfreesboro living.
14. Lack Of Robust Nightlife
Unless you plan on participating in the college party scene or travel to Nashville regularly, you will find little nightlife here compared to Memphis or the state's capital.
There's nothing to do later in the day except go shopping, catch a movie, drink at a local watering hole, or go out to eat. Thus, it is dull and generic suburbia in this regard.
As a result, if you are looking for nightlife or a significant city excitement level, you are moving to the wrong place.
Next, only some things are perfect about the weather here. Let's discuss another reason why moving to Murfreesboro may not be a great idea.
15. Extreme Weather Conditions
The area is subject to several types of extreme weather and dangerous conditions you will want to know about before moving, for example:
Destructive tornadoes are a threat in this part of Tennessee. Mainly during the spring and fall.
Freezing rain and dampness can lead to black ice and dangerous road conditions.
The smallest amount of snow shuts down the city and closes schools.
Severe thunderstorms with lightning, heavy rain, and sometimes hail can wreak havoc. Thus, flooding is an issue both for homes and certain roads.
During the peak summer season, hot temperatures and high humidity can be a turnoff for some. So, be prepared to sweat whether you like it or not.
Finally, warm, humid, wet weather leads to a productive growing season. But unfortunately, much pollen gets released into the air, which can be tough on those with seasonal allergies.
Speaking of wet, warm, and humid weather, if you love to spend time outdoors, this next point is one of the negatives of moving to Murfreesboro.
16. Lots Of Insects
First, mosquitos love living in Murfreesboro too. But, unfortunately, they can ruin your best-planned outdoor events. So, be prepared.
Other creepy crawlers can get into your home. Thus a pest control service is an excellent idea to keep your house insect free.
Whether or not this last point is a bad thing about Murfreesboro is up to you to decide.
17. A Notch In The Bible Belt
After moving to Murfreesboro, some people are surprised that they are now living in the Bible Belt. Furthermore, Nashville is known as the Buckle of the Bible Belt.
So, understand that Christianity is the religion of choice. And you will see many Christian churches located throughout the area.
Although not necessarily bad, it may make people who aren't interested in religion feel uncomfortable. Or, for anyone who practices a different faith, you may feel less welcome and out of place.
Also, be prepared for this question: where do you attend church?
Okay. That's all I have for today.
So, please allow me to wrap up with a few parting thoughts.
Pros And Cons Of Living In Murfreesboro
Murfreesboro is an excellent place to live for anyone looking for a growing, family-friendly city suburb in Tennessee with good schools and access to jobs.
However, popularity has come at a price, evidenced by the rising cost of living, higher crime rates, and congestion from population growth outstripping the city's infrastructure.
Best wishes no matter where you decide to settle down. And if middle Tennessee doesn't seem like your perfect place, check out:
Our Suite of City and State Lifestyle Guides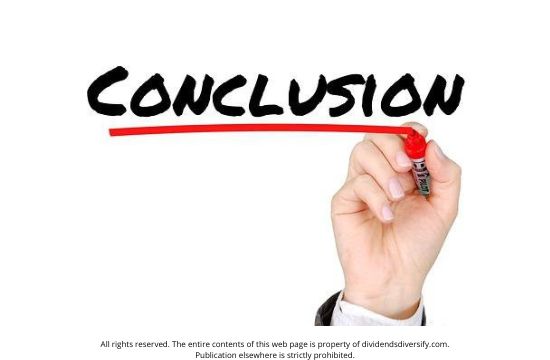 Author Bio: Tom Scott founded the consulting and coaching firm Dividends Diversify, LLC. He leverages his expertise and decades of experience in goal setting, relocation assistance, and investing for long-term wealth to help clients reach their full potential.
The Pros And Cons Of Living In Murfreesboro, Tennessee Fully Explained