For Anyone Asking: Why Move To Richmond, Virginia?
Today, for your careful consideration, I would like to review the pros and cons of living in Richmond, Virginia.
Or as the locals call it, "RVA".
So, let's get moving…
Pros And Cons Of Living In Richmond, Virginia
My list of the top living in Richmond, VA pros and cons includes:
| | |
| --- | --- |
| 9 Richmond Pros | 8 Richmond Cons |
| Robust job market | Limited public transit |
| A modest cost of living | Mixed quality of schools |
| High-quality health care | Excessive income tax |
| Access to higher Edu | High consumption taxes |
| Lots of arts & culture | Higher crime rates |
| Fun things to do | Nuclear power plants |
| Tasty local foods | Hot & humid summers |
| Friendly residents | Seasonal allergies |
| Proximity to much more | |
Shortly, we will go through in detail each of the advantages and disadvantages of Richmond living that are listed above.
But first, allow me to answer the big question of the day…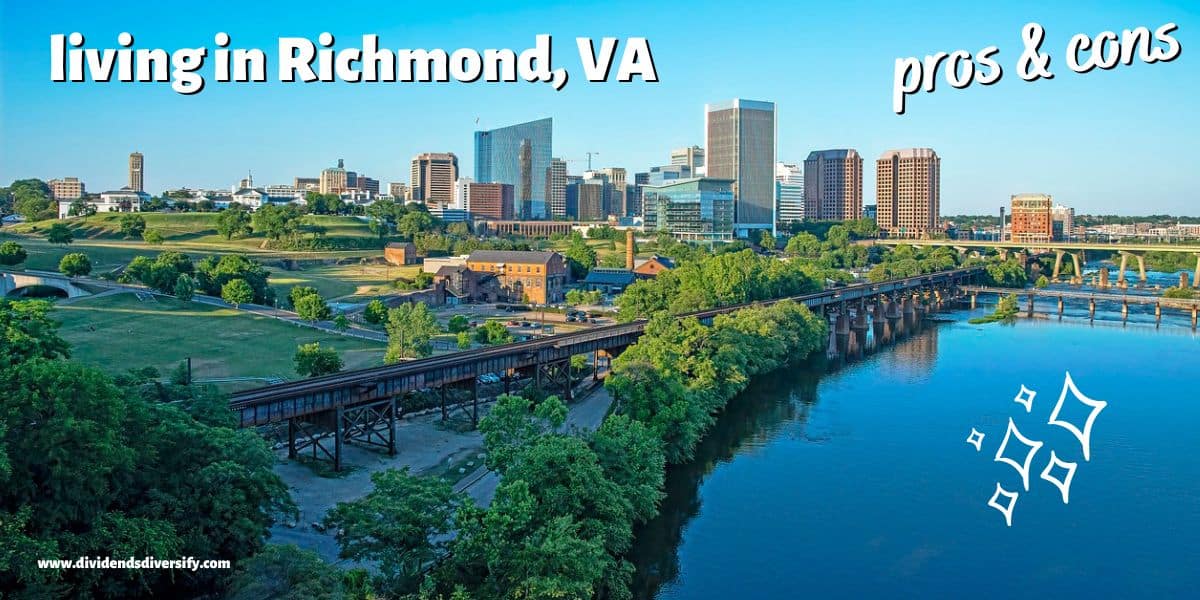 Disclosure: At no cost to you, I may get commissions for purchases made through links in this post.
Is Richmond, VA A Good Place To Live?
Richmond is a good place to live because it is filled with opportunities for work and building a career. While offering excitement and fun at restaurants, clubs, and entertainment venues. All without the high cost and inconveniences that come with living in some of the largest U.S. cities.
However, like anywhere. Living in this city won't be for everyone.
So, let's carefully examine each of the living in Richmond pros and cons…
Robust Job Market
First, the city has a productive business environment as evidenced by the number of Fortune 500 companies located here. Specifically, 8 as of the time of this writing.
Both including and beyond those big and successful companies, major areas employers are:
Altria
Anthem Health
Capital One
Carmax
Dominion Energy
Dupont
Elephant Insurance
Genworth
Markel
Owens & Minor
Performance Food Group
VCU Health
Furthermore, there is a reasonably large military presence in the area. That supports jobs of many kinds.
And finally, don't forget this is the state capital. So, a variety of government jobs are available too.
So, whatever your employment goals, spruce up your resume. To present your qualifications in the best light possible.
For this, I like to use MyPerfectResume.
Finding A Job When Living In Richmond
To sum it up, whether you moving to Richmond without a job. Or, need to change jobs after moving here.
In my opinion, anyone willing to work can find a good job in or around RVA.
Here's another one of the good reasons to move to Richmond…
Moderate Cost Of Living
Here's how I look at the average cost of living in Richmond…
If you are moving from one of the largest metropolitan areas in the U.S. Then you will find it much less expensive here.
On the other hand, if you are moving from a small town located in the middle of nowhere. Then, it's likely going to cost a little more than what you are used to.
Since I don't know where you specifically are coming from, let's consider the averages…
Here is what I see by reviewing cost-of-living sites such as bestplaces.net and payscale.com. The average cost of living in Richmond runs 4-5% less than the United States national average.
Furthermore, with a local focus. This is the most affordable city of all the metropolitan areas in Virginia.
Finally, save a little more money by making your online purchases using Rakuten. For cashback in your pocket. No matter where you choose to live.
Housing Market When Moving To Richmond
Also, after discussing the housing market with several local real estate professionals, this is what you are going to find when buying a home:
Competition for housing has increased
Prices have been rising
Starter homes can be found for about $200K
"Move up" homes run at about $350K
A luxury residence will set you back $750K
Just like anywhere you choose to live, home prices will depend on your exact location. Also, the specific amenities you desire.
However, the above points should give you a feel for what you are looking at price-wise. When considering a move to Richmond.
Finally, because of the competitive nature of the housing market. Make sure your credit score is in good shape. Regardless of whether you choose to rent or own.
Best of all, you can check your credit for free with Credit Karma.
Neighborhoods For Living In Richmond
Just about anyone can find their perfect place to live in Richmond.
Whether you want to live in this southern city, the surrounding suburbs, or find a rural setting closer to the country. What you will find is that each neighborhood has a distinct flavor.
But it blends nicely together. Into what I consider a fairly small but highly livable urban area in the south.
Most of the new construction is to the west in the suburbs. But differentiated from the Near West End neighborhood in the city. Where the University of Richmond is located.
With all of that stated, here are some ideas to start your search for your perfect home…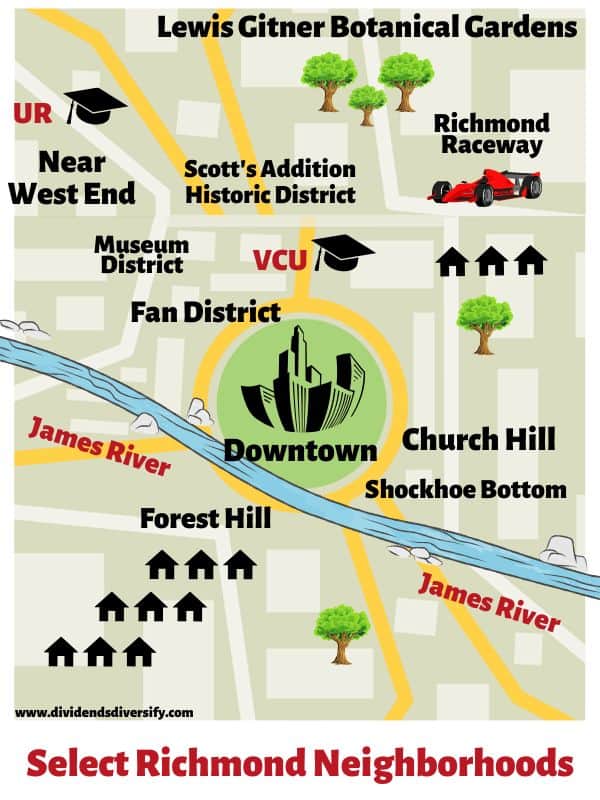 Lively walkable city neighborhoods:
Church Hill
Forest Hill
Near West End
Shockoe Bottom
The Fan District
Nice suburbs:
Chesterfield
Mechanicsville
Midlothian
Short Pump
Rural settings outside the metro:
These last areas put you on the brink of farmland. A perfect place to invest in farms and put your stake in the community.
Next, another one of the benefits of living in Richmond…
High-Quality Health Care
If you know anything about the entire state of Virginia, you may already realize the state has a good reputation for quality healthcare systems, facilities, and providers.
Fortunately, it is no different in the capital city of Richmond.
First, look no further than Virginia Commonwealth University (VCU) Medical Center. Based right in the city center.
Second, the University of Virginia Medical Center located in Charlottesville is about an hour away. It is often regarded as being the best hospital in the state.
Why live in Richmond? Well, here is another good reason…
Access To Higher Education
Whether you want to further your education, keep the kids close to home for college, or just take a class as part of your lifelong learning efforts. This city has your higher education needs covered.
By far the largest school is Virginia Commonwealth University (VCU). A public research university with nearly 30,000 students enrolled.
There is also the University of Richmond. For a much smaller, private school experience.
Finally, there is Virginia Union University. A private historically African American university. Recognized for its principal mission of educating black Americans and its commitment to diversity.
Or perhaps, you enjoy expanding your mind in a more casual, recreational way. Then, here's how that can be worked into your Richmond lifestyle…
Vibrant Arts And Culture Scene
Because this city has become known for music, arts, and culture. Offering an eclectic mix, to say the least.
First, the city's ballet, its symphony, and the opera. They are all highly acclaimed for their excellence.
Furthermore, there is the Richmond Forum. A program that brings in well-known people from politics, science, business, engineering, medicine, the arts, and other fields.
Their mission is to present powerful voices so Richmond can learn and lead.
Some other things and places to consider as you feed your cultural side…
There is the Museum District which has two world-class museums. The Virginia Museum of Fine Arts and the Virginia Museum of History & Culture.
Also, nearby in the Fan District, is the Institute for Contemporary Art at VCU.
Finally, you should know that living here means relocating to a place that is rich in American history. And one of our country's oldest major cities.
Historical Points About Living In Richmond
For example, some historical points to note are:
Patrick Henry, one of the founding fathers of the country, declared…
"Give me liberty or give me death"
…doing so at St. John's Church in 1775. It was one of the events that ultimately led to the Revolutionary War.
Also, this was the capital city of the Confederacy. And was home to Confederate President Jefferson Davis during the civil war.
So, on just about every city street. And around every corner, residents are exposed to some of America's deepest and most historical roots. Part of what made this country, what it is today.
I know, I know. Culture, the arts, and history aren't for everyone. So, here's another one of the great things about Richmond…
Fun Things To Do
Since there are many other fun things to do. Fitting almost any type of interest or lifestyle.
It's an especially great place to live for outdoorsy types…
Enjoying The Outdoors When Living In Richmond
First, the James River flows through the city. It provides a picturesque environment downtown. Furthermore, the river is a long linear public park. With nearly 600 acres of natural beauty.
It also offers numerous recreational opportunities. Trails for strolling, hiking, and biking. Also, the river is open for kayaking, canoeing, and swimming. Or, for just hanging out on the shore soaking up the sights and the sun.
In the river itself, are several islands. The largest of which is Belle Island. It is on the southern shore and part of James River Park.
Festivals And Sports After Moving To Richmond
From spring through fall, there is almost always something going on. Mainly during the weekends on one of the islands.
From outdoor festivals with food and music. To exhibitions, concerts, and gatherings of all sorts designed for fun and entertainment.
The annual Folk Festival is one of the most popular events. It is held each fall on the riverfront. And spills out onto Brown's Island.
Finally, this is a great city for college sports. Because the hometown universities have some competitive teams. They are entertaining and interesting to follow as a local fan.
Next, if you are like me. All of this outdoor stuff will build your appetite.
Fortunately, you won't have trouble finding some good food here.
Could this be one of the best things about Richmond? I don't know, you decide…
Tasty Foods To Try And Enjoy
First, you must explore the local delicacies. You know, the foods the region is known for…
Being a southern state positioned on the Atlantic Ocean, it's hard to go wrong with fresh seafood. However, there are other good choices for meat eaters and snackers like me, and maybe you.
Local Foods When Living In Richmond
For example, local specialties include:
Apples
Blue Crabs
Country ham and biscuits
Mountain trout
Oysters
Peanuts
Pimento cheese spread
Local Dining For Your Richmond Lifestyle
Then, get ready to go out for drinking and dining.
Because this city's restaurant scene here is amazing. Not to mention the craft breweries and cideries for washing all that good grub down.
So, here are a few restaurants to check out around town. Just a short list to get you started eating your way through life in Richmond…
Burger Bach
Fat Dragon (Chinese)
LUNCH.SUPPER
Mellow Mushroom (pizza)
Red Salt Chophouse and Sushi
Tazza Kitchen
The Daily Kitchen & Bar
Of course, you'll want to maintain a healthy balance between meal planning at your new home in Richmond. Versus enjoying the occasional night out with a good restaurant meal.
Most importantly, you only live once. So, don't be afraid to indulge now and then.
However, be sure to use good financial habits to save money at your favorite restaurants around town.
Okay. Here is another good thing about Richmond living…
Friendly People
Because life in some way or another always comes down to the people you are surrounded by.
Here's the good news…
Nice People Live In Richmond
Overall, residents are welcoming. Kind of easy-going like a good southern city should be.
They are often eager to talk about their favorite aspect of the city.
The personal warmth makes it a great place to grow up, get an education, start and raise a family, or retire. Perfect in some way for every phase of life.
Diverse People Live In Richmond
Furthermore, you will find a diversity of views and opinions…
From the city hipsters downtown and around VCU. The types of people you might find in trendy cities like Austin, Texas. Or, Portland in the western state of Oregon.
However, the more conservative business-minded people have their place here too. Just going about their workdays trying to make a good living.
And as long as we are talking about people. You should know that within the city limits, there are about 230,000 residents. While the population of the greater metropolitan area is more than 1.3 million.
Finally, to conclude the pros of moving to Richmond…
We all have to get away at times. And this city has your back when you need to get out of town…
Proximity To So Much More
Because Richmond is conveniently located in the center of the state. Making for some great day trips or weekend travel opportunities.
For example, in less than 2 hours you can…
Head west and be hiking in the Appalachian Mountains. Near the beautiful border state of West Virginia.
Travel east…
…for relaxing on by the Atlantic oceanfront. Virginia Beach is a popular choice for many.
Jump north…
…to explore our nation's capital in Washington D.C.
Or, go south and see what the state of North Carolina has to offer.
Okay. Unfortunately, all good things must come to an end.
Because it's now time for the cons of living in Richmond, Virginia.
Let's not delay…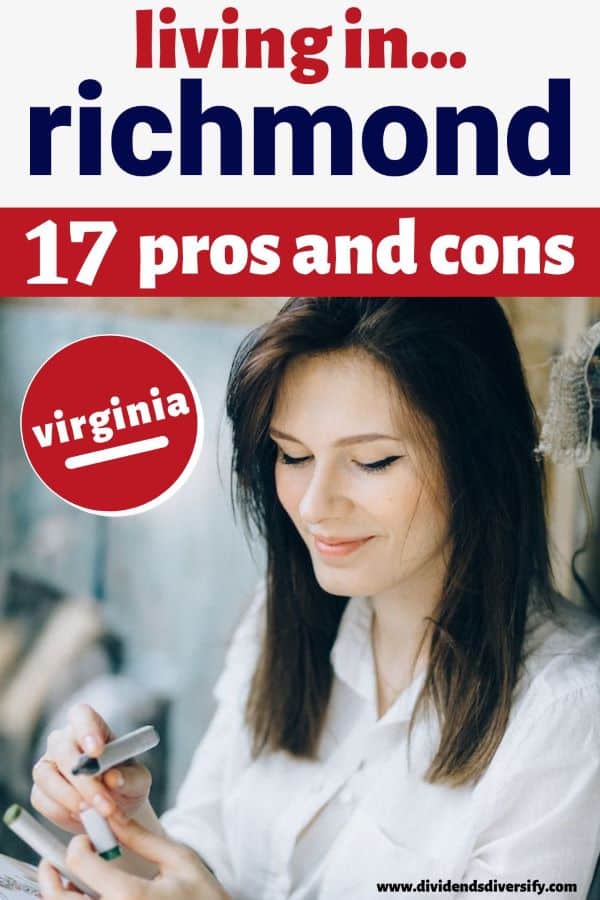 Limited Transportation Options
On a positive note, travel is relatively easy by car. Since it's possible to get anywhere in the metro area in about 20 to 30 minutes.
However, on the negative side of the transportation scorecard…
Bridges And Roads For Getting Around Richmond
First of all, there are tolls on the bridges used to cross the James River.
Furthermore, the roads are generally in a poor condition.
Rough surfaces are typical. And drivers need to watch out for large potholes that can damage their cars.
Trains, Planes, And Buses For Richmond Living
Unfortunately, the DC metro, a light rail rapid transit system, serving DC and Northern Virginia doesn't reach south into Richmond.
There is a fixed-route bus system operated by GRTC transit. However, it won't always get where you need to go when you need to get there.
Southeast of downtown is Richmond International Airport (RIC). On one hand, it's nice to have a local airport that is so easily accessible.
However, it's only convenient for regional travel. Or, for connecting to a larger airport.
As a result, for cross-country or international travel. Most residents find it more efficient to fly out of the DC area airports.
To sum it up, plan on owning a car. Unless you can live, work, and recreate in a confined area. It's certainly possible in the downtown area.
But realize this is not a big city. With the types of public transportation systems that come with making a lifestyle choice like that.
Next, for anyone with school-age children. Here is another one of the disadvantages of living in Richmond.
Inconsistent Quality Of Schools
Yes. Your kids can get a good education. On the other hand, you have to "pay to play" as the saying goes.
First, there are more than 50 private schools to choose from. But of course, that is an expensive option.
Then what about the public school system?
Unfortunately, many of the Richmond city schools are not highly rated. And the best public schools tend to be located in the more expensive areas. Thus, running up your cost of living in Richmond.
So, choose your exact location wisely to access the best schools and keep your budget balanced.
Some thoughts to consider…
Based on student outcomes, for city dwellers, the West End schools or Mary Mumford neighborhood schools are considered better. However, the top-rated area school districts tend to be located in the western suburbs outside of the city limits.
Next, a couple more negatives about Richmond living. These too will have an impact on your pocketbook…
Excessive Income Taxes
First, in comparison to living in Tennessee. The no-tax neighboring state to the southwest.
Unfortunately, Virginia has a state income tax.
And the more money you make. The higher the tax rate you will be charged on your income.
With a top tax rate amounting to 5.75% of your earnings. Thus, you will find yourself paying a good chunk of change every year to the Virginia state government.
Regarding taxes, is Richmond a good place to retire? Well, yes and no.
The good news is the state does not tax social security income.
However, if you have pension income. Or, you are withdrawing money out of a 401(k) or traditional IRA. These funds will be taxed. Although a tax exemption is available for a small portion of your withdrawals.
Unfortunately, the taxes do not stop there. Bringing us to another one of the reasons not to move to Richmond…
Heavy Consumption Taxes
First, we have sales taxes. Because the sales tax rate runs more than 7% of your purchases.
Think about that when you go to buy a new refrigerator for your home. Or, a new car to get around town. Because the sales taxes will add up fast on purchases like that.
You can also plan on paying a nearly 30 cent per gallon gasoline tax. Every time you pull up to the pump.
By now, you can see there are a lot of moving parts related to living in Richmond and your finances. Furthermore, moving is a big deal and a big expense.
So, make sure you have your financial house in order!
For this, we use the app offered by Empower. The perfect tool for tracking expenses, budgeting, and seeing your investments in one place online.
Next up, another one of the worst things about Richmond…
Higher Crime Rates
First, let me say this…
The city is relatively safe and well-policed. Furthermore, there are plenty of safe places to live.
So, don't let the crime rates scare you away. Just like finding a good school. Finding a safe neighborhood takes a little research.
On the other hand, the crime rate statistics do not lie. Since the city experiences more crime when compared to either the averages in Virginia or the United States as a whole.
Thus, CrimeGrade.org gives the city an overall score of C+.
Some of the hot spots for crime are south of the James River inside the city limits. And like many cities, the environment and concerns about personal safety can change quickly from block to block.
Okay. I have several more bad things about Richmond, then I will wrap up…
Presence Of Nuclear Power Plants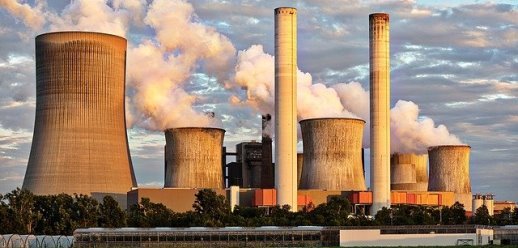 Only about 100 nuclear power plants are operating in the U.S. However, 4 of them are in Virginia. And 2 of those are near Richmond.
Safety issues are rare. But hey, accidents happen. In case this is something that will bother you.
Summer Heat And Humidity
If you don't like heat and humidity, Richmond living may not be for you. Because, like it or not, this is the best of the southern United States.
The peak summer weather lasts about four months. So, if you don't like steamy conditions. You won't like it here!
Fortunately, the rest of the year is generally fine. However, it rains frequently and the weather is very changeable from day to day and week to week.
High Mold And Pollen Counts
Finally, the seasonal temperatures, long growing seasons, and abundant rainfall bring out the worst for seasonal allergy sufferers.
The conditions create high mold and pollen counts. That can make your eyes water and your nose run.
Take it from me. It's no fun.
Have you had enough? I hope so because that's all I've got.
So, allow me to wrap up a few parting comments.
Pros And Cons Of Living In Richmond, VA
Our top list of living in Richmond pros and cons includes so much. As a result, here's a summary of what we discussed…
First…
The Advantages Of Living In Richmond
Robust job market
Moderate cost of living
High-quality healthcare
Access to higher education
Vibrant arts and culture scene
Fun things to do
Tasty foods
Friendly people
Proximity to much more
Second…
The Disadvantages Of Living In Richmond
Limited transportation options
Inconsistent quality of schools
Excessive income tax rates
Heavy consumption taxes
Higher crime rates
Nuclear power plants
Summer heat and humidity
High mold and pollen counts
Is Richmond a nice place to live? I think so. But now you can answer that question for yourself.
Thanks for reading. And if Richmond doesn't fit your requirements, then check out all of…
Our Guides To Find Your Perfect Place To Live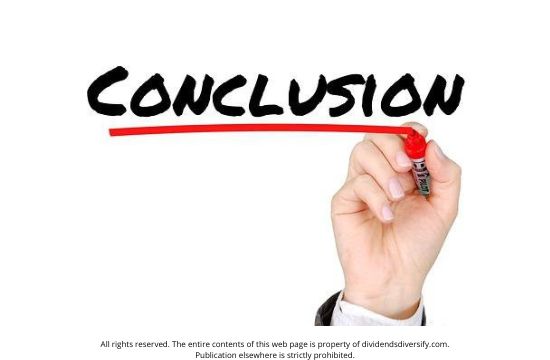 Author Bio: Tom Scott founded the consulting and coaching firm Dividends Diversify, LLC. He leverages his expertise and decades of experience in goal setting, relocation assistance, and investing for long-term wealth to help clients reach their full potential.
The Pros And Cons Of Living In Richmond, VA Explained