Things To Know Before Moving To Wisconsin
Ready or not, we are reviewing the pros and cons of living in Wisconsin today.
To sort out the answers to your questions. Such as:
Is Wisconsin a good place to live?
And, why should I move to Wisconsin?
With that brief introduction out of the way. Let's get moving with the living in Wisconsin pros and cons straight away.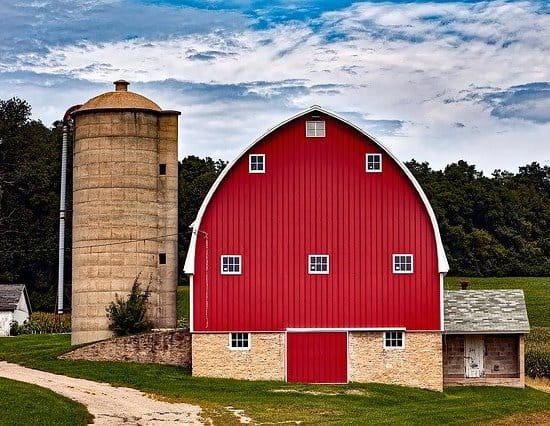 Disclosure: At no cost to you, I may get commissions for purchases made through links in this post.
Pros And Cons Of Living In Wisconsin
Here's my top 10 list of pros and cons of moving to Wisconsin:
Low cost of living
High quality of life
Lots of fun things to do
Good educational options
Tasty food and drinks
High tax burden
Extreme seasonal weather
Pesky mosquitos and bugs
Limited public transit and bad roads
Suspect personal behaviors
I will go through each of these Wisconsin pros and cons in just a moment.
But first, let's unravel the first of the two questions I posed in the introduction.
Is Wisconsin A Good Place To Live?
First, allow me to present my perspective.
In a nutshell, I say yes. I think Wisconsin is a good state to live in. And one of the best states for living in the midwest.
But, let's examine some of the state's advantages and disadvantages. To put some substance behind my view.
Benefits Of Living In Wisconsin
First of all, Wisconsin provides a budget-friendly cost of living. Mainly because of most families' biggest spending area.
That being housing. Since home prices and rents are both quite reasonable here.
Furthermore, adding to the Wisconsin quality of life are a few different things.
Such as rural or city living options. Low crime rates, good health care, access to quality schools, and a chance to enjoy all four weather seasons.
Next, no matter the weather. The state has abundant options for entertainment.
Specifically, outdoor recreational activities, numerous parks to explore, festivals to attend, and fan-friendly sports teams to follow.
Finally, the state has a unique food scene too. For when all of that active participation encourages your appetite.
Of course, there are the traditional hearty favorites of bratwurst, fish fries, pizza, cheese, and beer.
But also, a growing farm-to-table dining scene in the urban spaces. That can rival many of the larger metropolitan areas in the United States.
On the other hand, when having discussions about each state. And specifically, the pros and cons of living in Wisconsin.
It wouldn't be fair. Without highlighting some of the reasons not to move to Wisconsin in the first place…
Bad Things About Living In Wisconsin
First of all, this is a high tax state. Partially offsetting the low cost of living.
And the tax burden shows itself in multiple ways. Specifically income taxes, real estate taxes, and sales taxes.
While the four weather seasons are great. They are marked by some extremes.
For example, winters can bring on cold temperatures and snow. That rivals some of the worst winter weather states in the country.
While summers can be quite hot and humid. With swarms of mosquitos ready to ruin that summer outing. That you had been waiting for with great anticipation.
Furthermore, the weather extremes encourage bad road conditions. And frustrating road repairs. As work crews try to get them repaired.
Finally, there are a few things that do not put the state's residents in the best light. Specifically, high rates of obesity, alcoholism. Also, limited diversity and segregation.

Okay. With those highlights about Wisconsin living taken care of.
Next, let's dig into the details. About the 10 pros and cons of living in Wisconsin…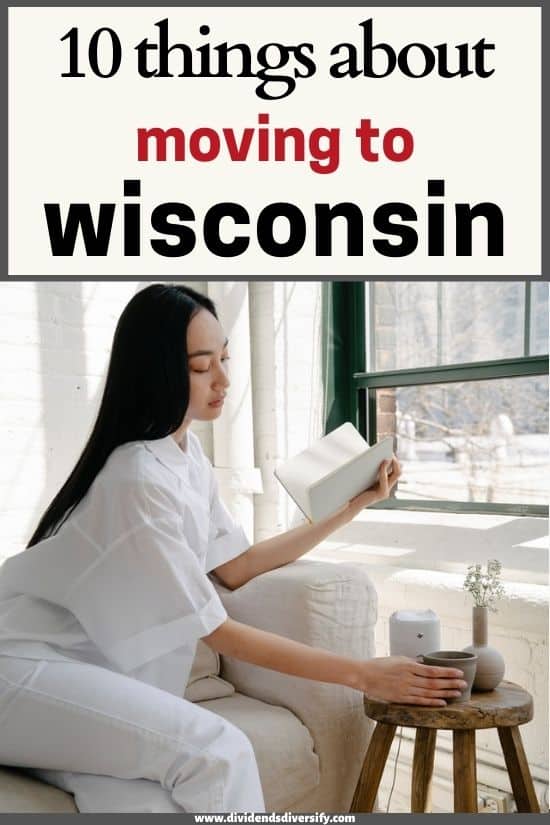 Low Cost Of Living
First, you won't find that this is one of the cheapest states to reside in.
But, you may quickly discover that the average cost of living in Wisconsin is quite reasonable.
Here is why I say this…
Home Prices And Rents
Because the median home value here is about 20% less. Versus the national average.
Rent is affordable too.
For example a 2-bedroom apartment lease in Wisconsin. Runs about 26% less per month than the average across the country.
Furthermore, recent studies have shown that it may be financially beneficial. To rent rather than own in Wisconsin. One of the few states where this is true.
And that's great news for anyone just moving out on their own. Or, if you are like me. Want to get out from the responsibilities of homeownership.
Finally, you will find some of the best value for your money. In the central and the northern parts of the state.
But, the savings do not stop with your home in Wisconsin…
Other Costs Of Living In Wisconsin
Because groceries and transportation costs are moderate. At 5% and 13% less, respectively. Versus national averages.
Even with the hot summer temperatures and the winter cold. Running up your cooling and heating costs.
Your utility bills will still be slightly lower. As compared to the national average.
Do you still need to save some money? Before, during, and after your big move.
Then, I have a few tips and tools that I use. They may help you too.
Ways To Save More Money Living In Wisconsin (or anywhere)
First of all, maintain a high credit score.
So you can get the best deal on a mortgage. Or, that new lease in Wisconsin.
You can check your score for FREE. Using Credit Karma. Then make it the highest it can be.
On the other hand, you might be ready to buy a house. Since, as you know, they are quite affordable here.
If so, shop for the best mortgage rates online.
Next, get cashback on all of your online purchases.
By signing up for the Rakuten cash rebate app. Where you can earn cash rebates. Even on your Amazon purchases. It is a great way to save.
And for a limited time, Rakuten even throws you 10 dollars. Just for coming on board and making your first purchase.
Next, save even more when you are grocery shopping. At your local grocery store.
Be it Woodman's or Roundy's. Since they are a couple of popular grocery chains in Wisconsin.
Best Way To Manage Your Money Living In Wisconsin (or anywhere)
Last but not least. It is important to get a handle on all of your finances.
When considering the moving to Wisconsin pros and cons. Or anyplace you choose to move, for that matter.
Whether preparing a budget. Just checking your accounts online. Or, managing your investments.
Do these tasks quickly and for FREE. By using the online tool from Empower.
Because Empower saves time and makes managing your money less of a chore. It sure does for me.
Don't miss out. Since all of these tips and tools work anywhere you decide to live!
And they are all FREE to sign up and use.
So don't delay. Start saving and getting your finances in order. Right now, before your big move.
So you don't have an unanticipated cash problem down the road.
Okay. Enough about money. But, let's continue.
Because we are just getting warmed up. So, the pros and cons of living in Wisconsin must go on…
High Quality Of Life
There are so many diverse things that add to the overall quality of life in Wisconsin. Allow me to highlight some of them for you…
Wisconsin Lifestyle Options
First of all, residents here can choose the Wisconsin lifestyle they desire most. Options include:
Urban
Rural
Small town
Woodland
Coastal
Some residents even have a home in the city. And a vacation cottage or cabin in the beautiful Northwood's area.
City Living In Wisconsin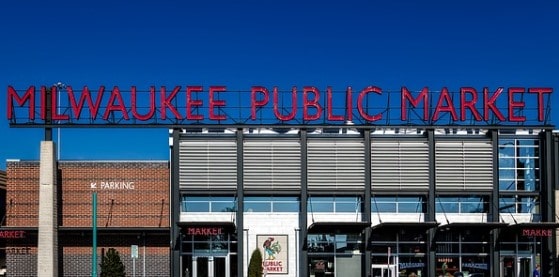 So, for you urban dwellers, consider the city of Milwaukee. The largest of all Wisconsin cities by population. Since the metro area is home to about 1.5 million people.
Located in southeast Wisconsin. About a 90-minute or so drive from the Chicago metro area. Depending on traffic.
This area is great for a convenient lifestyle. And close to many of the good things Wisconsin offers.
Furthermore, you will want to check out the historic third ward. A historic warehouse district. It has been revitalized with plenty of shopping, dining, and cultural events.
Looking for a mid-size town? Then how about exploring Madison?
Often ranked highly as one of the best places to live in the U.S. And home to the flagship campus of the University of Wisconsin.
There is Green Bay too. Where the Packers of the National Football League play their games.
It is also on the cusp of the Door County peninsula. Separating the calm waters of Green Bay. From the rocky waves of Lake Michigan.
"The Door" as it is called. Is also a fabulous summer vacation retreat.
Whether you live in Wisconsin. Or, are coming from a state nearby.
Small-Town And Rural Living In Wisconsin
Outside of those three cities. There are plenty of small towns. And rural areas to call home.
Just remember that the state is partly known for agriculture. Having vast amounts of farmland. And huge herds of dairy cattle.
That can leave the lingering smell of cow manure. Throughout the Wisconsin farm country.
To me, the smell is not a big deal. I think it gives rural Wisconsin living kind of an earthy smell about it.
Better yet, if you are interested in farmland. As part of relocating to Wisconsin.
Or as an investment opportunity. To diversify your holdings.
Then check out the abundance of land in this state.
Whether you are looking for an investment. Or, just a chance for you to enjoy rural life in Wisconsin.
Next, more good stuff about Wisconsin…
Employment Opportunities
Wisconsin has a very low unemployment rate. Well below the national average. Ranking in the top one-third of all states for this economic indicator.
Access to good employment is best in the southeast area of the state. In and around Milwaukee and Madison.
Or, in the northwest. Near the twin cities of Minneapolis and St. Paul Minnesota. If you do not mind commuting over the state border.
On the other hand, wages and job opportunities are fewer and farther between. In other areas of the state. Such as the northern area. As you get closer to Michigan's Upper Peninsula.
Where the market consists of basic, but important work. In agriculture, education, or hospitality-based businesses. Catering to summer tourists.
Okay. Stick with me. Because there are some more good reasons to live in Wisconsin. As it relates to the quality of life…
Low Crime
Wisconsin looks good for its low crime rates. Making for a more family-friendly environment.
Since both violent crime and property crime. Are much lower than the average across all states. And the best of the Midwest region.
Almost as good as the top-ranked northeast states.
Where public safety ratings in a state like Maine. Or, New Hampshire and Vermont. Are some of the best in the nation.
Good Health Care
Overall, the state's health care system is routinely ranked as one of the best.
Hospital access is quite good too. Even in the more remote areas.
First, there is the University of Wisconsin Hospital in Madison.
And good hospitals in other cities. Milwaukee of course. But smaller towns like Eau Claire, Grafton, and Wausau too.
If you choose to locate in proximity to Minnesota. Then you may be able to access the Mayo Health System. It is partially owned by the well-regarded Mayo Clinic.
Four Season Living In Wisconsin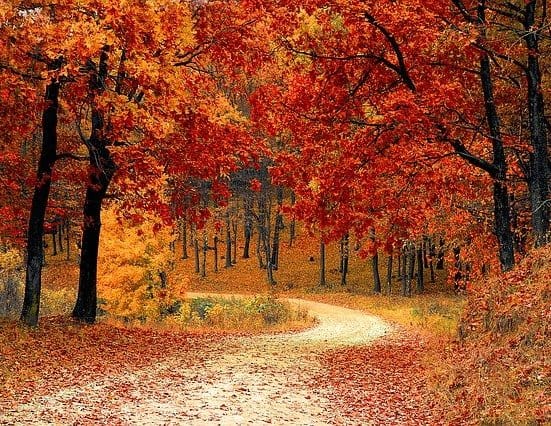 Finally, for you folks that enjoy changing weather conditions. Rest assured that Wisconsin has a climate marked by all four seasons.
The spring thaw is always welcome. When the lush forests come to life.
The summer is warm. With the thermometer exceeding 90 degrees on occasion. Plus a healthy dose of humidity.
Autumn is the best. As the air turns crisp. And the turning leaves put on a spectacular show.
As for winter, I will have more on that topic a little later. But just know you have a good chance for a white Christmas. And some cold temperatures to usher in the New Year.
But, for right now. Let's continue with the reasons to move to Wisconsin…
Lots Of Fun Things To Do
If you are on the hunt for fun things to do. In and around where you live.
Then Wisconsin has a lot to offer. Here's what I mean…
Outdoor Recreation
Living in this state means many options for the outdoorsy type.
First, when you come to realize all of the water features. Many of which were created by the Ice Age glaciers. That once covered the land.
You find Lake Michigan, Lake Superior, the Mississippi River, and the thousands of inland lakes, rivers, and streams.
As a result, you have access to many miles of shoreline. And even more square miles of waterfront to enjoy. Very few states have more of either, by the way.
Popular water activities include:
Canoeing
Kayaking
White-water rafting
Boating
Sailing
Water skiing
Fishing
Swimming
Or, head into Wisconsin's Northwoods. To enjoy…
Hiking
Cycling
Camping
Hunting
ATV riding
When the snow flies, get out for…
Downhill skiing
Cross country skiing
Snowboarding
Snowmobiling
Ice skating
If that's not enough of the outdoors. Then I have another one of the pros of living in Wisconsin…
Parks And Recreation Areas
Since the state is home to dozens of state parks. And recreation areas.
Some of my favorites include:
Big Bay State Park
Newport State Park
Devil's Lake State Park
High Cliff State Park
New Glarus Woods State Park
And if hiking is your thing. Be sure to strap up your boots for the Ice Age National Scenic Trail.
It is one of only a handful of National Scenic Trails in the country. It is a 1,000-mile footpath. Contained entirely within the state.
And I'm not done yet. Since I have another one of the perks of living in Wisconsin. For those who need even more fun stuff to do…
Festivals When Living In Wisconsin
Since the state has many festivals and organized events. For example, there is…
Summerfest
Oktoberfest
Polishfest
Brat Fest
Wisconsin Cheese Festival
Lumberjack World Championships
Wisconsin State Fair
What's more, do you need a place for the kids to burn off some energy? Then you have the Wisconsin Dells.
Called the "Waterpark Capital of the World".
This entertainment area has theme parks, waterparks, resorts, ziplines, miniature golf, duck boat tours, and more!
Exhausted yet? Then hit the couch and turn on the television. Where you will find another one of the advantages of living in Wisconsin.
Or, suit up for the big game. And head to the stadium.
Sports Teams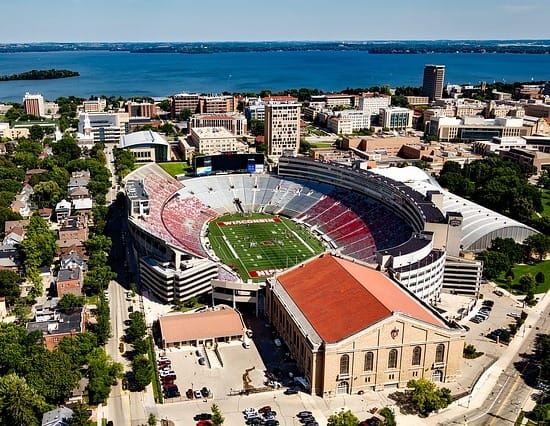 Because Wisconsin is crazy about its sports.
And let me tell you. The folks here know how to throw one heck of a tailgate party.
First of all, you have professional teams. Specifically,
Milwaukee Brewers baseball
Green Bay Packers football
Milwaukee Bucks basketball
Furthermore, you have the University of Wisconsin. Competing in the Big Ten Conference. With the likes of Ohio State University. And the University of Michigan.
Their teams often find themselves highly ranked. Where men's collegiate football and basketball. Are among the most popular attractions.
Speaking of school. Yet another one of the best things about Wisconsin…
Good Educational Options
Since getting a good education. Is entirely possible in this state.
As Wisconsin public schools receive strong overall rankings. With many fine school districts to choose from.
First of all, preschool participation is high. Plus the state's per-student funding rate is one of the better in the nation.
Thus, most towns have excellent, safe schools. Featuring some good afterschool programs too.
Add these things up. And what you get is a very solid high school graduation rate.
Although I have already mentioned the University of Wisconsin. For when you or the kids are ready for that college degree.
It is one of the top public universities in the country. And rates highly for both academic programs. And overall student life.
The main campus is in Madison. But the university system has 13 branches. Scattered across 20 plus campuses throughout the state.
On the other hand, if a private institution is more to your liking. You have Marquette University.
A school with 10,000 plus students. And an urban campus located in Milwaukee.
Next up. Another one of the good things about Wisconsin…
Tasty Food And Drinks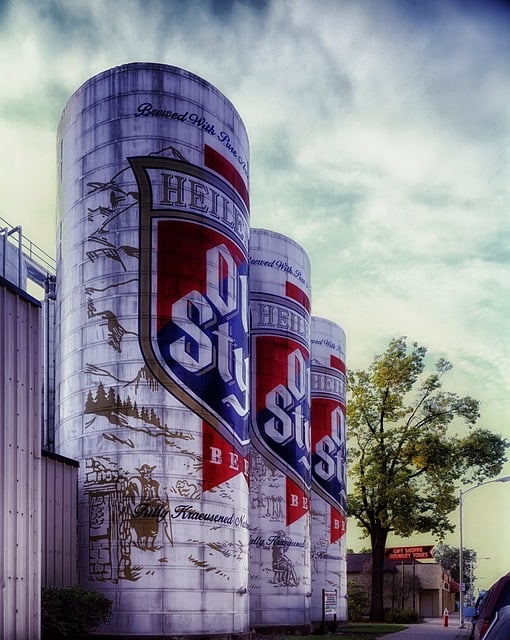 Because the residents of Wisconsin like to eat and drink.
Favorite Regional Foods
First of all, the state became known as"America's Dairyland". Becoming a leading producer of cheese, milk, and butter in the United States.
So, you can certainly get your fill of fresh dairy products. Also, Bratwurst, other German foods, fish, meat, and potatoes are staples here.
But don't forget about the small-town bars and supper clubs. There you will find some of the best fish fries, steak, pizza, prime rib, and drink specials around.
For the more sophisticated palate. The larger cities have some excellent dining options. Rivaling bigger metropolitan areas.
Milwaukee and Madison especially. Where chefs create from locally sourced ingredients. Making for an excellent farm-to-table eating experience.
Then for your cooking pleasure at home. Be sure to check out some of the awesome farmer's markets. They are held state-wide throughout the summer and fall seasons.
But there's more you Wisconsin food and drink lovers…
Beer Drinking When Living In Wisconsin
Finally, German immigrants brought their beer makings skills with them here. As iconic brands like Pabst, Schlitz, and Miller were founded in the state many years ago.
But today, the beer-making traditions continue. Since Wisconsin is a top state in the craft beer market.
Capital Brewery, New Glarus Brewing Company, and Stevens Point Brewery. Are some of the oldest. And some of the best brewers in the state.
Okay. That concludes our discussion of the many cool things about Wisconsin.
However, my list of living in Wisconsin pros and cons. Would not be complete without reviewing some of the reasons not to move to Wisconsin in the first place.
Let's do that now….
High Tax Burden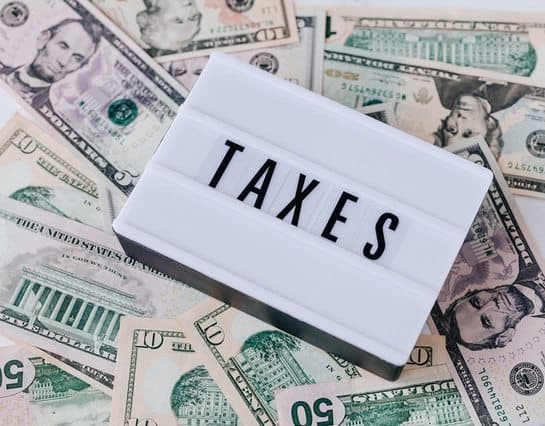 Unfortunately, the state's low cost of living stops. When it comes to your taxes.
And many people forget. That state and local taxes per year can be a big expense.
Here is what I mean…
Income Taxes
First of all, the state has a progressive tax system. That is just a fancy way of saying that the more you make. The higher your tax rate.
And the highest marginal tax rate is almost 8% here. Plus, it doesn't take much income to find yourself paying that top rate.
Everyone's tax situation is different. So, I can't say what your average income tax rate will be.
On the other hand, I know a high-income tax state when I see one.
Especially when you consider that 8 states in the country. Charge no income tax whatsoever.
For example, just by going a short distance west.
And relocating to South Dakota. You can still live in the upper Midwest. While not having to pay state income taxes.
Next, the bad things about Wisconsin taxes continue…
Property Taxes
Because the property tax rates are high too.
It will depend on exactly where you choose to live. Regardless, Wisconsin has one of the top ten highest real estate tax rates in the country.
Sales Taxes
Finally, the state has a base sales tax rate of 5%. Plus, local municipalities can add to it.
So, plan on paying an additional 5-6% or so on your purchases. In the form of sales tax.
You may be interested to know. That there is more than one state with no sales taxes. Four to be exact. But, Wisconsin isn't one of them.
Okay. Enough about money and taxes.
But, I'm not done yet. As the pros and cons of Wisconsin life continue …
Extreme Seasonal Weather
So, it's time to talk about everyone's favorite topic. That being the weather.
First of all, temperatures and climate vary depending on your location in the state. And the distance from Lake Michigan.
Yes. There is a difference. Between living in the north. Near the Michigan Peninsula.
Versus being near the Lake Michigan shores. Where the water moderates the air temperatures.
Or, the southern portion. Close to the state of Illinois border. Or, on the big lake.
But, I can say this for certain….
Winter
No matter where you are in the state. The winters are very cold here. And come with plenty of snow.
Temperatures routinely drop below zero at night. And big-time snow. Up to a foot or more at a time. Happens every year.
Throw in the wind. And you can have blizzard-like conditions. Plus dangerous wind-chill factors to deal with.
Hmmm. High taxes and harsh winters. Not exactly the best if you are considering the pros and cons of retiring in Wisconsin.
Spring
Next, there is spring. It can be very cloudy, gray, and drab.
What's worse is when you combine snowmelt and seasonal rains. With the numerous rivers and bodies of water. The combination can result in significant flooding.
The spring season also brings the threat of tornadoes. As the state is on the northeastern edge of what is called tornado alley.
It could be worse though. Since the state's neighbor to the southwest is Iowa.
Residents there experience nearly double the tornado activity each year. When compared to Wisconsin.
Not disrespecting Iowa here. Just like anywhere you choose to live. It too is a state with pros and cons.
Summer
During the summer, it gets hot as heck in this state.
Particularly in the southern areas. Temperatures can hover around the 90s.
With high percentages of humidity too.
This brings me to another one of the worst things about living in Wisconsin…
Pesky Mosquitos And Bugs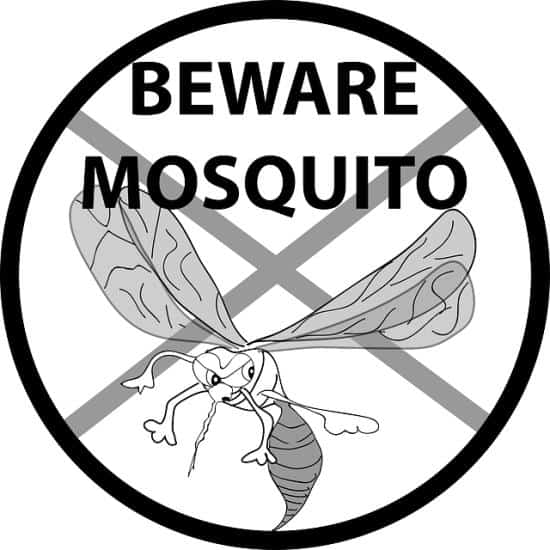 From beetles to ticks, gnats, and biting flies. The summer heat, humidity, standing water, and forested lands bring on the bugs.
But let me warn you about one thing. Specifically, the mosquitoes here during the summer are absolutely brutal.
On more than one occasion, I have been run off a hiking trail. By these swarming, blood-sucking little pests.
So, make sure to pack a bottle or two of bug spray before moving here. And especially before heading out to enjoy the outdoors during the summer.
And if that's not enough. I have another one of the cons of living in Wisconsin…
Limited Public Transit And Bad Roads
Unless you plan on living and working full-time in a city like Milwaukee or Madison. Plan on owning a car.
Although public transit exists. Mainly in the metropolitan areas. So does access to Amtrak trains.
But, if you want to move freely about the state. You need to drive.
What's worse, the road conditions aren't that great. Because the winter elements make for dangerous driving here.
Plus the extreme seasonal weather elements destroy the pavement. Leading to poor road conditions. Or, road construction. Or, both.
So, you might as well accept right now. That you will be seeing orange road construction cones. From spring through fall.
Okay. One last of my disadvantages of living in Wisconsin.
Even though I'm not intentionally picking on anyone. I'm talking about the people.
Suspect Personal Behaviors
As there are several unfortunate trends. As they relate to the residents of this state.
Obesity
Maybe it's all the brats, cheese, beer, and fried foods. Since obesity is an issue in this state.
Ranking higher than the national average. And significantly more than an extremely physically fit state like Colorado.
Alcoholism
Then there is alcohol.
On the one hand, it is an important aspect of social occasions here. And bars are often a big part of the social life in the small towns.
On the other hand, the state has a higher than average rate of alcoholism.
Diversity
All in all, I think you will find the people of Wisconsin quite nice. And easy to get along with.
But there isn't much diversity. With about 85% percent of the population being white.
Most of the ethnic diversity exists in the larger cities. Specifically, Milwaukee.
But then again, Milwaukee is still quite racially segregated. And a fair amount of civil unrest has cropped up in recent years. Most noteworthy, in the southeastern part of the state.
Okay. That's all I have for you about "The Badger State" today.
Allow me to wrap up. With a summary…
Pros and Cons Of Living In Wisconsin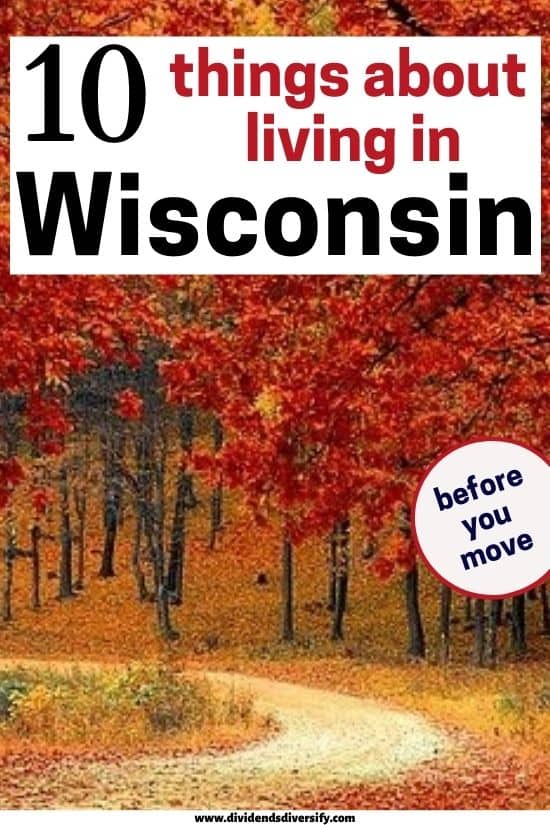 Here's my top 10 list of important things to know. As you think about living in Wisconsin pros and cons.
Low cost of living
High quality of life
Lots of fun things to do
Good educational options
Tasty food and drinks
High tax burden
Extreme seasonal weather
Pesky mosquitos and bugs
Limited public transit and bad roads
Suspect personal behaviors
Hopefully, this discussion has helped you sort through some important questions. Such as…
1) What is Wisconsin like?
and
2) Why move to Wisconsin?
Whatever your result. Be it here, there, stay, or go. Best of luck with your decision!
More Reading About Living In Wisconsin And Beyond
Best Resources For Your Big Move To Wisconsin (or anywhere)
I mentioned several of my favorite financial resources in the article. They are summarized here for your convenience.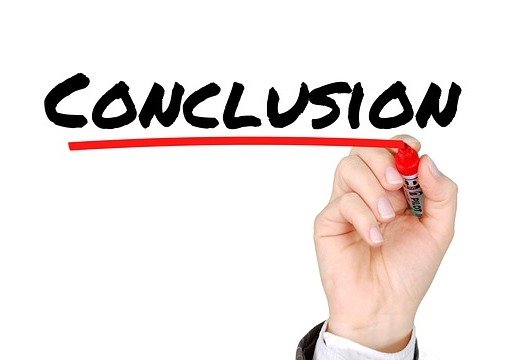 Author Bio, Disclosure, & Disclaimer: Please join me (Tom) as I try to achieve my goals, find my next place to live, and make the most of my money. However, I am not a licensed investment adviser, financial counselor, real estate agent, or tax professional. Instead, I'm a 50-something-year-old, early retired CPA, finance professional, and business school teacher with 40+ years of DIY dividend investing experience. I'm here only to share my thoughts about essential topics for success. As a result, nothing published on this site should be considered individual investment, financial, tax, or real estate advice. This site's only purpose is general information & entertainment. Thus, neither I nor Dividends Diversify can be held liable for losses suffered by any party because of the information published on this website. Finally, all written content is the property of Dividends Diversify LLC. Unauthorized publication elsewhere is strictly prohibited.
The Pros And Cons Of Living In Wisconsin Explained