Learn What It's Like Living In The South
What are the pros and cons of moving to the south? If that is your question, you have come to the right place.
First, I will cover the benefits of living in the south.
Second, we will review why some people are leaving the south.
Finally, I will share some excellent resources for choosing where to move in the south. Also, provide my views about the best southern states to live in.
Let's dive right in; then, you can start packing!
Pros And Cons Of Moving To The South
Here's my top 10 list of living in the south pros and cons:
Great choices for urban living
Cozy small towns and wide open spaces
Tons of scenic beauty
Lower cost of living
Comfortable winter weather
Risks of severe weather
Hot and humid summers
Pesky bugs and critters
Limited diversity and inclusivity
Lack of public transportation
After a quick review, perhaps moving to the south doesn't look right for you. No problem. Check out our list of the best states to live in and go from there.
Otherwise, please stick with me now. Next, we go through each of these points about moving to the south one at a time.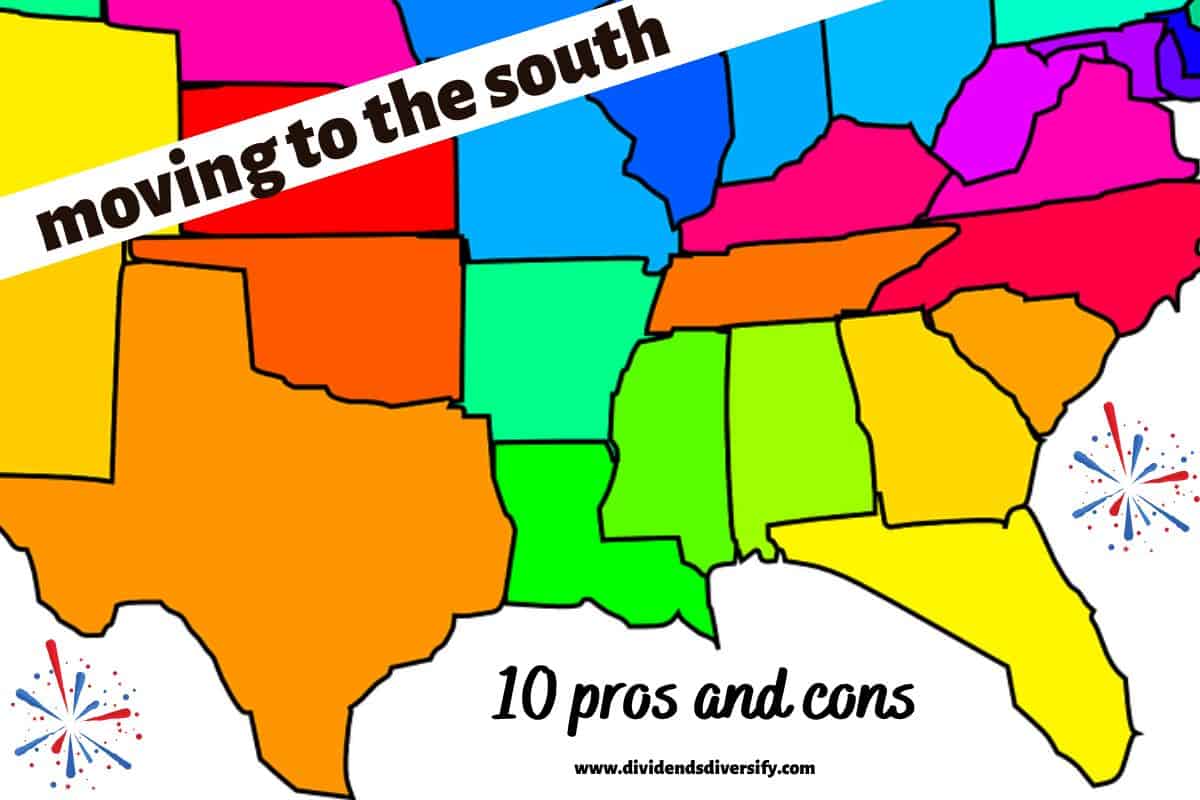 Disclosure: At no cost to you, I may get commissions for purchases made through links in this post.
1. Great Choices For Urban Living
Are you looking for bright city lights and a southern urban living environment? Then, moving to the south is the right decision.
City living has its advantages. Furthermore, you can find it in the south without all the hassles of the largest U.S. metro areas. Of course, I'm talking about Chicago, New York City, and Los Angeles.
Statista reports that the deep south is home to 5 of the top 20 most populated United States metro areas.
They are:
Houston-The Woodlands-Sugarland, Texas
Dallas-Fort Worth-Arlington, Texas
Atlanta-Sandy Springs-Alpharetta, Georgia
2. Cozy Small Towns And Wide Open Spaces
On the other hand, big city life may not be for you. If so, do not be concerned.
Every state in the south has thousands of mid to small size towns. They offer a little something for anyone looking for that close-knit feel.
Many of these towns have low crime rates, good schools, family-friendly communities, and fantastic recreational options.
Best of all, whether you choose big city living or small, know you can get your fill of some good home cooking. Tasty southern classics include barbecue, fried chicken, ham, and biscuits.
Try them all to satisfy your family's hearty appetite!
Are you still interested in moving to the south? Then, please stick with me. We are just starting to roll.
3. Tons Of Scenic Beauty
The pros and cons of living in the south include enjoying the natural beauty of beautiful outdoor settings. Thus, the region is perfect for nature lovers and outdoorsy types.
Depending on exactly where you choose to move in the south, a day's drive or less can have you exploring:
Tranquil waters along the Gulf of Mexico
Southern reaches of the Appalachian Mountains
Vast lands devoted to agriculture and farms
Next, you might be surprised how easy it is to balance your budget after moving to the south. So, let's explore this important topic.
4. Lower Cost Of Living
First, most southern states consistently show up on top lists for their low cost of living.
But why is the cost of living in the south so affordable?
Living costs are low mainly because of the moderate median home values here. Furthermore, property taxes and other living costs are pretty reasonable too.
For example, consider relocating to a state like Louisiana, Mississippi, or Alabama. You will find super-low housing market prices and modest real estate tax bills.
Furthermore, Florida and Texas are solid options too. If saving money on income taxes is top of mind.
Neither Texas nor Florida charges residents an income tax. Thus, the savings can be substantial depending on your financial situation.
Finally, moving is a big financial commitment. Thus, get your financial house in order before moving to the south. Or when relocating anywhere, for that matter.
Every little bit of savings helps. So, give the money-back rebate app from Rakuten a try.
We use Rakuten for all of our online purchases. Because why pay more if you don't have to?
Next up, one of the best things about living in the south.
5. Comfortable Winter Weather
After moving to the south, there is no longer a need to worry about winter weather.
First, you won't find snow and ice on steps, sidewalks, or roads.
Furthermore, winter daytime high temperatures routinely rise into the 50s, 60s, and 70s. But, of course, the winter temperatures depend on your exact location.
Nevertheless, you can leave your winter hats, coats, snow shovels, and snow blowers behind. You won't need them after moving to the south.
Okay. That wraps up my top pros of moving to the south.
Next, let me review the bad things about living in the south. Then you will fully understand what you are getting into.
Unfortunately, I must continue with the weather.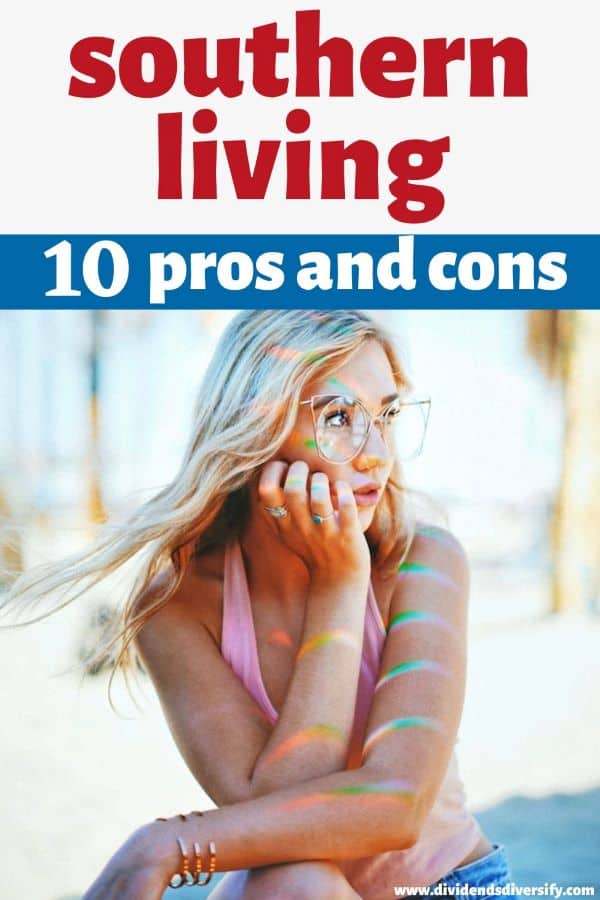 6. Risks Of Severe Weather
First, all seven states considered part of the deep south has a coastline on either the Gulf of Mexico or the Atlantic ocean. One, Florida, has shorelines on both of these bodies of water.
As a result, the pros and cons of living in the south include dealing with possible hurricane activity.
Furthermore, much of this coastal region is at or below sea level. Thus, the area's geography makes the land prone to flooding.
Finally, tornados are a concern too. According to Policygenius, Texas, Alabama, Mississippi, and Florida are in the top 10 most tornado-prone states in the country.
Moving right along, I'm still not done with the weather.
7. Hot And Humid Summers
For northerners moving south, the joys of summer may not be all that great.
Extreme summer temperatures routinely rise into the 90s. While high humidity levels make the warmth even more uncomfortable than the thermometer indicates.
As a result, if you don't like the heat, expect a high electricity bill. The high cost will result from spending much of the summer indoors soaking up your air conditioning.
Also, heavy rains are relatively common here. So, on a hot day, you can see the steam rising off the pavement.
Next, we humans aren't the only ones who enjoy southern living.
8. Pesky Bugs And Critters
The list of bugs and critters that enjoy living in the south is long.
Best case, they put a damper on your planned outdoor activities. Worst case, they can be dangerous.
The list includes:
Alligators
Ants
Armadillos
Biting flees
Cockroaches
Gnats
Mosquitos
Palmetto Bugs
Possums
Raccoons
Rats
Snakes
Ticks
Depending on where you move in the south, one or more of these creatures may be worse than the others.
9. Limited Diversity And Inclusivity
Of course, there are exceptions to every rule. Furthermore, I do not mean to stereotype any place or anyone.
However, diversity and inclusivity are challenges in many areas across the United States. Not just in the south.
Here, generally speaking, here are a few things you will find:
First, most residents have conservative, right-leaning political views. Republicans, more often than not, carry the presidential elections.
Migration patterns are starting to swing politics to a certain degree. Also, the larger cities are more liberal-leaning than the rural areas.
Next, much of the south is considered part of the Bible Belt.
Thus, conservative Protestant Christianity plays a significant role in society and politics. Also, church attendance is higher than the national average.
Finally, racism exists. Although some argue it's worse in the north.
10. Lack Of Public Transportation
Last on today's list of moving to the south pros and cons is transportation.
Specifically, plan on owning a car. Your only alternative is to live, work, and play in a relatively confined area.
Yes, most of the cities have local and regional bus systems. However, they won't necessarily get you where you need to go when you need to get there.
Even some of the large southern metro areas lack good public transit. Thus, you won't find the effective light rail and subway systems more prevalent in the northeast and midwestern United States.
Okay. That concludes my pros and cons of living in the south.
Are you starting to believe moving to the south is right for you?
If so, stick with me because I promised you some resources for locating your perfect place to live in the south.
Let's go through those resources now.
Moving To The South Means Choosing A State To Live In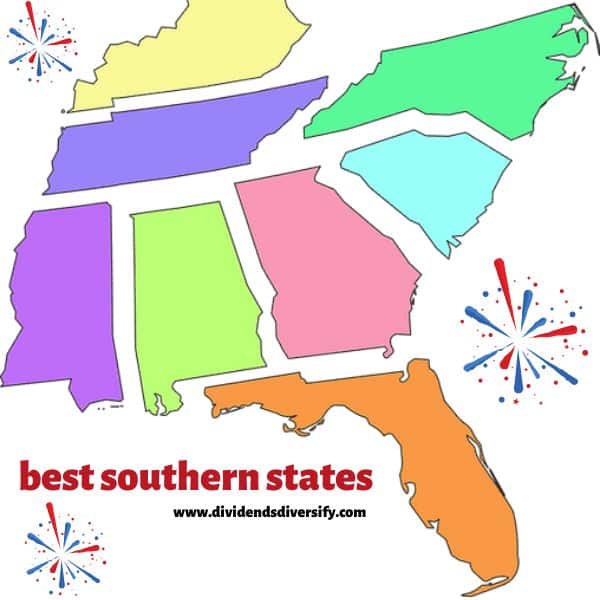 Most reference materials suggest the deep south consists of the following seven states:
Alabama
Florida
Georgia
Louisiana
Mississippi
South Carolina
Texas
Allow me to touch on each one briefly. Then, in case one or another is of particular interest, I will also include a link to our full report about living there.
Alabama
Alabama residents have access to good job opportunities and excellent higher education. These benefits are all placed in a state with a reasonable cost of living in the south.
More reading: Examining the pros and cons of Alabama living
Florida
Florida isn't called the Sunshine State for nothing. Furthermore, it has become the go-to location for jobs, retirement, coastal living, and no state income taxes.
More reading: All about the good and bad of moving to Florida
Additional resources: For finding your perfect city in Florida
Georgia
This state has a strong job market, great entertainment options, pro sports, and temperate weather. You name it, and Georgia's got it.
Plus, with its limited coastline, the state is far less susceptible to hurricanes than other southern areas.
More reading: Pros and cons of Georgia living
Louisiana
Louisiana has a great sense of community, cajun food, and tons of year-round festivals to enjoy.
However, it's a large state, and its regions have many differences. So, you must choose your location wisely to find your desired southern lifestyle.
More reading: All about living the Louisiana lifestyle
Mississippi
First, Mississippi is an excellent choice for anyone looking to lower their living costs. It is one of the cheapest states to live in the country.
Furthermore, I must mention the fantastic regional foods and southern hospitality. Put it all together, and you may decide this state is your perfect place to settle down.
More reading: Explore moving to Mississippi
South Carolina
History, culture, and scenic beauty are all wrapped in a relaxed southern vibe. That's a perfect way to describe living in South Carolina.
There is Charleston on the Atlantic coast. But also, Greenville is in the foothills of the mountains. And you will find everything in between.
Thus, there is a little something for everyone in this southern state.
More reading: The ins and outs of moving to South Carolina
Texas
Yes, we all know everything is bigger in Texas. Furthermore, the state has become a magnet for people looking to relocate from other parts of the country in recent years.
It has vast open land populated with small towns. Plus, the state's major metropolitan areas are some of the largest in the country.
More reading: Exploring the Texas lifestyle pros and cons
Best Of The Other States When Moving To The South
Today's article focused on the seven states referred to as the deep south.
However, there is a broader definition of the southern states making up the south that I would like to share. According to the U.S Census Bureau, the south consists of 16 states.
Here are the other nine not yet referenced in this article:
Arkansas
Delaware
Kentucky
Maryland
Oklahoma
Tennessee
Virginia
West Virginia
Furthermore, you may enjoy reading my list of the best 5 states for southern living.
Surprisingly, only one is from the deep south. Don't guess. Check out the article to see which one it is.
Okay. That's all I have for today.
So, please allow me to wrap up with a few concluding thoughts.
Wrap-Up: Pros And Cons Of Moving To The South
Is the south a good place to live?
Hopefully, you can better answer the above question since you have the essential things to know before moving to the south.
There's a lot to like about southern living. However, life in the south may not be for everyone.
So, carefully examine the pros and cons. Also, please choose your location wisely to find the exact requirements of your new home's location.
Are you not sold yet on moving to the south? Then check out our:
Additional Posts about Where to Move and Why
Good luck. No matter what you decide.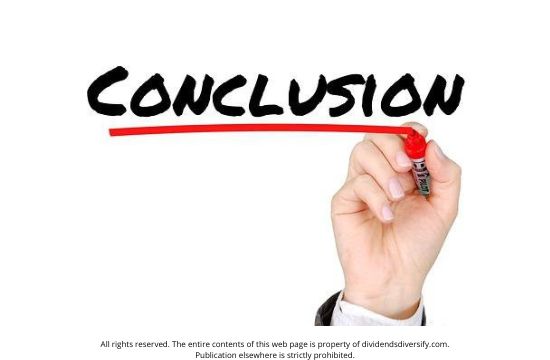 Author Bio, Disclosure, & Disclaimer: Please join me (Tom) as I try to achieve my goals, find my next place to live, and make the most of my money. However, I am not a licensed investment adviser, financial counselor, real estate agent, or tax professional. Instead, I'm a 50-something-year-old, early retired CPA, finance professional, and business school teacher with 40+ years of DIY dividend investing experience. I'm here only to share my thoughts about essential topics for success. As a result, nothing published on this site should be considered individual investment, financial, tax, or real estate advice. This site's only purpose is general information & entertainment. Thus, neither I nor Dividends Diversify can be held liable for losses suffered by any party because of the information published on this website. Finally, all written content is the property of Dividends Diversify LLC. Unauthorized publication elsewhere is strictly prohibited.
The Pros And Cons Of Moving To The South Explained