Good Things To Know Before Moving To Kansas City
Let's dig into the pros and cons of living in Kansas City today.
Stretching across 2 states and 14 counties. This metropolitan area is host to more than 2 million residents.
Whether you are looking at retirement living options in Kansas City. Searching for new job opportunities. Or, just seeking out a different location to get a fresh start in life. You might find it here!
So, let's get moving…
Pros And Cons Of Living In Kansas City
Here is our list of the top living in Kansas City pros and cons for your careful consideration…
A choice between 2 different states
Productive economy
Lower cost of living
Plenty of fun things to do
Minimal traffic congestion
Lack of public transportation
High state and local taxes
Extreme weather conditions
No oceans or mountains
Higher crime rates
With those things about Kansas City living firmly in mind. Allow me to answer the big question of the day.
Then I will go through each of these 10 points one at a time…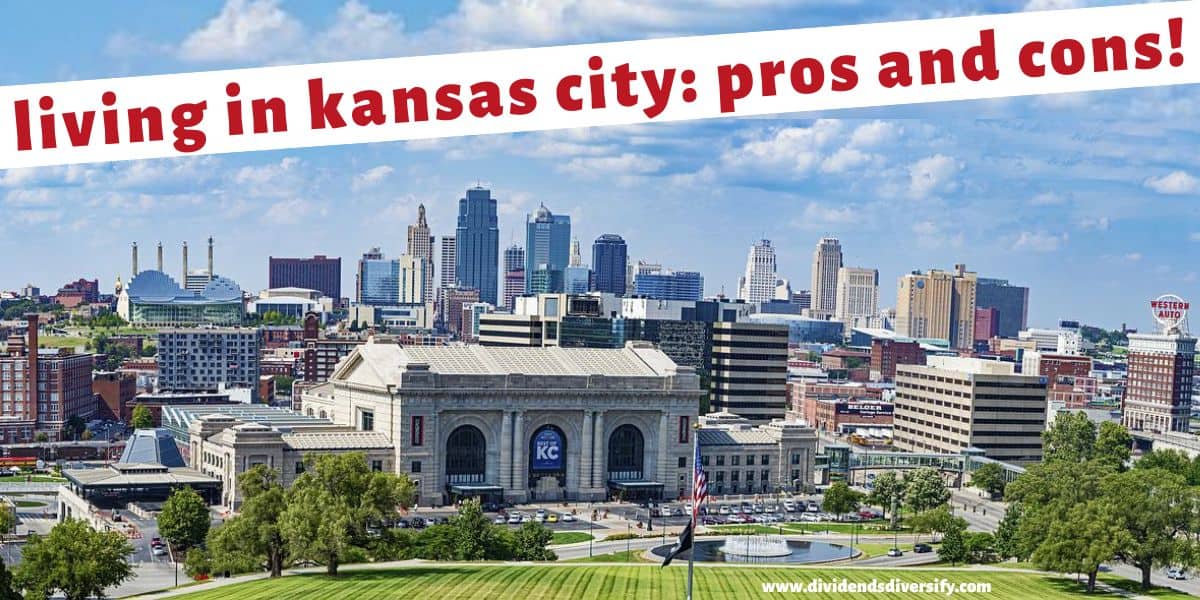 Disclosure: At no cost to you, I may get commissions for purchases made through links in this post.
Is Kansas City A Good Place To Live?
Kansas City is consistently recognized as one of the best places to live in the U.S. Evidenced by its growing population, good jobs, low cost of living, and lots of fun things to do. Plus you will have easy access to arguably the best barbecue you can find.
With that question addressed, let's review the pros and cons of Kansas City…
A Choice Between Two Different States
First, when referring to Kansas City, I'm discussing the entire metropolitan area.
Yes, it stretches across 2 states. Specifically, the midwestern states of Kansas and Missouri. With separate city and state governments.
However, in its most common usage, it is thought of as one city. Furthermore, when people refer to Kansas City, they are usually referring to the Missouri side (KCMO).
Probably because KCMO is the bigger city with about 3 times the population. And has a larger, more robust downtown.
That's not to slight the Kansas side (KCK). Because it has a downtown and plenty of nice neighborhoods of its own.
So, as you think about moving. Consider the entire area.
Thus, you may now be wondering where to live in Kansas City. If so, then I have several places for you to consider…
Some Of The Best Neighborhoods To Live In Kansas City, Missouri (KCMO)
Brookside. Small-town like in a big city setting.
Country Club Plaza. A premier retail center
River Market. Walkable and modern city vibe.
Westport. One of the oldest neighborhoods. Plenty of nightlife and culture.
Some Of The Best Some Of The Best Neighborhoods To Live In Kansas City, Kansas (KCK)
Leawood. Higher-end suburban lifestyle choice.
Overland Park. Growing rapidly. Very popular for its family-friendly and safe environment.
Prairie Village. A planned community known for its quality schools.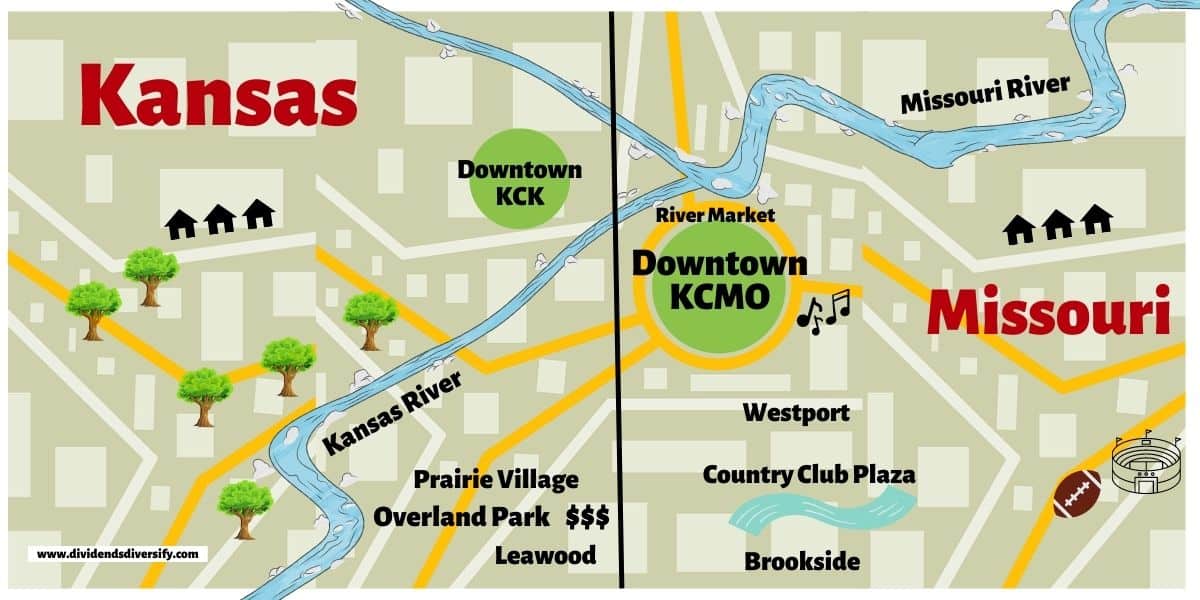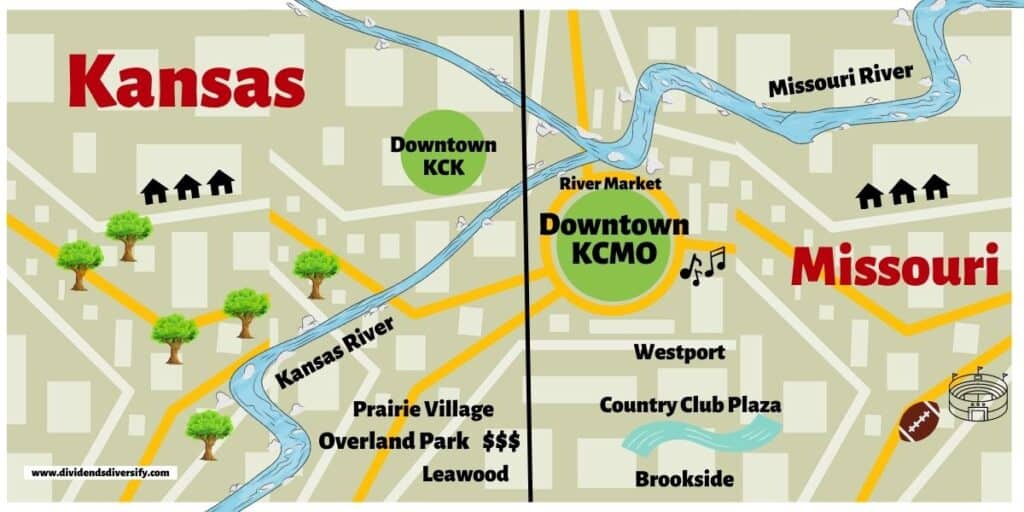 Okay, after you dig in, and start deciding exactly where you want to live. The place that delivers the specific Kansas City lifestyle you are seeking.
Then I think you will find most of the pros and cons of living in Kansas City are quite similar. No matter where you choose to settle down in this area.
So, let's keep moving. Continuing with the reasons to live in Kansas City…
Productive Economy
The region has a diverse economy. Making it less prone to recessions and economic downturns. And it has an unemployment rate that typically runs well below the national average.
This is due to the breadth of industry representation. And because there are relatively few large companies that dominate the economy.
So, I think you will find plenty of opportunities in small to mid-size businesses. Operating in a variety of business sectors as part of the growing job market.
Here are a couple more things about the economy to keep in mind…
Important Industries Residing In Kansas City
Agriculture
Food and beverage processing
Healthcare
Manufacturing
Transportation
Top Companies For Job Hunting When Living In Kansas City
Cerner – healthcare technology
H&R Block – tax preparers
Hallmark – greeting cards and gifts
Kansas City Southern – railroad operations
Seaboard Corporation – agribusiness
Finally, take note if you will be moving to Kansas City looking for a job. Because household incomes here are lower. Ranging between 15% and 20% below the national average.
So, be sure to present your qualifications in the best light. For landing that job. And making the most money possible.
For this, I think MyPerfectResume is an excellent tool.
Yes, on one hand, household incomes may be a downside to living in Kansas City. On the other hand, residents make up for it because of this next item on our list of Kansas City pros and cons…
Lower Cost Of Living
The low average cost of living in Kansas City is supported by reasonable housing costs. Where you will find homes of all kinds priced significantly below the national average.
However, like in many other areas of the country, demand has outstripped supply. Increasing competition between buyers. And putting upward pressure on prices.
So, be prepared to put your best foot forward when making an offer on your new home. And by all means, make sure your credit score is in good shape.
You can check your credit score for free using Credit Karma.
Choose Your Exact Location Wisely When Moving To Kansas City
Understand that location and amenities will play a big role in what you pay. Since the housing market is so diverse.
For example, going back to some of the neighborhoods I mentioned earlier…
You will find that median home prices in Overland Park are more than twice that of KCK. Furthermore, Leawood area homes are even more expensive.
While many areas in KCMO represent more of the middle ground. At least as it relates to home prices.
Regardless, when you compare "apples to apples". You will get more value for your dollar here, in the Kansas City metro area. Versus other urban areas in the United States.
And there are more budget savings to be had. Another one of the benefits of living in Kansas City…
Other Costs Of Living In Kansas City
Because you will find spending on groceries, health care, and transportation very affordable. All running between 3% and 10% below the national average.
On the other hand, utility bills do run a little higher. Probably due to the weather conditions. Because you will need to pay for both heating and cooling of your home.
Then if you want to trim your budget a little more. Be sure to use the cash rewards app from Rakuten.
It's a great online tool for saving money on everything you buy online. I mean, why pay more if you don't have to?
You can learn more about getting money back from Rakuten here.
Okay. We have covered making money and finding the best spots for living in Kansas City.
So, it seems like to me it's time to have a little fun. And fun things to do is another one of the reasons to move to Kansas City…
Plenty of Fun Things To Do
Because there is a little something for everyone living here. Such as…
Great Music To Soak In
Jazz music has historical roots in this urban community.
So, if you like to swing a little. Be sure to check out some of the clubs around town like:
Blue Room
Green Lady Lounge
Kansas City Juke House
The Majestic Restaurant
The Phoenix
Professional Sports
Pro sports are well-represented in this city. Including:
Football's Chiefs
Baseball's Royals
Furthermore, the fans here are known to be some of the loudest around.
Finally, for auto racing, there is the Kansas Speedway. Host to NASCAR and IndyCar races.
Parks, Museums, And Attractions
For a variety of activities indoors and out, you might enjoy…
American Jazz Museum
Kansas City Zoo
Kauffman Centre for the Performing Arts
Kemper Museum of Contemporary Art
Loose Park
National World War 1 Museum
Overland Park Arboretum & Botanical Gardens
Powell Botanical Gardens
And for the kids, know that there are several excellent amusement and theme parks in the area.
Then, if all the activity works up an appetite. Know that the availability of good food is one of the advantages of living in Kansas City…
Good Food To Enjoy
Of course, being a large metropolitan area, there are plenty of fine restaurants. With outstanding chefs.
But what about the local stuff? That Kansas City offers apart from other locations.
That's easy because this city is known for a certain type of barbecue.
Typically cooked at a low temperature. Over a long time. In large pits.
Burnt ends are considered a local specialty. They are the tasty, savory ends of a smoked brisket.
Other featured barbeque dishes include pulled pork, ribs, chicken, turkey, and sausage.
And don't forget the sauce. Because Kansas barbeque sauce has a personality of its own.
It's kind of thick and on the sweet side. Made from tomatoes as a base.
But don't forget these favorite area foods…
Burgers
Cinnamon rolls
Chicken fried steak
Kansas City strip steak
…just to name a few local favorites being served up in restaurants and an abundance of food trucks too.
Switching gears here is another good thing about life in Kansas City…
Minimal Traffic Congestion
While the population across the entire metropolitan area surpasses 2 million residents. You will find that getting caught up in slow traffic is not a problem in this city.
Studies based on U.S Census data have shown that workers here have one of the shortest commute times in their cars. Versus almost every other large metropolitan area in the United States.
So, you won't have to worry about wasting time in traffic. After moving to Kansas City.
Okay. That completes the good stuff about Kansas City living.
However, an article about the pros and cons of living in Kansas City is not complete. Without examining some of the negatives about living here.
Let's do that next…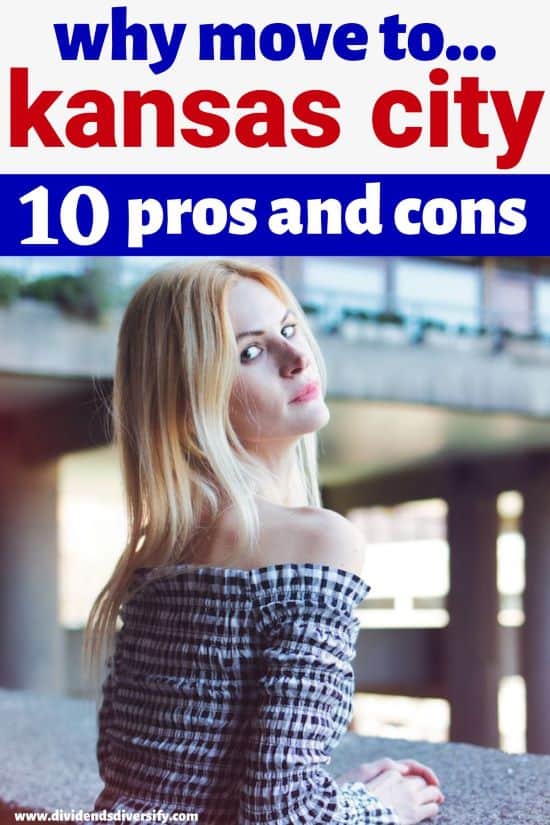 Lack Of Public Transportation
It's a good thing that traffic congestion is minimal. Because the public transportation options here are limited in this city.
Yes. If you plan it right. You might be able to live, work, and recreate in a limited geography. Especially if you focus your efforts on downtown KCMO. Thus, not needing a car.
But it's not likely.
Because unless you can plan your life around using the RideKC bus service operating in 7 counties in Missouri and Kansas. Or a very limited downtown streetcar service.
Residents here find that a car is required.
Next up, is another one of the worst things about living in Kansas City…
High State And Local Taxes
While the cost of living in Kansas City is quite affordable. The same can't be said for state and local taxes.
Here's why…
Real Estate Taxes When Living In Kansas City
First of all, you probably will find property taxes a little cheaper on the Missouri side of the state border. Because Kansas has one of the higher property tax rates in the country.
So, as you scout around for a new place to live. Be sure to inquire about the real estate taxes on the properties you are investigating.
Sales Taxes When Living In Kansas City
Furthermore, sales taxes on your purchases will run you about 9%. Representing some very high sales tax rates here. When compared to many other places in the country.
However, your exact rate will depend on exactly what you buy. And where you make your purchases.
And one more of the reasons not to move to Kansas City as it relates to taxes…
Income Taxes When Living In Kansas City
Finally, whether you decide to live in Kansas or Missouri. Income taxes are no bargain either.
Each state runs a progressive tax system. Which is just a fancy way of saying the more money you make, the higher your tax rate.
So, without getting into the complexities of tax law. An average family can wind up paying somewhere between 3% to almost 6% of their income. To comply with their home state's income tax laws.
This seems high to me. Not as bad as a high-tax state like New York or California.
But when you consider several states have no income tax. It can make a big difference in how much money you have to save and spend.
Either way, be sure to consult with your tax advisor. So you can end up with as much money possible in your pocket after tax.
By now you can probably see there are a lot of financial implications when moving to Kansas City. Or, anywhere for that matter.
So, be sure to get your financial house in order. For this, I like the online app from Empower.
It's great for pulling your spending, budget, and investments together. All in one place online.
Best of all, Empower is free to sign up for and use.
Now, I suppose it depends on your likes and dislikes. However, I think this next point is one of the good reasons not to move to Kansas City…
Extreme Weather Conditions
First, it gets cold in the winter. With nighttime temperatures falling well below freezing.
Snow too is a common occurrence. Although the city's snowfall is less than the average across the United States.
Second, summers get scorching hot. As temperatures rise well into the 90s. Accompanied by plenty of humidity.
Making it feel more uncomfortable than the thermometer might indicate.
Lastly, the area is prone to tornadoes. These dangerous, destructive, and life-threatening storms are a fact of life every year. Making them one of the bad things about Kansas City.
So, be ready for extreme weather conditions. After all, this is the Midwest we are talking about.
On the other hand, what you won't have to worry about are hurricanes. Why? Because of the next item on our list of disadvantages of living in Kansas City…
No Oceans Or Mountains
Overall, the geography of the area is fairly flat and boring.
Being located virtually in the center of the United States, the ocean is a distant option. While the largest nearby body of water is Lake Michigan, 500 miles away.
So, if you want to boat, fish, water ski, and swim you will have to settle for regional lakes in Kansas. Also, Lake of the Ozarks is not too far away, located in Missouri.
Furthermore, if you are the type needing mountains to hike, bike, and climb. You won't find any of those here either.
What you will find is a whole lot of farmland surrounding the city.
Okay. One more of the cons of living in Kansas City. Then I will wrap this up. I promise!
Higher Crime Rates
Here's an important question…is Kansas City safe to live in?
Well, just like most urban areas in the United States, the crime rate can be an issue. Unfortunately, this city is no different.
Yes, there are plenty of safe places to live here. So, do your homework.
But realize that both violent crime rates and property crime rates are higher than national averages. Mainly in the city proper. Violent crime especially sticks out as a sore thumb above the national average.
Okay. That's all I have for today.
So, allow me to wrap up with a few parting thoughts…
Pros And Cons Of Living In Kansas City
When all things are considered, Kansas City is a great place to live. It is family-friendly and a good place for work, and play. With choices of city or suburban environments that have so much to offer.
Of course, there are a few drawbacks. So carefully consider all of the pros and cons before you move.
Finally, I hope this discussion has helped you answer some important questions. Specifically…
1) What is Kansas City like?
and…
2) Should I move to Kansas City
And if it doesn't seem like your perfect place. Be sure to check out all of our…
Guides for Deciding Where to Move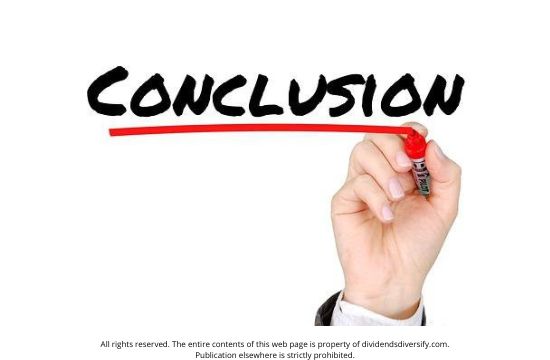 Author Bio, Disclosure, & Disclaimer: Please join me (Tom) as I try to achieve my goals, find my next place to live, and make the most of my money. However, I am not a licensed investment adviser, financial counselor, real estate agent, or tax professional. Instead, I'm a 50-something-year-old, early retired CPA, finance professional, and business school teacher with 40+ years of DIY dividend investing experience. I'm here only to share my thoughts about essential topics for success. As a result, nothing published on this site should be considered individual investment, financial, tax, or real estate advice. This site's only purpose is general information & entertainment. Thus, neither I nor Dividends Diversify can be held liable for losses suffered by any party because of the information published on this website. Finally, all written content is the property of Dividends Diversify LLC. Unauthorized publication elsewhere is strictly prohibited.
The Pros And Cons Of Living In Kansas City Explained