5 Reasons To Move To Columbus, Ohio (Plus 5 Reasons Why You Should Not)
Columbus is the capital of Ohio, the most populous city in the state, and the 15th largest city in the country. So, let's get busy and examine the pros and cons of living in Columbus.
Because you may discover it's that perfect place to find a new job, enjoy retirement, or just get a fresh start in a vibrant city that has so much to offer.
As I like to say, let's get moving. Then you can start packing…
Pros And Cons Of Living In Columbus, Ohio
My hot list of living in Columbus pros and cons include:
Moderate cost of living
Friendly folks and good diversity
Excellent economy and job market
Great educational opportunities
Plenty of fun things to do
Some unpleasant weather conditions
High tax rates
Short on small town living
Difficult to get around
Popularity has a price
Shortly, we are going to discuss each of these points about Columbus living in great detail. But first, allow me to take care of the big question of the day…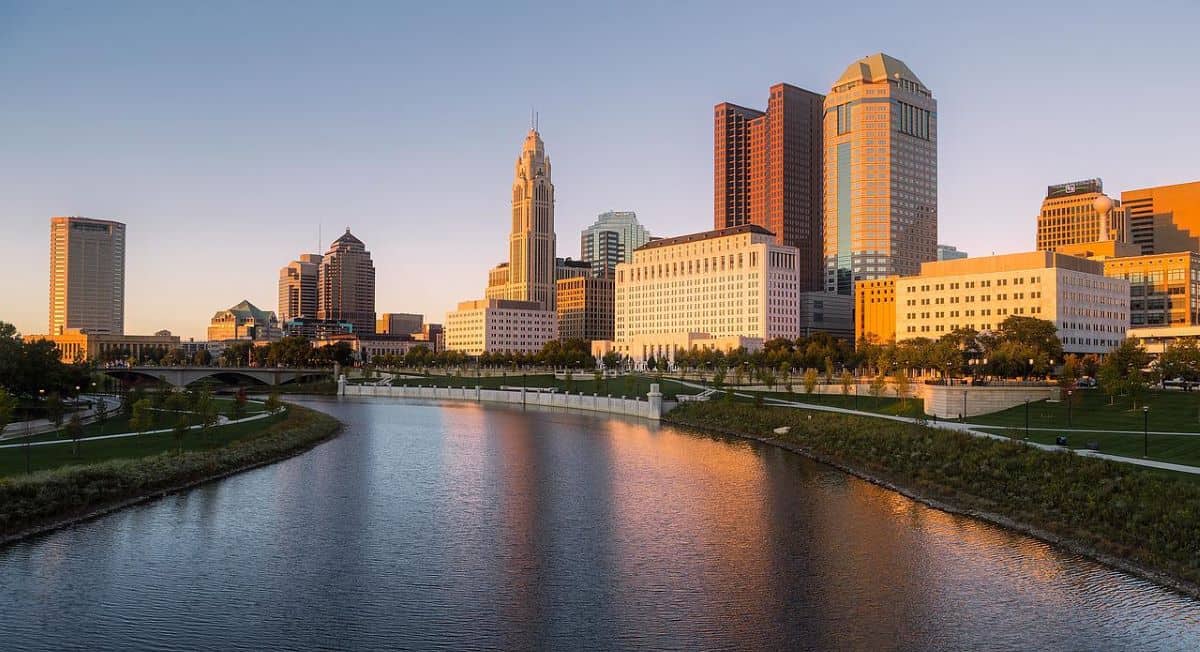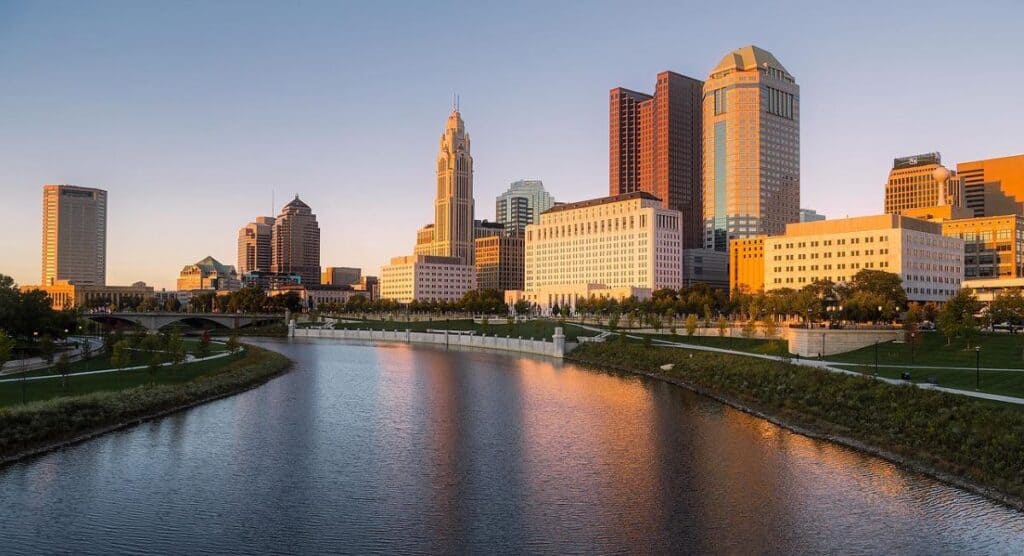 Disclosure: At no cost to you, I may get commissions for purchases made through links in this post.
Is Columbus A Good Place To Live?
Columbus is a good place to live if you desire an urban environment. Without some of the headaches that come with the very largest cities in the United States.
Because living costs are low and the community is welcoming. Furthermore, for anyone looking to get ahead. Jobs and educational opportunities are abundant. Finally, there is no shortage of fun things to see and do in your free time.
However, there are some good reasons not to move to Columbus too. Since its growing popularity comes with some tradeoffs. While certain aspects of Midwest living aren't for everyone.
Okay. Now that we have those highlights taken care of.
Let's dig deeper into the Columbus, Ohio pros and cons…
Moderate Cost Of Living
The average cost of living in Columbus is quite affordable. When compared to the national average across the United States.
First, median home prices run anywhere between 25% to 35% less. Versus the U.S. as a whole.
Of course, your savings will depend on where you are coming from. The location you choose. And what type of features you are looking for in a new home.
Second, other costs such as groceries, health care, and utilities all run at or below national averages.
Considering this a major U.S. metropolitan area. It's surprising how affordable it is. When compared to other big cities.
However, housing and rentals have become much more competitive over the last several years. So, make sure your credit score is in good shape when you apply for that apartment lease or home mortgage.
If you care to. Check your credit for free using Credit Karma.
Next, when it comes to finding your perfect area to live in, you won't be disappointed with this next point. Another one of the benefits of living in Columbus…
Good Neighborhoods For Columbus Living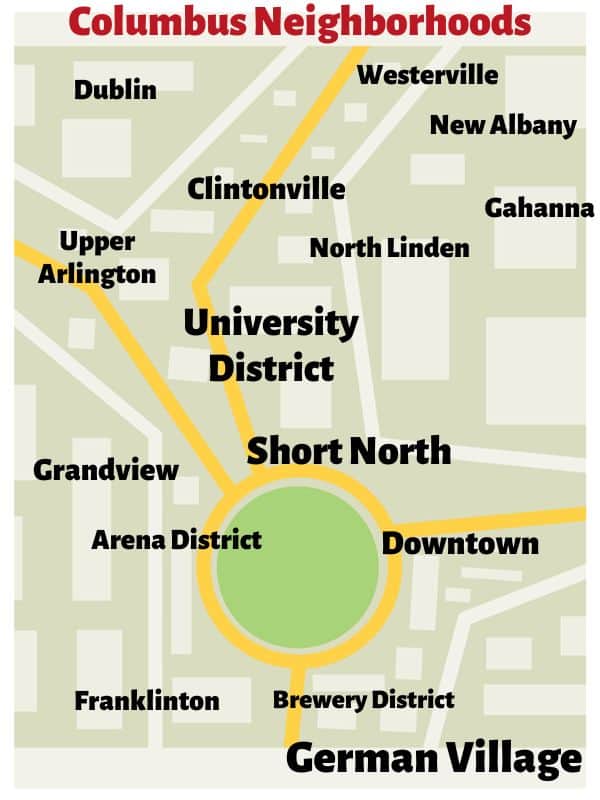 Because you will find some excellent neighborhoods to choose from.
Some areas that you may wish to explore include…
Bexley
Clintonville
German Village
Grandview
Harrison West
New Albany
Short North
Upper Arlington
…just to name a few.
Furthermore, the types of people you will find in and around these neighborhood communities are a bonus.
Just another one of the advantages of the Columbus lifestyle. Here is what I mean…
Friendly Folks And Good Diversity
Many of the best Midwest places are known for their friendly, down-to-earth people. And it is not different here.
First of all, there is no shortage of good neighbors. Kind and generous with their smiles and friendly waves. And more importantly, willing to help out in times of need.
They are full of pride for both the city and the state. And eager to support local businesses. Be it the shops, restaurants, or breweries.
Furthermore, unlike in other places, you won't be disappointed with the diversity here.
Whereas many areas of the U.S. have predominantly white populations. This city, on the other hand, has a more balanced racial mix.
Consider that World Population Review reports the racial mix of the city as:
White: 57%
Black or African American: 29%
Asian: 6%
Two or more races: 5%
Other race: 2%
Native American: less than 1%
Native Hawaiian or Pacific Islander: less than 1%
Okay. With the cost of living, neighborhoods, and the people here taken care of.
Let's move on to another one of the best things about Columbus…
Excellent Economy And Job Market
Because for anyone who needs to, or wants to work. The economy is productive. And the job market in this Midwest city has a lot to offer.
First, it's home to The Ohio State University. Based on student enrollment it is one of the top 5 largest universities in the country.
This means thousands of jobs in academia. Including staff to support the faculty and students.
Second, as the state capital. There are a lot of government jobs to be had.
Finally, the private sector cannot be overlooked. As Columbus and the central Ohio region are hosts to more than 15 Fortune 1000 companies.
According to NBC4, the largest private sector employers include:
JPMorgan Chase
Nationwide
Honda
L Brands
Cardinal Health
Huntington Bancshares
Amazon
American Electric Power
Alliance Data
Abercrombie & Fitch
Many of them are headquartered right here because of the central location. And proximity to several of the largest U.S population centers.
Now, if you desire to better position yourself and your family to capitalize on the job market. First, make sure your current credentials are presented in the best possible light.
For, this I like to use MyPerfectResume.
Then, when you are ready to improve your qualifications, education is another one of the advantages of living in Columbus…
Great Educational Opportunities
Whether it's K-12. Or, higher ed. Here are some of the great educational options in this area…
K-12 Schooling After Moving To Columbus
Are you moving to Columbus with school-age children? Then know that the area has some of the best public schools in the state.
First, the Columbus City Schools (CCS) district is Ohio's largest, based on student enrollment. Across the system, there are nearly 150 high schools, elementary schools, and middle schools plus magnet schools in this district.
As with any area, quality can vary from school to school. And district to district. So, do your homework, and choose your exact location wisely.
If you are still asking, why live in Columbus? Then here's another good reason…
Higher Education When Living In Columbus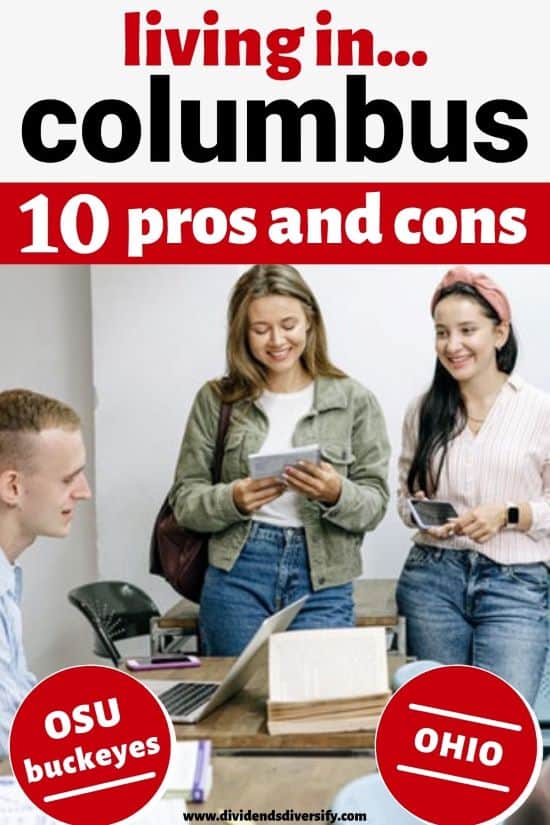 Then, for higher education, this may be one of the best areas in the country. Of course, you and your family can stay local. Because of the presence of The Ohio State University.
But, a huge, prestigious university like that may not be for everyone. Where the goal might be a more specialized or intimate environment. And that's okay.
Because there are nearly 50 colleges and universities in central Ohio. Such as…
Capital University
Columbus State Community College
Franklin University
Ohio University
Otterbein University
Finally, unlike a smaller town with a big university, many students stay in the metro area after graduating. Leading to a very highly trained and well-educated population. Full of technology skills. And many with an entrepreneurial spirit.
These new residents add to the culture and vibe of living here. Also, it's perfect if you are considering relocating your business and need to staff up.
Okay. Your budget, job, and education. Thus far, we have checked all of these boxes.
Next, it's time to have some fun. Another one of the great things about living in Columbus…
Plenty Of Fun Things To Do
You can find a little bit of everything here to meet your entertainment and recreation needs. Let's discuss…
Life In Columbus Means Arts, Culture, And Festivals
The city offers a nice blend of cultural activity. Be it art, music, or fairs and festivals.
So, feed your creative side after moving to Columbus with…
Franklinton Friday art crawl and music series
Heritage Music Festival
Museum of Art
Rhythm on the River concert series
Shadow Box live theatre company
Wexner Center for the arts
Next, are you getting hungry? Well, satisfying your appetite is another one of the good things about living in Columbus…
Eating And Drinking Is A Big Part Of Columbus Living
Craft beer is popular and abundant. With nearly 50 breweries in central Ohio. And the city has its very own neighborhood, known as the Brewery District.
Also, this has become a foodie city. Ranking consistently well on the top foodie city lists.
But hey, there are thousands of excellent chefs. Running great restaurants all around the country. Including here.
But what about the iconic local fare? That separates one place from the rest.
Because I like a place with a tradition of unique regional foods. So, I think you should know about these specialties…
Columbus-style pizza. Thin crust, topped edge to edge, and cut into smaller squares.
Buckey candy. Chocolate-covered peanut butter.
Schmidt's Bahama Maha sausages. I mean who doesn't like a good tube steak?
Johnny Marzetti. Macaroni noodles, tomatoes, and ground beef topped with cheddar cheese.
Ohio nachos. One-of-a-kind blue cheese potato chips.
Still wondering, why move to Columbus, Ohio? Well, here's a good reason…
Sports
Ohio State Buckeyes football is practically a religion here. Just be sure not to mention the team currently residing in Ann Arbor. Friday night high school football is popular too.
But there's more…
With the National Hockey League's Columbus Blue Jackets. And major league soccer's, Columbus Crew.
Plus, Minor League Baseball's Columbus Clippers. They are the triple-A affiliate team of the Guardians pro baseball club from Cleveland.
And don't forget, there are more pro sports close by…
Because a 2-hour drive to the north or the south will put you in Cincinnati or Cleveland, respectively.
Where you can adopt your favorite professional team from the NFL, MLB, or NBA.
Okay. We are just getting warmed up. So, let's keep rolling through the pros and cons of moving to Columbus.
And I'm sticking with the topic of fun things to do…
Outdoor Recreation
To get outside for a bit of recreation. Know that the city has more than 20 Metro Parks. With nearly 300 miles of trails in and around Columbus and Franklin County.
These parks are a perfect place for exploring the outdoors. Specifically, hiking, biking, and discovering the region's rivers and streams.
However, do note that there are very few lakes in the area. So, if lakeside living, boating, and water skiing are you're your passion. The opportunities are a bit limited.
Next, stretch your legs in Schiller Park. A 23-acre park in the German Village.
Goodale Park is nice too. 40 acres that were donated to the city back in the mid-1800s.
For a more manicured look. The Franklin Park Conservatory and Botanical Gardens is an amazing place to visit.
Do you like to play golf? Then there are several courses conveniently located around town.
Plenty of variety for the avid golfer. Or, a beginner just getting into the game.
Finally, just get out of town and enjoy the rolling land and farms in the region.
And what makes all of this outdoor recreation even more enjoyable?
4 Season Weather
It's the variety of weather patterns that residents experience here.
Because if you need the changing seasons to mark the passage of time. You have found your place.
What I mean is…
Warm and lazy summer days. Crisp fall temperatures and the turning leaves.
A winter chill with quite possibly a white Christmas. And the seasonal renewal that comes with the spring thaw.
Okay. It's time for a big transition.
Since I have covered most of the great things about living here.
On the other hand…
an article about the pros and cons of living in Columbus would not be complete. Without addressing some of the negative aspects you should be aware of before moving.
To get started, I'm not done with the weather…
Some Unpleasant Weather Conditions
For better or worse, this is a Midwest state. Thus, the changing seasons have a less glamorous side to them.
First, residents have to deal with winter weather. And cold, damp springs that seem to drag on forever.
It gets quite gloomy and grey during this time. And there can be many days without sunshine.
Second, from spring through the fall season there is plenty of pollen in the air.
So, for anyone who suffers from seasonal allergies. Get ready for watery eyes, a runny nose, and a scratchy throat.
Finally, the weather is changeable and unpredictable. This means you will never know if your outdoor plans are going to be spoiled by the weather.
To sum up, if you ask me is Columbus a good place to retire? I'd say the weather is not a point that I would put in the plus column.
Next, let's move back to the financial side of life in Columbus pros and cons. Because I have some things that are, unfortunately going to offset the low cost of Columbus living…
High Tax Rates
I'm saying that taxes are high here. It is one of the reasons not to move to Columbus.
And not just one tax. But three types of taxes that will blow a hole in a tight budget if you aren't careful.
Property Taxes When Living In Columbus
First, Ohio has a high property tax rate. Easily ranked in the top one-third of all states in the country.
But so much depends on the value of your new home. And its location. For example, property taxes tend to be higher in the suburbs. Versus the city.
One of my friends that works in local real estate suggested using this rule of thumb as a rough guide:
| | |
| --- | --- |
| Home Value | Annual Real Estate Tax |
| $300,000 | $4,000 |
| $600,000 | $12,500 |
| $1,000,000 | $20,000 |
But understand that these are just rough estimates for getting started.
When you are getting serious, use the real estate tax estimator tool provided by the Franklin County Auditor. It gives a much better idea of your exact situation.
Sales Taxes Can Put A Squeeze On Your Columbus Lifestyle
The state of Ohio's sales tax rate is 5.75%. Then the city tacks on another 1.75%. This brings the total rate added to the stuff you buy to 7.5%.
Keep that in mind. Before making that next big buy.
Also, think about using the money-back rebate app from Rakuten. For earning cash rebates on all of your online purchases.
Let's keep moving through this difficult topic. Because the pros and cons of Columbus also include taxes on your income…
Income Taxes Can Put A Drain On Columbus Life
Finally, we have income taxes.
This state has a progressive tax system. That's just a fancy way of saying the more you make. The higher your income tax rate is going to be.
The state's top rate is nearly 5%. And the city adds another 2.5%. So, there goes another 7.5% for high earners.
Allow me to sum up the tax situation here…
If you own a nice home, make a good buck, and like to spend your money.
Then know that living in this city means high taxes.
They take more than a fair share, in my opinion. And dramatically reduce the purchasing power of your hard-earned dollars.
As a result…
Sort Out Your Finances Before Moving To Columbus
If all this tax and money stuff has your head spinning. I suggest using the free online tool from Empower.
Empower is a great way to pull your spending, budget, and investments together. All in one place.
This is critical. Because relocating is a big financial commitment.
And it's key to have your financial house in order. Before considering any of the moving to Columbus pros and cons we are discussing today.
Okay. Enough about your money and taxes. Let's get back to some easier topics.
But unfortunately, I'm not done with the worst things about living in Columbus. And these next several points are the downside to the growth and success the city has experienced.
They add up to more disadvantages of living in Columbus…
Short On Small Town Living
First, I'm not sure the city lives up to its nickname of "The Biggest Small Town in America" anymore.
It's no longer a large city with a small-town feel. Those days seem to be gone.
Because the population has grown steadily over the past 20 years. Growing even faster more recently due to the rise in remote work.
So, understand that this is a major metropolitan area. No, not like Chicago or New York City.
But like I said in the introduction. This is the 15th most populous city in the United States.
You then might be asking, is Columbus a safe place to live? The short answer is yes.
But there are crimes committed here. Like any other city.
Since both the property crime rate and violent crime rate exceed national averages as well as the Ohio average. There is homelessness too.
To sum up, everything thing seems more congested and more big-city-like than in the past.
And speaking of congestion. Next, I have another one of the downsides of living in Columbus…
Difficult To Get Around
There is a bus system for getting around town. However, Columbus has made no commitment to commuter rail, subway, light rail, or streetcar service in any way.
Thus, most residents get around by car. Making for heavy traffic in this area of the United States.
Furthermore, the potholes are big enough to swallow your car. So there is road construction from early spring until the end of fall.
Next, the city is known to have the worst drivers. They have a reputation for being both bad and aggressive.
Finally, before and after OSU football games, traffic is a nightmare.
Okay. Last but not least, more growing pains of living in Columbus.
Popularity Has A Price
Just to name a few miscellaneous issues you may encounter…
First, the school systems are challenged to keep up with the growth. So, redistricting is always a possibility after settling down in your new home.
Next, the amount of available real estate is fixed. And municipalities are challenging to work with. Both of these issues serve to create a limited supply of new housing construction.
Furthermore, labor shortages impact the supply of daycare for children. Increasing prices and waitlists.
Also, remember that moving here means choosing to live in a Midwest college town. And a big one, at that.
Finally, parking in downtown Columbus is a nightmare for visitors and the people that live there. Availability is in short supply. The locations of public spaces are poor. And the cost to park is expensive.
Whoa. Seems like I got on a bit of a rant.
So, I better wrap up with a few parting thoughts about this question: what is Columbus like?
Pros And Cons Of Living In Columbus, Ohio
Columbus is a great place to live. For its low cost of living, ample jobs, great educational options, and fun things to do. However, get ready to pay up for taxes. And know that the city's popularity has come at the price of its small-town feel.
Thanks for reading. I hope this article has helped you answer the big question. Specifically, should I move to Columbus?
And if the reasons not to move to Columbus outweigh the pros. Be sure to check out all of our reviews about…
Good Places for a Better Way of Life
Then, start packing!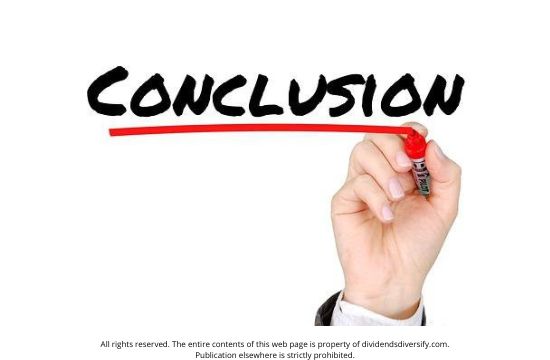 Author Bio, Disclosure, & Disclaimer: Please join me (Tom) as I try to achieve my goals, find my next place to live, and make the most of my money. However, I am not a licensed investment adviser, financial counselor, real estate agent, or tax professional. Instead, I'm a 50-something-year-old, early retired CPA, finance professional, and business school teacher with 40+ years of DIY dividend investing experience. I'm here only to share my thoughts about essential topics for success. As a result, nothing published on this site should be considered individual investment, financial, tax, or real estate advice. This site's only purpose is general information & entertainment. Thus, neither I nor Dividends Diversify can be held liable for losses suffered by any party because of the information published on this website. Finally, all written content is the property of Dividends Diversify LLC. Unauthorized publication elsewhere is strictly prohibited.
The Pros And Cons Of Living In Columbus, Ohio Explained