Important Things To Know Before Moving To Cincinnati Ohio
Today's article is about the pros and cons of living in Cincinnati.
It's packed with great information. So, I suggest we get moving…
Pros And Cons Of Living In Cincinnati
Our top 20 list of moving to Cincinnati pros and cons includes:
A diverse and productive economy
Robust job market
Moderate cost of living
Abundant higher education options
Dozens of great neighborhoods
Vibrant downtown
Beautiful parks and landscape
Lots of fun things to do
Good food
Great beer
Unpredictable weather
Tough on those with allergies
Too much pollution
Bad traffic congestion
Limited public transportation
Deep political divides
Problems with diversity
Large pockets of poverty
Higher crime in spots
Issues with drugs
Okay. That's a big list, for sure.
And in a moment, we will go into great detail. Specifically, about each of these good things and bad things about Cincinnati living.
But first, let me answer the big question of the day. So you will have an overview of what Cincinnati is like…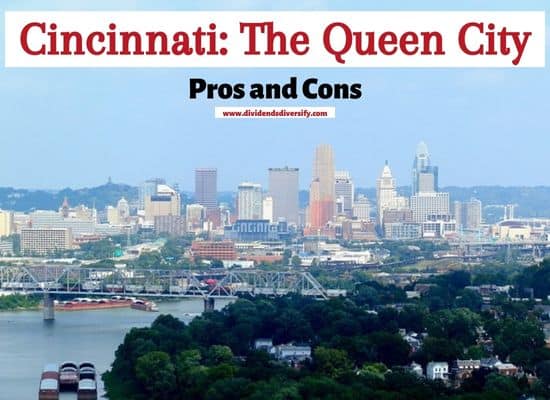 Disclosure: At no cost to you, I may get commissions for purchases made through links in this post.
Is Cincinnati A Good Place To Live?
Cincinnati is a good place to live often being ranked as one of the best cities to reside in the United States. The positive views are based on the diverse economy, plenty of jobs, low-cost living, fun recreational options, and excellent family-friendly neighborhoods.
But all is not perfect in what is also known as The Queen City.
So, before you pack up and move. I suggest carefully examining these 20 living in Cincinnati pros and cons.
Let's do that now…
A Diverse And Productive Economy
The city's economy is one of the largest in the Midwest.
It is ranked behind the major regional metropolitan hubs. Specifically Chicago, Detroit, Minneapolis, and the city of St. Louis. Measured by gross domestic product (GDP).
One of Cincinnati's economic strengths is that it is not overly dependent on any single industry. Verus a city like Detroit, still heavily reliant on the automotive industry.
Thus, if one area of the economy takes a hit. It won't throw the entire city into an economic downturn.
This diversity helps make the economy a bit larger than some others in the Midwest. Such as the likes of Milwaukee, or Kansas City, for example.
Major industry representation includes:
Education
Financial services
Health care
Information technology
Leisure and hospitality
Professional and business services
Trade and transportation
Finally, for those who need to travel in and out of town for business. Or, leisure for that matter.
The Cincinnati and Northern Kentucky International Airport (CVG), located in Hebron, Kentucky, is highly regarded. It supports all the major carriers as well as some low-cost operators too.
I have flown in and out of CVG many times. And in my opinion, It's one of the better large regional airports in the United States.
So, when out-of-town business calls. It's convenient to hop a flight. To get where you need to go from this convenient central U.S. location.
Next, supporting this city's economy is the job market. It stands out as one of the many advantages of living in Cincinnati…
Robust Job Market
This city has a strong job market. And over the next several years, the metropolitan area is projected to add thousands of new jobs to the mix.
With considerable growth in higher-paying opportunities. Such as in the skilled trades and information technology sectors.
As it stands today, two of the largest local employers are The Kroger Company. Also, the University of Cincinnati, which alone has about 15,000 faculty and support staff of all job types.
Next, several major health care systems offer employment in the area. Specifically, UC Health and TriHealth.
Plus, there is the Cincinnati Children's hospital. With more than 16,000 jobs dedicated to improving child care.
Next, the city is home to several financial services companies. Two of the larger institutions based here include Western & Southern Financial Group and Fifth Third Bank.
Finally, retail businesses play a major role in providing jobs too.
Because this is home to big businesses operating in the retail sector including Macy's and Proctor & Gamble.
Also, although not retail. General Electric's Global Operations Headquarters is located downtown.
Okay. After finding a way to earn your keep. You will need to locate an affordable and nice place to live.
Being able to do so is another one of the benefits of living in Cincinnati…
Moderate Cost Of Living
As one long-time resident said, "it's one of the few cool places left that's still affordable." So, perhaps this city is a well-kept secret.
Although I think the word has gotten out. Let's discuss…
Housing Costs When Living In Cincinnati
First, let's talk about housing prices. And how they impact the average cost of living in Cincinnati.
As with many other cities throughout the country. This area has been impacted by the wave of interest in home-buying.
Of course, your expenses will be determined by your choice of location. And the amenities you are looking for.
So, I can only offer some general guidance. But my research shows the median home value runs anywhere from 30%-40% lower. When compared to the United States as a whole.
But be prepared. Because in recent years the housing market has been red hot. Resulting in rising home prices.
Thus, it's a competitive market.
So, be sure your credit score is in good shape before you move. You can check your credit for free at Credit Karma.
Next, for an urban environment, rents are reasonable too.
Some of the more affordable neighborhoods for renters in Cincinnati include:
East Westwood
Sayler Park
West End
But be careful here. Choose a less expensive neighborhood carefully. Because oftentimes you get what you pay for.
More on some of the issues with living in the less expensive areas of Cincinnati later.
On the other hand, for anyone with an ample budget. Some of the best areas to live in Cincinnati for renters are:
Central Business District
Corryville
Mount Lookout
Other Costs When Living In Cincinnati
No matter where you choose to reside here. The other essential costs of living in Cincinnati are reasonable too.
According to BestPlaces.net expenses for groceries, health care, utilities, and transportation. All run below the national average.
Furthermore, we effortlessly save a little more money. By using the cash rebate app from Rakuten.
It's perfect for getting cash back rebates. For everything, you buy online.
Finally, what do all the cost savings suggest? It means you will have more money for other essential things and luxuries too.
So put your newfound cash after moving to Cincinnati towards things like saving for retirement. A family vacation, or home improvements.
Then pull your finances together in the free online app from Personal Capital. It's the perfect tool for monitoring your expenses, maintaining a budget, and seeing all of your investments in one place.
Thus, improving your overall quality of life in Cincinnati. Or, anywhere for that matter. By getting your financial house in order.
Next, you will find a lot of well-educated people living in Cincinnati. And you can be one too. Here's why…
Abundant Higher Education Options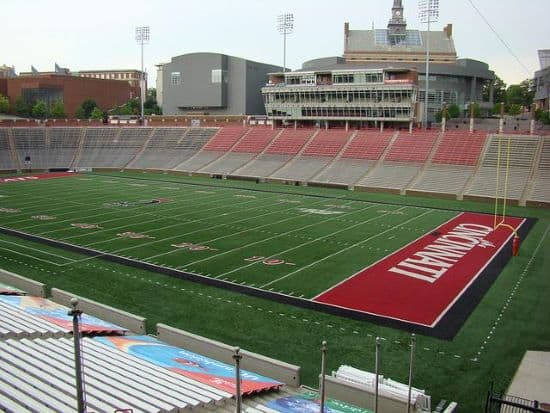 Because there are some excellent options for education here. Or sending your kids off to school too.
Accessible Colleges And Universities After Moving To Cincinnati
Some of the schools to consider are:
Miami University (in nearby Oxford, OH)
Northern Kentucky University (Highland Heights, KY)
The University of Cincinnati (north of downtown)
Xavier University (northwest of downtown)
Additional options, not far away, are the University of Kentucky in the city of Lexington. Also known as the horse capital of the world. And the University of Louisville.
But beware, if a local asks you "where did you go to school?" They mean what area high school did you attend.
So, if you are a transplant. Just say so when this question arises. Because it's a great conversation starter for getting acquainted with your new neighbors in Cincinnati.
But you don't have to drop the big bucks on formal education. Here's why…
For Self-Study And Self-Improvement When Living In Cincinnati
Because the public library system here is ranked as one of the best in the country.
Including one of the city's gems, The Mercantile Library. "A gathering place for readers, writers, and thinkers since 1835" as their tag line reads!
Overall, the entire library system is recognized for its number of library visits, circulation, program attendance, and public internet use.
This next thing makes the Cincinnati lifestyle special. And is another great point to know about The Queen City…
Dozens Of Great Neighborhoods
First of all, there is a strong sense of community. In a manageable urban environment made up of dozens of unique neighborhoods.
Furthermore, the city is nestled along the banks of the Ohio River. However, the entire metropolitan area spans portions of three states…
Ohio, Kentucky, and to a lesser extent, the often-underappreciated state of Indiana.
Each neighborhood has a specific character, economics, and politics. So, be careful with where you choose to live.
Because your choice will have a big influence on how you feel about living in Cincinnati. So, allow me to point out several of the best Cincinnati neighborhoods for your consideration…
To the north are:
Northside (hip culture)
Norwood
Oakley (trendy)
Near the University of Cincinnati. If you are interested in a college-like living environment:
Clifton (gaslight district)
Corryville
Best areas to live in Cincinnati near the city center:
Over-The-Rhine (referred to as OTR)
Hyde Park (upscale)
Across the Ohio River and in Northern Kentucky you will find:
The city of Covington is in the middle of it all here. At the very northern tip of Kentucky. Plus, don't forget about…
Bellevue
Fort Thomas
Newport
Ludlow
…to name just a few.
Then there is downtown. Deserving a section in this article all its own. Because it is one of the great things about life in Cincinnati…
Vibrant Downtown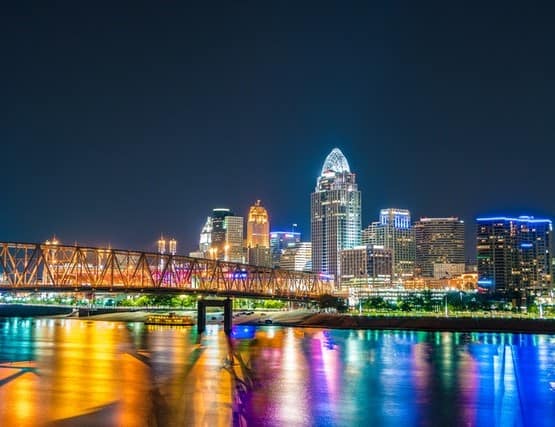 Downtown is considered the heart of this city and the location of many of the global, national, and regional businesses. Plus, dozens of locally-owned restaurants, bars, and breweries.
Many residents find their employment here.
As most of the larger companies have their headquarters in the vicinity. Utilizing the abundant downtown office spaces.
One advantage of downtown Cincinnati living is that all of the city buses originate here. Adding to the flexibility of getting around.
For the architecture buffs. Many of the buildings are listed on the National Register of Historic Places.
For all of you sports fans, enjoy being part of the crowd at professional sporting events. With Paul Brown Stadium for football. And The Great American Ball Park for baseball.
Or just enjoy the beauty of this city's downtown. By visiting Smale Riverfront Park or Washington Park located to the north of the city center.
Fortunately, the downtown area has gotten a lot more beautiful in recent years. Stemming from numerous revitalization projects that have taken place.
And speaking of beauty. It brings me to one of the top reasons to move to Cincinnati for anyone in search of a healthy lifestyle that includes the great outdoors.
I'm talking about the park system here. As the pros and cons of living in Cincinnati march on…
Beautiful Parks And Landscape
There are parks, public gardens, nature centers, and urban forests everywhere. From areas where you can let your dog run. To nature centers with miles of hiking trails.
By exploring during your free time, you will find your outdoor favorites. Some possibilities include…
Alms Park
Ault Park
California Woods Nature Preserve
Cincinnati Nature Center
Devou Park & golf course
Glenwood Gardens
Krohn Conservatory in Eden Park
Mt. Airy Forest & Arboretum
Mill Creek
Sharon Woods
They are all great places. That comprise acres upon acres of enjoyable green spaces.
What's better for your outdoor fun, is the healthy dose of all four seasons here. Adding to the variety and visual interest.
This means you can enjoy…
The blossoms of springtime
Warm summer days
Turning leaves on brisk fall mornings
Fresh snowfall in the winter
…after moving here.
Are you still asking yourself…why live in Cincinnati? If so, here's a good reason…
Lots Of Fun Things To Do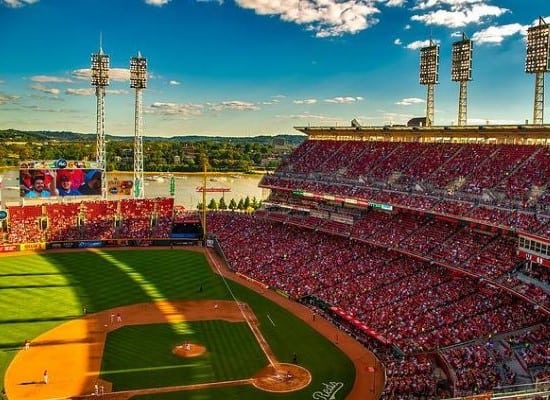 Because beyond enjoying the outdoors. There is so much more to do.
Just another one of the best things about living in Cincinnati. Allow me to list out some of the vast entertainment options this great city offers…
Festivals and outdoor markets:
MLB's Red's opening day
Findlay Public Market
King's Island Amusement Park
The Oktoberfest Celebration
For fun and education:
Cincinnati Fire Museum
Cincinnati Zoo & Botanical Garden
Duke Energy Children's Museum
National Underground Railroad Freedom Center
Newport Aquarium
For music or a little culture:
Aronoff Center for the Arts
Art Museum
Chamber Orchestra
Cincinnati Music Hall
Contemporary Arts Center
May Festival (choral)
Pops Orchestra
Symphony Orchestra
University of Cincinnati College-Conservatory of Music
Finally, attending professional sporting events provides even more options. As these teams call the city home…
Baseball's Reds
Football's Bengals
Soccer's FC Cincinnati
Hockey's Cyclones
Okay. All of this fun stuff is making me hungry. So, let's talk about some food options that can add to your Cincinnati living experience next…
Good Food
Since this is a major U.S. metropolitan area with more than 2 million people. It means there are plenty of good food options.
From fine dining. To mom-and-pop restaurants.
So, I would like to focus on a few of the local delicacies…
First, the city has been called the "Chili Capital of the World".
But Cincinnati chili is different than what is served up in other parts of the country. It's like a think sauce. Poured over noodles. And topped with plenty of cheese.
Skyline and Gold Star are a couple of the big restaurant players in this space. However, I would suggest sampling some of the lesser-known names to find your favorite dish.
Next, there is Goetta, a German breakfast sausage.
It is made with pork, beef, steel-cut oats, onions, and spices. And is truly unique to Cincinnati and the Northern Kentucky regional area.
The sausage recipe was brought to the area by German immigrants back in the late 1800s. Usually sliced into patties. Pan-fried and served with eggs.
For a sweet treat, you must try Graeter's ice cream. A well-known regional brand.
What sets it apart is how they make it. Specifically, in small two-gallon batches.
Finally, another hometown tradition is Aglamesis Brothers. They specialize in rich, super-premium ice creams and deliciously decadent chocolates.
And to wash it all down. I have yet another one of the incredible things about living in Cincinnati…
Great Beer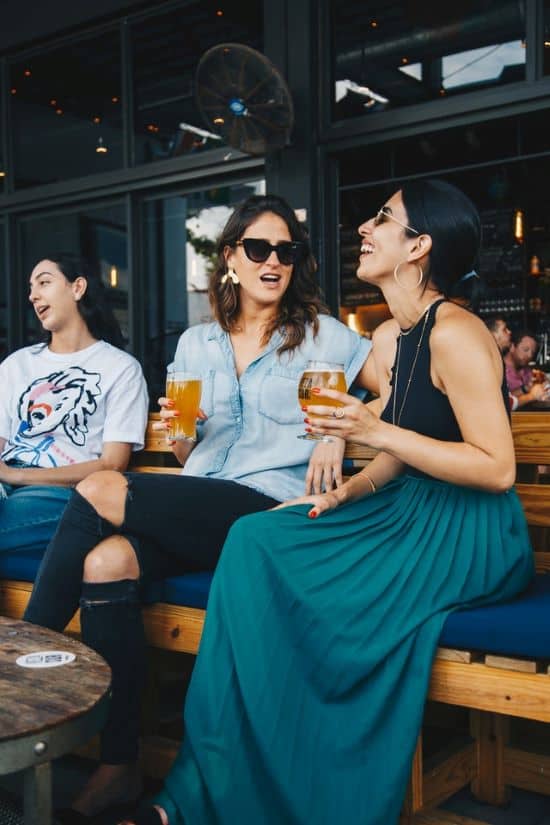 Because this is an awesome beer town. And home to one of the largest Octoberfest celebrations in the world, outside of Munich, Germany.
It's called Octoberfest Zinzinnati.
But you can get great beer year around. Since at last count, there were nearly 40 different breweries located in the metropolitan area.
Some of the local's favorite brewpubs include:
Braxton Brewing Company
Fifty West Brewing Company
Listermann Brewing Company
MadTree Brewing
Moerlein Lager House
Mt. Carmel Brewing Company
Rhinegeist Brewery
Then, if you want to wet your whistle with something a little different.
Realize that after moving to Cincinnati. You will only be about an hour away from the heart of Kentucky's bourbon country.
So, be sure to visit The Bourbon trail when time permits.
Okay. That's all the good stuff about Cincinnati living.
But I'm not here to tell you this is the perfect town to transplant yourself to. Because no place is perfect.
So, allow me to flip this discussion on its head. And next, focus on 10 reasons not to move to Cincinnati…
Unpredictable Weather
First, this region has some of the most unpredictable weather in the country.
Not only season to season. But day to day. And sometimes on the same day. Thus, you will experience a variety of weather conditions.
Locals will tell you they have seen snow blizzards in October and April. Also, 70-degree December days.
Furthermore, summers are hot and with plenty of humidity. To make it feel extra uncomfortable.
And another thing you are not going to avoid here is snow. It can create issues for driving and navigating difficult conditions…
So, you have to get used to icy roads and sidewalks. And more than just a couple of times per year.
Finally, many people don't like how the winter season seems to drag on. During this time, the skies are often an overcast grey. Keep that in mind. If you are the type that needs sunshine for feeling your best.
So, when you get through February and into early March. You could find yourself thinking: I need springtime. And I need it bad.
But, when the spring season comes, you might be sorry. Because it brings with it one of the worst things about living in Cincinnati…
Tough On Those With Allergies
Because if you're allergic to tree pollen. Or, any kind of plant pollen, understand it is heavy every year.
Some people will tell you they suffer on and off from February-October. But the spring season is the worst when everything starts to leaf out and blossom.
Sometimes the pollen is so thick you can see it in the air. And sometimes it leaves a sticky coating on outdoor surfaces around your home and car. If you leave it outside.
Unfortunately, it's not just pollen that plays havoc with the air you breathe in this city…
Too Much Pollution
Because according to the American Lung Association, the area is ranked as one of the most polluted cities for year-round particle pollution and ozone levels.
It is mainly attributed to vehicle traffic and energy production. With several coal-burning plants producing power for the region.
As a result, the air quality in this city is not the best.
And speaking of traffic. Let's talk about it. As one of the disadvantages of living in Cincinnati…
Bad Traffic Congestion
For the most part, getting around by car isn't too bad. Since you can drive to most places around the city in about 20 minutes or so.
Nothing like Chicago, Los Angeles, or New York City.
However, some specific locations cause most of the headaches. Mainly, the I-71 and I-75 confluence at the Brent Spence Bridge.
The bridge crosses the Ohio River connecting the metropolitan area of Northern Kentucky with Cincinnati. And feeds traffic to and from the CVG airport and downtown.
As a result, it has been rated as one of the worst congestion points in the country. So, keep this tip in mind…
The best areas to live in Cincinnati will reduce your required trips across the river. Because you will save a ton of time, hassle, and stress.
As a result, your decision on a neighborhood. May hinge on the location of your workplace.
Bringing me to my next point about why the traffic is bad…
Limited Public Transportation
One reason is that for a major metropolitan area, the public transit systems are lacking. Specifically, there are no subways or light rail systems.
There is the go Metro bus system. A major local transit system with fixed-route service.
It transports area workers getting to jobs in the downtown sector. As well as a means for visitors to reach the popular cultural attractions and tourist destinations.
There is also a streetcar system located downtown. But it only services short hops to popular areas mainly in and around the city center.
Thus, residents find it far better to travel via car. Which only aggravates the traffic problems.
Here is an interesting side note…
Construction began on a subway system in the early 1900s. But the project collapsed due to funding constraints and political bickering during the Great Depression.
Speaking of politics…
Deep Political Divides
Just like Ohio as a whole, Cincinnati is one of those cities that is divided between Conservatives and Liberals.
As a result, this dynamic can create political tension in the city.
At a local level, you will find as many people that say they like city leadership. And just as many say they don't.
Overall, Cincinnati leans just left of the political center. A place with liberal aspirations while retaining a lot of conservative attitudes.
Put another way, the city can be a bit stodgy. But there are pockets of progressive thinking.
Thus, that constant political push-and-pull can create some friction.
Speaking of uncomfortable friction between people. This next point may be one of the worst things about living in Cincinnati…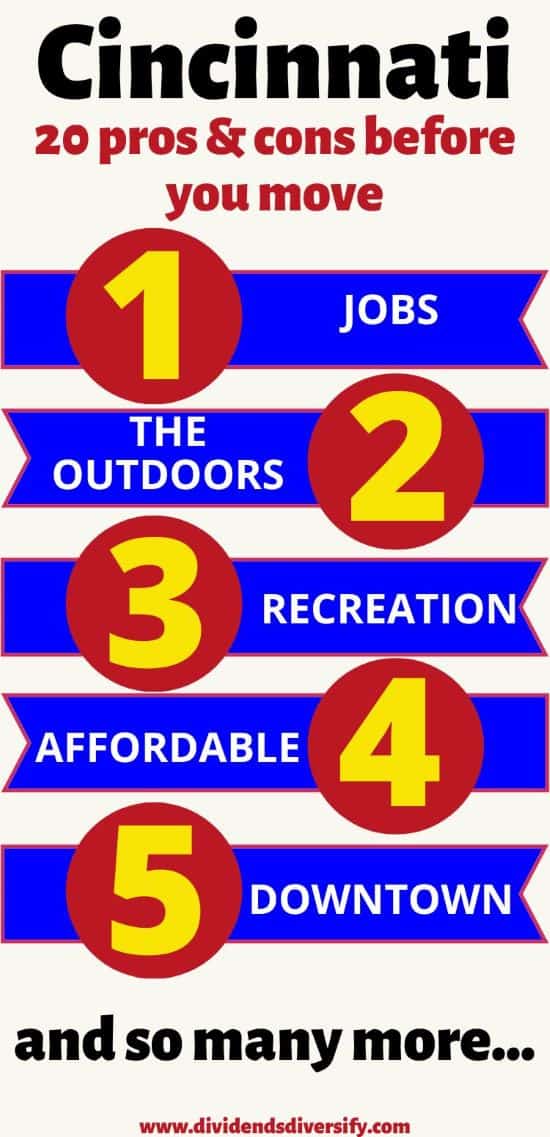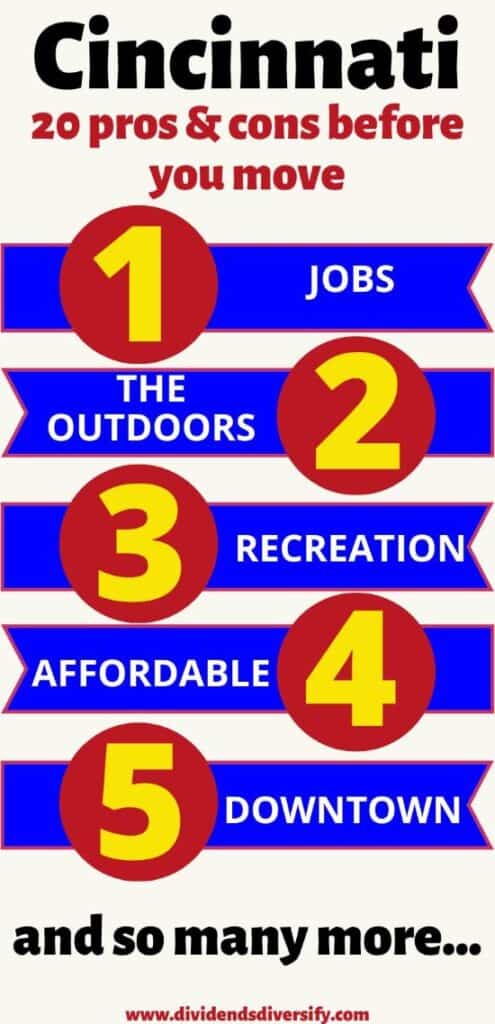 Problems With Diversity
While Cincinnati is a racially diverse city. As demographic data suggests the population is about 50% white, 42% African American, and 8% of other races.
The good news is you can experience different cultures. Just by moving between neighborhoods.
However, the downside to this is the fact there is a lack of diversity inside each neighborhood. In other words, residents of certain races and ethnicities tend to live next to people that look like themselves.
Thus, a form of natural segregation has taken hold over the years. As a result, people here don't socialize well. They tend to separate into their ethnic groups.
Worst yet, more racism exists than I would like to admit. Some former residents suggest it was a reason to hate living in Cincinnati. And why they moved away.
Next, I feel like I'm ending on kind of a down note. And I don't intentionally mean to do that.
Because Cincinnati is a great place to live. Unfortunately, the good life here is not shared by all.
Here is what I mean…
Large Pockets Of Poverty
Among larger cities, Cincinnati has one of the worst poverty rates in the country.
It is nearly 25%. Meaning about 1 out of every 4 residents of Cincinnati lives below the poverty line.
This is not as bad as the rate of poverty in another Ohio city, Cleveland. However, it is close.
Furthermore, African Americans are much more likely to live in poverty. Versus the White population.
Higher Crime In Spots
Most neighborhoods are safe. However, the city has some troubling crime statistics.
Approximately double the national averages for violent crime and property crime.
Issues With Drugs
The state of Ohio ranks high in the nation for heroin usage and opioid-related deaths. Furthermore, a large proportion of the state's deaths occur in the Cincinnati area.
Unfortunately, poverty, crime, and drug usage tend to go hand in hand.
Thus, much of this activity is concentrated in just a few of the city's most dangerous neighborhoods. For example…
North Fairmount
South Fairmount
South Cumminsville
East Westwood
Lower Price Hill
In contrast, these are much less prevalent in the other parts of town.
Okay. That's all I have for today.
So, allow me to wrap up with a few parting thoughts…
Pros And Cons Of Living In Cincinnati
For anyone asking themselves: should I move to Cincinnati?
I think you will find there is a lot to like about moving to The Queen City.
But it's not perfect here. And may not be for everyone.
So, carefully examine the pros and cons of Cincinnati before you move.
Then if you decide the cons outweigh the pros. Be sure to check out all of our…
Guideposts about The Best Places to Live
…to find your perfect place to live.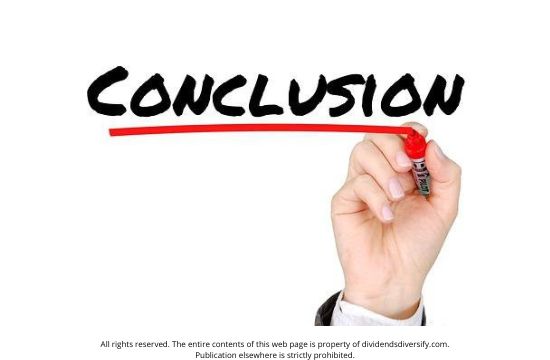 Author Bio, Disclosure, & Disclaimer: Please join me (Tom) as I try to achieve my goals, find my next place to live, and make the most of my money. However, I am not a licensed investment adviser, financial counselor, real estate agent, or tax professional. Instead, I'm a 50-something-year-old, early retired CPA, finance professional, and business school teacher with 40+ years of DIY dividend investing experience. I'm here only to share my thoughts about essential topics for success. As a result, nothing published on this site should be considered individual investment, financial, tax, or real estate advice. This site's only purpose is general information & entertainment. Thus, neither I nor Dividends Diversify can be held liable for losses suffered by any party because of the information published on this website. Finally, all written content is the property of Dividends Diversify LLC. Unauthorized publication elsewhere is strictly prohibited.
The Pros And Cons Of Living In Cincinnati Explained