Important Things To Know Before Moving To Ann Arbor, Michigan
If you are looking for the almost perfect place to live, then dig into today's topic with me: the pros and cons of living in Ann Arbor, Michigan.
For work, education, school, retirement living, and fun. This Midwestern city has a ton to offer.
Enough said! Let's get moving, so you can start packing…
Pros And Cons Of Living In Ann Arbor
Our best list of living in Ann Arbor pros and cons include:
Bubbling over with character
Vibrant downtown
Access to all things the University of Michigan offers
Low crime rates
Thriving business environment
Excellent educational system
High-quality health care options
An abundance of outdoor activities
Plenty of culture, music, and art
Limited availability of and high-cost housing
Expensive cost of living
Excessive tax rates
High population density
Bad traffic and limited parking
Issues with the weather
In short order, we are going to go through each of these points one by one.
But first. Allow me to address the big question that I bet is on your mind right now…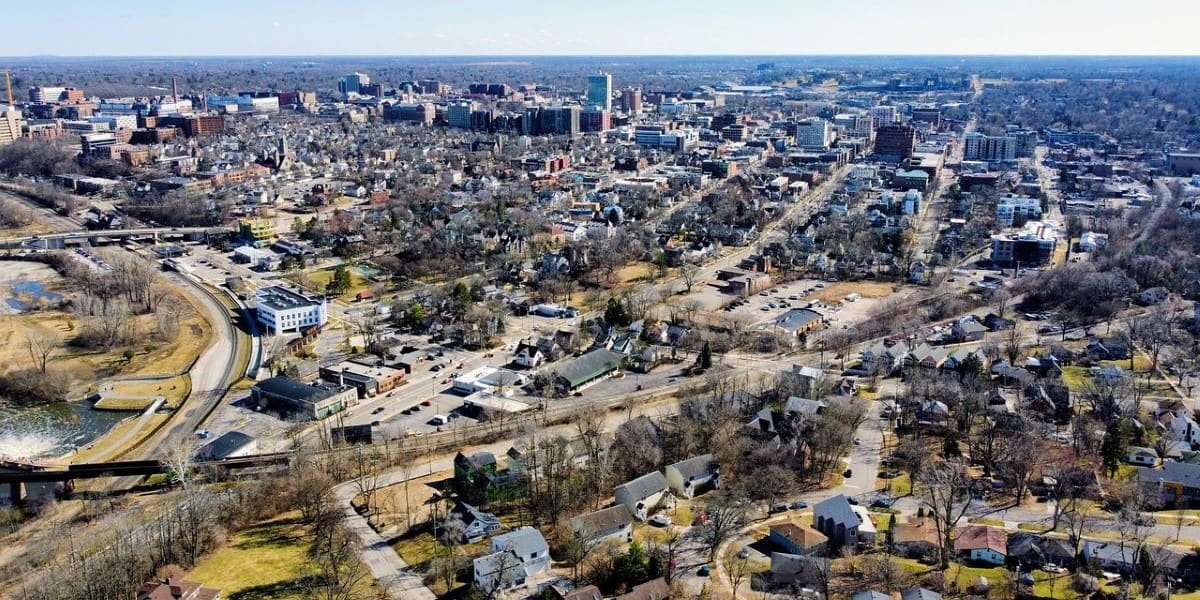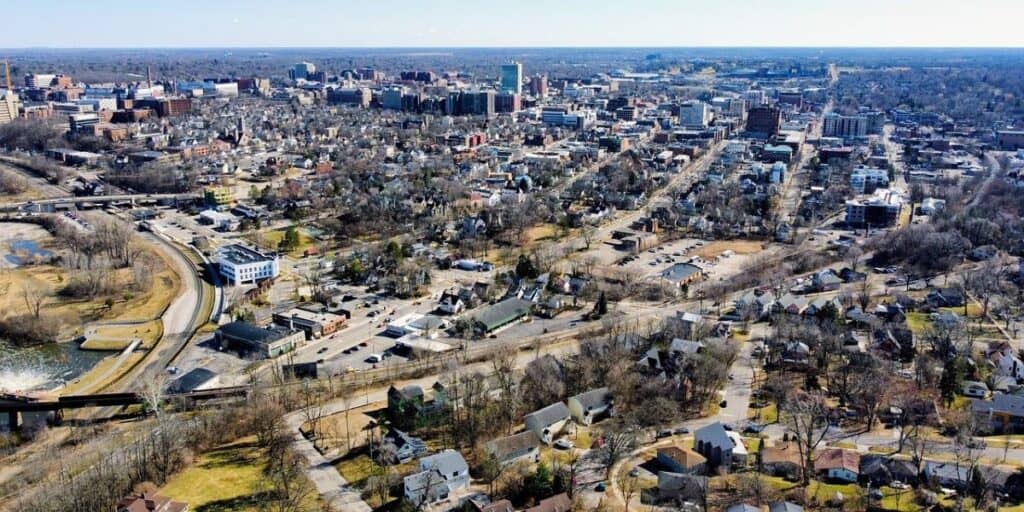 Disclosure: At no cost to you, I may get commissions for purchases made through links in this post.
Is Ann Arbor A Good Place To Live?
Ann Arbor is a good place to live because of its family-friendly neighborhoods, resilient economy, top-notch public schools, and an abundance of fun things to do indoors and out. However, all of these outstanding features come with the challenges created by population density, a pricey cost of living, and high tax rates across the board.
As a result, the pros and cons of moving to Ann Arbor can only mean one thing. You have to accept the good with the bad. And that's exactly what we are here to discuss.
Specifically, our top 15 pros and cons of living in Ann Arbor. Let's start with the pros…
Bubbling Over With Character
First of all, you won't find what I sometimes refer to as "midwest bland" here in Ann Arbor.
Because this city is filled with a globally inspired culture. Partly due to it being a big-time college town. With theatrical and musical organizations, galleries, and a thriving arts community.
Better yet, different neighborhoods each have a unique feel about them. Thus, you should know that the downtown is home to four distinct commercial districts. More on the downtown in a bit.
But first…
Neighborhood Living In Ann Arbor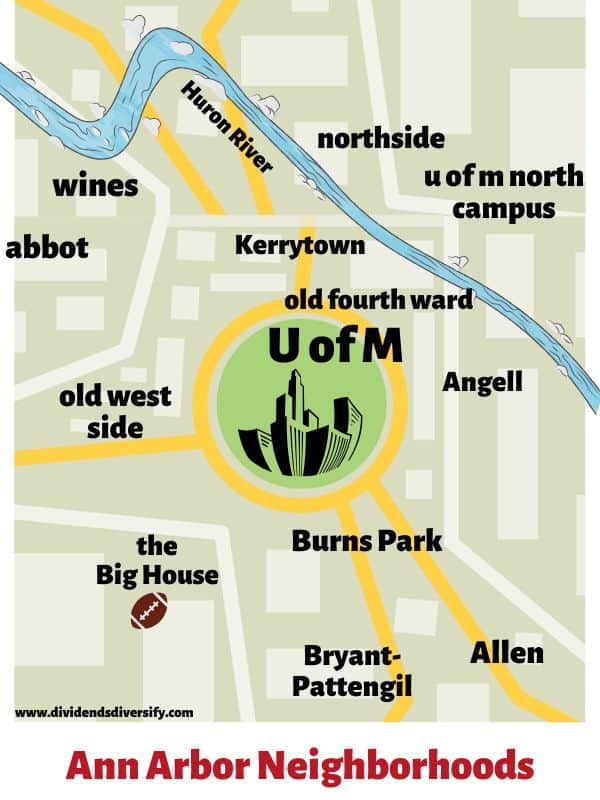 By moving away from the city center, other neighborhoods become living options too. Such as:
Abbot
Burns Park
Dicken
German Town
Logan
Old West Side
Some of the neighborhoods cater to university students. While others are more family oriented.
Regardless of exactly where you choose to settle down. You will find diverse shopping, restaurants, and housing options.
As promised, one of the best reasons to live in Ann Arbor comes next…
Vibrant Downtown
I mentioned it before. But will do so again. The downtown area in this city is awesome.
There is something to do and something to explore at every corner. Specifically, unique restaurants, meeting places for reading and studying, co-working spaces, cocktail bars, and breweries.
Furthermore, you should know that there are four different districts in the city including:
Kerrytown
Main Street
South University
State Street
One of the oldest residential sections is Kerrytown. Part of what is known as the Old Fourth Ward.
The area has done a great job of blending the historic with the modern. And is home to the city's popular farmer's market.
Also, for close-to-campus living, the South University neighborhood offers exciting nightlife, restaurants, and shops.
Speaking of campus, the downtown is nearby and an integral part of this next major advantage of living in Ann Arbor…
Access To All Things University of Michigan Offers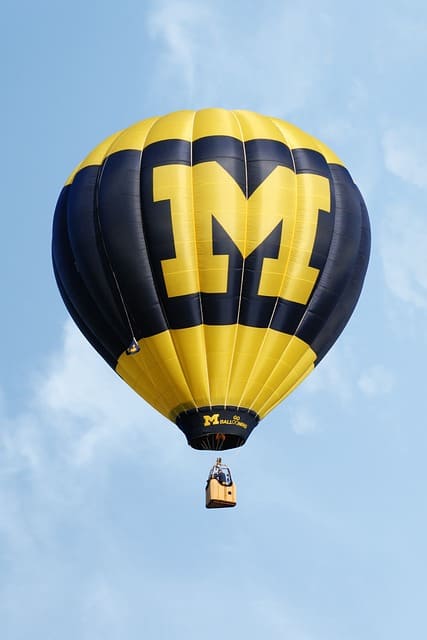 Because the city is home to the University of Michigan. We are talking about one of the best college towns in the Midwestern U.S.
It is ranked as one of the top public universities in the United States. With more than 30,000 enrolled students and a 3,200-acre campus.
Admission standards here are rigorous. So, it's tough to get accepted.
However, for the students that make the grade. U of M's graduation rate is one of the highest in the country.
Finally, the university is a big part of this city. Tied right into the downtown area. Most noteworthy, it is the area's largest employer.
So, get ready to become a Wolverine football fan. Because Saturday game days are a huge deal every fall.
And whatever you do, be sure to develop a strong dislike for that other college football team. You know, the one calling Columbus, Ohio home.
This leads me to another one of the benefits of living in Ann Arbor…
Low Crime Rates
Because anywhere you live in this great city. Or, need to be for work or play. You are going to find this is a safe place to live and go about your business.
Crime statistics are generally good and trending down. Many residential areas have low break-ins and few reported crimes.
Most noteworthy, this is a well-educated and generally affluent community. A generally good recipe for low crime rates. Most importantly, residents care about their properties and the people around them.
All of which make for a family-friendly living environment here. Where I can confidently say, yes. Ann Arbor is a safe place to live and work.
Speaking of work, let's talk about this. Another one of the good things about living in Ann Arbor…
Thriving Business Environment
It is the economy. Providing a solid foundation for a productive business environment. And the jobs it produces.
With the universities' tremendous influence here. This is becoming one of the top technology hubs in the U.S.
There are many accelerator programs and coworking spaces. To assist start-ups and new businesses find their way
Jobs To Support Your Ann Arbor Lifestyle
However, the largest employers are in the education and health care sectors. Making the economy somewhat recession-resistant.
Thus, many jobs can be found at:
The University of Michigan
St. Joseph Mercy Health Systems
VA Ann Arbor Health Care System
Ann Arbor public schools
Even the iconic pizza chain, Dominos, is headquartered in Ann Arbor. Serving up their tasty pizzas to hungry college students here, and across the country.
So, if you are looking for that perfect job before or after moving to Ann Arbor. Be sure to present your credentials in the best light.
For that, I love the online tool from MyPerfectResume.
Life In Ann Arbor Means Easy Access To The Midwest Region And Beyond
Then when your business needs to get done out of town. First, the city offers a convenient central Michigan location.
With easy access to the state's capital city of Lansing. And Detroit too.
Detroit is the largest city in the state based on population. Thus, putting the Detroit Metro Airport just 30 miles away when air travel is required.
While you can drive to Chicago. The largest city in the Midwest in about 4 hours.
Or, cross the border heading into the Hoosier State of Indiana. Finding yourself in the state's capital of Indianapolis in no time at all.
Beyond the conveniences of these metropolitan areas. You may be surprised by the beauty and promise of the more rural areas to the west and central parts of the state.
Moving right along, for anyone with school-age children. This next point might be the best thing about moving to Ann Arbor…
Excellent Educational System
Because this city offers a great school system.
Since the Ann Arbor Public Schools (AAPS) are ranked number 1 in the state of Michigan. And also recognized as some of the best places to learn in the entire country.
The Pioneer, Huron, Skyline, and Community high schools have been singled out as especially high quality.
However, it's hard to go wrong. No matter which school district you choose to live in.
Furthermore, the Ann Arbor District Library System (AADL) is highly rated too. It offers several unique branches across the metropolitan area. To extend education beyond the classroom.
Next, here is another one of the good reasons to move to Ann Arbor…
High-Quality Health Care Options
Whether you or a loved one needs specialized care. Or, general pediatric and adult healthcare.
Know that you can find access to excellent health care here in Ann Arbor.
Because there is the University of Michigan hospital, known as Michigan Medicine. And St. Joseph Mercy hospital.
Both are highly acclaimed for the care they provide and successful patient outcomes. In some ways similar to the amazing health care options available for residents of Cleveland, Ohio.
In addition, you can stay healthy by being active here. Fortunately, there is no shortage of outdoor activities to get out and keep fit.
From my perspective, this is another one of the positives about the lifestyle in Ann Arbor…
Abundance Of Outdoor Activities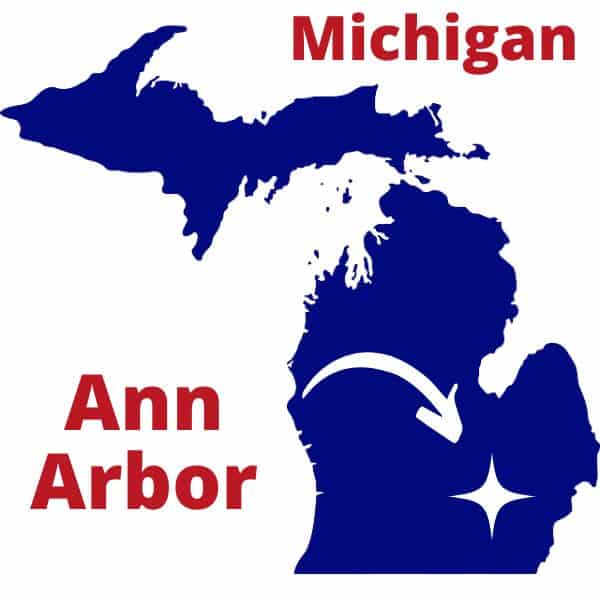 First, enjoy 4-season living here. Thus, providing for different activities during the different seasons.
From walking, biking, and water sports in the warmer months. To cross-country skiing in the winter.
You can even get in a little downhill skiing. By visiting the Mt. Brighton ski resort. Just 20 miles north of the city.
Next, allow me to offer a few more highlights about the outdoor possibilities you should know about. All adding to your active lifestyle in Ann Arbor.
Places To Enjoy The Outdoors When Living In Ann Arbor
First, the Huron River cuts through the city. The river is a great resource for fishing, kayaking, and canoeing.
Next, there is the Border-to-Border (B2B) trail.
A 35-mile, 10-foot wide, paved pathway. It consists of 6 different trail corridors that connect you to cities, parks, and other destinations throughout Washtenaw County.
Most importantly, the trail cuts right through the heart of Ann Arbor. Traversing the entire length of the city. From the southeast section to the northwest corner. As it parallels the Huron river.
Then there is Nichols Arboretum. Also known as "The Arb".
Here you will find more than 100 acres of gardens, landscapes, and hiking trails making it a sanctuary for beauty and ecology. Including the popular peony garden. It boasts more than 10,000 fragrant flowers during the peak bloom time.
Finally, this city has some great parks to enjoy. Nearly 150 in total, sprinkled throughout. So, you never have to look far for green space. When getting some fresh air and exercise is a priority.
Speaking of exercise, I have another one of the great things about living in Ann Arbor…
A Walkable And Bikeable Ann Arbor Lifestyle
This is an extremely walkable city. Bikeable too. Perfect for getting around without the need for a car.
Because you will find nearly 100 miles of on-street bike lanes. Almost as many miles of shared-use paths. And nearly 500 miles of sidewalks.
Thus, you can walk, stroll, jog, and bike to your heart's content. After choosing to move to Ann Arbor.
Okay. Thus far we have covered neighborhoods to select from. Plus work, school, and the healthy lifestyle offered here.
So, I think it's time for some fun. And tons of recreational options are just another one of the pros of living in Ann Arbor.
Plenty Of Culture, Music, And Art
You will find this city full of free-spirited liberal people. Thus, you have access to many artistic, cultural, and entertainment options here.
Because the city is loaded with great entertainment venues. Such as…
Hill Auditorium
Kerrytown Concert House
Lydia Mendelssohn Theatre
The Ark
…to name just a few.
There is the U of M Natural History Museum. That features a state-of-the-art planetarium.
The Top of the Park (TOP). An annual free outdoor music and movie series.
And perhaps the crown jewel is the Ann Arbor art fair. This Midwest tradition draws nearly a half million attendees every July. One of the largest art fairs of its kind in the United States.
Okay. That's all the good stuff I can come up with about living here. I'm sure there's more, but I want to keep this post to a reasonable length.
So, let's round out our top living in Ann Arbor pros and cons. By looking at some of the things that are a little less than desirable…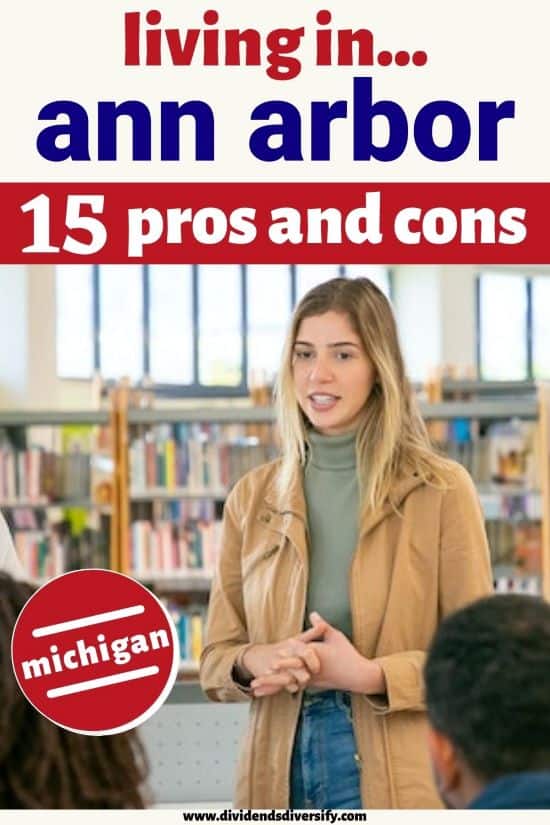 Limited Availability And High Cost of Housing
Like many places in the country, median home prices have been increasing rapidly.
Open land is limited within the city and most parcels are fully developed. Thus, the short supply has created a housing squeeze that has been going on for decades. And increasing the price of homes
Rent is also expensive. Making good rentals a luxury for students. And anyone else priced out of the housing market.
Yes. You can find newer construction and lower prices on the outskirts and outside of the city.
So if cost is an important consideration for you. Look to nearby townships. To get the amenities and space you need. At a price within your budget.
Consider Ypsilanti and Superior Charter. They are only a short 15-20 minutes to the east of downtown.
However, you will no longer be living in Ann Arbor!
Finally, because of the highly competitive housing market. Make sure your credit score is in good condition.
Either your mortgage lender or potential landlords are going to review it. So, get out in front of them and check your credit for free using Credit Karma.
Okay. Now you know that housing will be the biggest budget breaker. For most folks thinking about moving here. However, other costs are not necessarily a bargain either.
Leading me to another one of the disadvantages of living in Ann Arbor. Because by now, you might be asking is Ann Arbor expensive to live in?
Here's what I know about it…
Expensive Cost Of Living
When it comes to the average cost of living in Ann Arbor. And anywhere for that matter. After housing, groceries tend to be another large portion of the family budget.
And unfortunately, according to BestPlaces.net, your grocery bill in Ann Arbor will run about 3% higher. Versus the national average.
You can cut costs by seeking out a Kroger. Or heading outside of town to the Walmart Supercenter located in nearby Saline.
Otherwise, you will pay even more at some of the higher-end grocers in town.
For example, Whole Foods, Bushes, and Plum Market are all conveniently located within the city. But generally, come with higher price points.
Perhaps you are starting to get the message. All of the great things about Ann Arbor come with a higher-than-average price tag.
Thus, get busy putting your financial house in order before during, and after your move to Ann Arbor!
For this, I recommend Empower. An excellent app for pulling your expenses, budget, and investments together in one place online.
Best of all, you can sign up with Empower and use it for free…
Moving along, I'm not done with your pocketbook just yet. As taxes might be one of the worst things about living in Ann Arbor…
Excessive Tax Rates
First, like most people, I'm not a big fan of paying taxes. On the hand, they do contribute to having quality schools, ample law enforcement, and robust public services.
Maybe that's part of the reason Michigan made our list of the 5 best Midwest states to live in.
On the other hand, after moving here, the tax authorities here will take a good share of your money. Whether you are making it or spending it.
Let's discuss…
Income Taxes When Living In Ann Arbor
First, the state taxes income at a flat rate. Amounting to 4.25% of your earnings. Thus, I know this about Michigan. It's a high-income tax state!
Fortunately, Ann Arbor is not one of the many cities in Michigan that tacks a local income tax on top of it. Like nearby Jackson.
High Property Taxes Come With Ann Arbor Living
Real estate taxes have been on the rise for quite some time.
The state of Michigan's property tax rate is already amongst the highest in the country. What's worse, Washtenaw County has nearly the highest property taxes of all counties in Michigan.
Furthermore, you will pay a premium within the city limits. While outlying townships are cheaper. As much as 25% percent less.
Finally…
Sales Taxes Can Crimp You Ann Arbor Lifestyle
Sales taxes take a toll here too. Grabbing another 6%.
On top of your spending for the goods required to sustain your quality of life in Ann Arbor.
But here's a good tip to help you offset this cost. It is the cash rebate app from Rakuten.
Just sign up with Rakuten here for free, and get a $10 welcome bonus. Best of all, earn money back on everything you buy online moving forward.
Here is another important thing to know before moving to Ann Arbor…
High Population Density
The city can feel crowded. Because it is densely populated here.
With about 125,000 residents. Residing in 29 square miles of real estate. We are talking about 4,300 people per square mile.
Some of the most populous cities in the country are less dense than that. Such as Houston, Texas, and San Diego, California.
This leads us to another set of problems with living in Ann Arbor…
Bad Traffic And Limited Parking
Because for a mid-size city, traffic can be heavy. This leads to more time in your car for getting around town.
Yes. The morning and evening commute times create the heaviest daily traffic to be aware of.
But you must plan your inner city travels around University of Michigan home football games. Whether they are playing their arch enemies from the state of Ohio. Or, any other team for that matter.
And don't forget about the days before, during, and after the annual art fair. Because so many people come to town for that event.
Thus, pick the wrong road at the wrong time. And plan on sitting in a bad traffic jam.
Other traffic issues that may try your patience include:
Bridges to cross the Huron River
Road construction
Potholes
Crosswalks for students
Encroaching bike lanes
Finally, parking is expensive downtown. Depending on where you need to park and for how long.
But here's a tip. There are a few cheaper parking options near East Williams street.
Also, it's important to note, that for anyone who needs a permanent parking spot downtown. That many of the private parking garages have waiting lists. So, get your application in early!
Part of what adds to the traffic congestion and parking hassles is the next one of our reasons not to move to Ann Arbor…
Public Transportation
The Ann Arbor Area Transportation Authority, which brands itself as "TheRide" is the primary option for public transit.
Although it's a reasonably good fixed route bus system. The main issue is it does not provide a significant level of service outside of the city limits.
So, here's the dynamic it creates. Lower-wage workers can't afford to live in the city. While bus service is limited in the more affordable outlying areas surrounding Ann Arbor. All this makes it difficult to fill jobs with essential workers.
Also, there need to be more bus shelters with benches. Or, even a place to comfortably stand and wait.
Because the majority of bus stops are simply a sign, on the side of the road. Not the best situation during extreme weather conditions.
Did I mention the weather? Oh yeah.
That's one more item on our list of cons about moving to Ann Arbor…
Issues With The Weather
Hey, this is about the Midwest. So, be prepared for a healthy dose of winter weather.
This includes frigid temperatures. And plenty of snow. The latter of which complicates commuting and working downtown.
Then throw in the rainy and gloomy days with limited sunshine. Plus there is high summer humidity making the temperatures feel unbearably warm.
As a result, you will find times when the weather in Ann Arbor is far less than desired.
Okay. That's enough. Right?
I hope so. Because that's all I have.
So, allow me to wrap up with a few parting thoughts about moving to Ann Arbor. Because here's how I sum up life in Ann Arbor…
Pros And Cons Of Living In Ann Arbor
Ann Arbor is a nice place to live if you can afford the lifestyle. And do not mind typical Midwest seasonal weather patterns.
In return, you will enjoy family-friendly neighborhoods, an exciting downtown, good places to work, and fun things to do.
So, if you were asking, should I move to Ann Arbor? And have been on the fence about the decision.
Then I hope today's discussion about the pros and cons has helped you sort it all out.
Are you still looking for that perfect place? Then you will love our…
State by State Lifestyle Guides
Follow the link above. To check out or more just like this one before you go.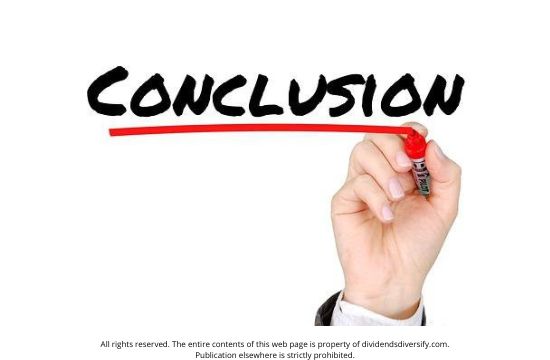 Author Bio, Disclosure, & Disclaimer: Please join me (Tom) as I try to achieve my goals, find my next place to live, and make the most of my money. However, I am not a licensed investment adviser, financial counselor, real estate agent, or tax professional. Instead, I'm a 50-something-year-old, early retired CPA, finance professional, and business school teacher with 40+ years of DIY dividend investing experience. I'm here only to share my thoughts about essential topics for success. As a result, nothing published on this site should be considered individual investment, financial, tax, or real estate advice. This site's only purpose is general information & entertainment. Thus, neither I nor Dividends Diversify can be held liable for losses suffered by any party because of the information published on this website. Finally, all written content is the property of Dividends Diversify LLC. Unauthorized publication elsewhere is strictly prohibited.
The Pros And Cons Of Living In Ann Arbor Explained