What To Know Before Moving To Massachusetts
I'd like to dive into the pros and cons of living in Massachusetts today.
Thus, we will first review the benefits of living in Massachusetts. And conclude with some good reasons not to live in Massachusetts too.
After we are done, you will be armed with the facts. To answer this question: Is Massachusetts a good state to live in?
So, let's get moving. And dig into the top living in Massachusetts pros and cons…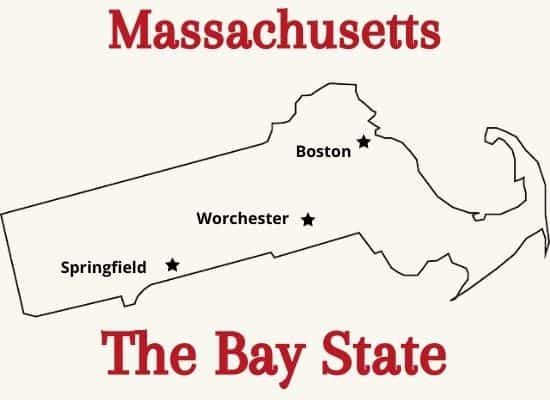 Disclosure: At no cost to you, I may get commissions for purchases made through links in this post.
Pros And Cons Of Living In Massachusetts
Our top 10 Massachusetts pros and cons include:
Rich in U.S. history
Lots of natural beauty
Many options for self-development
Family-friendly environment
Access to quality health care
High cost of living
Harsh winter weather
High population density
Bad traffic
Poor driving conditions
We will cover each of these moving to Massachusetts pros and cons in a moment. But first, allow me to hit the most important question of the day.
Is Massachusetts a Good Place To Live?
Just like any other place you could move. Life in Massachusetts has its advantages and disadvantages.
Here's why I say that…
Reasons To Move To Massachusetts
First of all, you have several lifestyle options to choose from. Since there is a little something for everyone here.
Whether you desire to settle in the heart of historic Boston. The tranquil island of Martha's Vineyard. Or, a snowy hill town in the Berkshire Mountains.
You have your pick of those. And a little of everything else in between.
Be it a small town. Mid-size city. Or, some rural farmland in the western part of the state.
Furthermore, no matter where you choose to live here. The state is full of scenic beauty.
And provides access to great health care options. Also, many excellent schools.
Finally, throw in a robust economy. That propels a thriving job market.
And place it all in a family-friendly setting. With plenty of attractions and fun things to enjoy in your leisure time.
Then you can start to see. That this state has a lot to offer.
But, an article about the pros and cons of living in Massachusetts would not be complete. Without addressing some of the negatives of Massachusetts life.
Since all is not perfect here…
Reasons Not To Move To Massachusetts
First, all the best things about Massachusetts. Well, they come with a hefty price tag. Since the average cost of living is very high here.
Second, winters are harsh.
With freezing temperatures. And several feet of snow. Delivered by at least one major winter storm every year.
Creating some less than ideal conditions. For when you need to get around the state.
Finally, the greater Boston metropolitan area. Where most of the residents reside. Is very congested.
Since this state has a high population density. Making it feel crowded. And creating some of the worst traffic jams you will find.
Okay. With those highlights about living in "The Bay State" addressed.
Let's keep moving. Because it's time to go through each of the pros and cons of Massachusetts…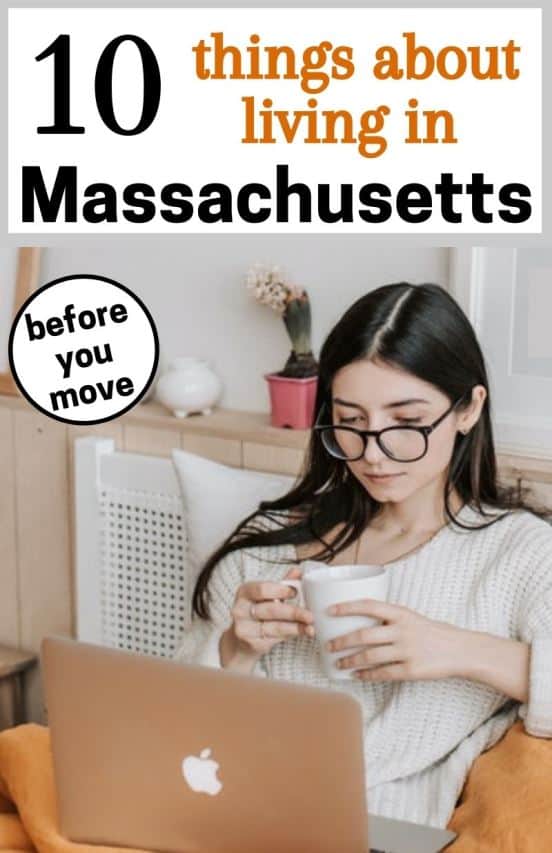 Rich In U.S. History
Massachusetts life means living in a place with great history. And as one of the 13 original British Colonies. It offers so much culture and historical significance for the area.
Here are a few examples…
Pilgrims Living In Massachusetts
Dating back to when English colonists landed the Mayflower on Plymouth Rock in 1620. Making it one of the first permanent European settlements.
Today, there is a living history museum in Plymouth, Massachusetts. Founded in 1947, it tells the story of these settlers.
Where you can see firsthand. How these people, known as Pilgrims. Lived and provided for their daily needs.
Also, you can tour a full-scale reproduction of the tall ship. Called the Mayflower II.
Then, shortly thereafter, in 1621, these same settlers. Along with Native Americans.
Shared an autumn harvest feast. It is thought to be the first Thanksgiving celebration.
A long-standing event. That we still celebrate to this day.
Independence Day In Massachusetts
Then, more than a century later, there was the Boston Massacre. It was a riot that occurred on March 5, 1770. Occurring on King Street in Boston.
It began as a street brawl between American colonists and a lone British soldier. It escalated to a chaotic, bloody slaughter.
The conflict energized anti-British sentiment. And leads us to another historical event, the Boston Tea Party.
Where American colonists, angry at Britain for imposing taxes. Dumped imported British tea into the harbor.
This historic event occurred in 1773. And was a major act of defiance to British rule.
When the British Army approached in 1775 to exert its influence. Two lighted lanterns were hung in the belfry of Boston's Christ Church. Indicating their approach by sea.
That sparked Paul Revere's famous ride. Alerting the patriots and local militia to prepare for battle.
And after a long, but thorough butt-kicking of the British Red Coats. America declared its independence from British rule in 1776.
Okay now. That's our history lesson for the day.
But, we aren't living in the past. Or, at least we shouldn't.
So, let's continue with the pros and cons of living in Massachusetts. But now, focusing on the present…
Lots Of Natural Beauty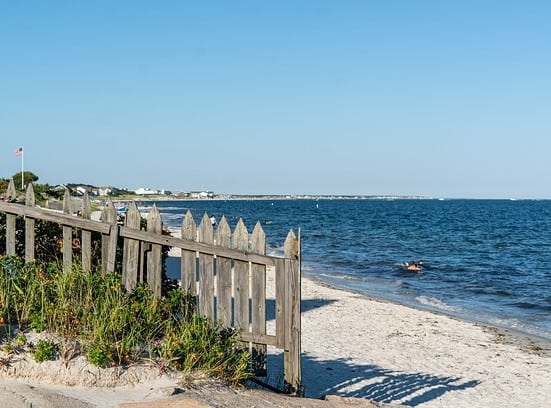 By choosing to move to Massachusetts. You are selecting a beautiful and scenic place to live. With a variety of landscapes and lifestyles to enjoy.
And these different lifestyle options. Are truly one of the cool things about Massachusetts…
Ocean-Side Living In Massachusetts
First, there is the Atlantic Coastline. From ocean-side cliffs to rolling dunes and white sandy beaches.
Furthermore, they don't call it "The Bay State" for nothing.
Since there are several bays. Providing calmer waters apart from the rough waves of the Atlantic Ocean.
Specifically…
Massachusetts Bay
Buzzards Bay
Narragansett Bay
Cape Cod Bay
And speaking of Cape Cod. Which locals refer to as "The Cape".
This hook-shaped peninsula pushes right out into the Atlantic Ocean. Near the popular island destinations of Martha's Vineyard and Nantucket.
All of which contains hundreds of miles of coastline. To enjoy and explore.
Including the Cape Cod National Seashore. A national park.
That protects the 40-miles of beaches. And the wildlife that inhabits the area.
Such as the whales on Stellwagen Bank. Known as one of the best places for whale-watching in the world.
The spot is rich with marine life where you can see dolphins, seals, porpoises, and much more.
This area is an extremely popular summertime vacation spot. For both locals and out of towners too.
Next, and another one of the good things about Massachusetts living is…
Inland Living In Massachusetts
As you head inland to the west. And approach the Connecticut River Valley. Representing a stretch of the longest river in the New England region.
You will find picturesque riverside scenery. Plus small river and shoreline towns.
Next, there are the mid-sized cities of Worcester and Springfield. With the latter being located right on the river.
Also, large areas of scenic farmland. Dotted with quaint villages and small-towns.
Finally, here is another one of the interesting things to know about Massachusetts…
Mountain Living In Massachusetts
Because, believe it or not, this state has mountains too!
Since the state is home to the Berkshires. A range covering much of the western portion of the state. And part of the Appalachian Mountains.
Some of the highest peaks rise to more than 2,000 feet. Including Mount Greylock at nearly 3,500 feet above sea level. It is the highest point in Massachusetts.
And if you enjoy hiking. There are plenty of options in this area. Including a stretch of the Appalachian Trail.
Plus many other lesser-known trails. For your hiking pleasure.
To sum up, this state compared to others. Has a wide range of beautiful scenery. Including beaches, islands, mountains, farmland, and quaint villages.
Most noteworthy, you can hike the mountains in the morning. Then drive to the beach in a few hours to unwind and enjoy the waves and sunset.
So, it stands to reason that there are lots of outdoor activities in this state. It is yet another one of the great things about Massachusetts…
Enjoyable Outdoor Activities
Too many things to mention them all. But here are a few more that I haven't talked about already…
Aquinnah Cliffs – Martha's Vineyard
Boston Harbor Islands National Rec Area – Boston
Chesterfield Gorge – Chesterfield
Cochituate Lake – Cochituate
Doane's Falls – Royalston
Fenway Park – Boston
Glacial Potholes – Shelburne Falls
Monument Mountain – Great Barrington
Watatic Mountain Wildlife Area – Ashburnham
Wingaersheek Beach – Gloucester
Or just make your outdoor fun. No matter where you decide to settle in this great state. By…
Hiking
Biking
Boating
Fishing
Swimming
Sun-bathing
Next up, we come to what brings the great outdoors altogether here….
Nice Spring To Fall Weather When Living In Massachusetts
Since it helps to have nice weather. To enjoy the outdoors.
And for most of the year. The state delivers.
First, there is spring. That brings a welcome thaw. And brings the area vegetation to life.
While the summers are quite warm. Perfect for finding your favorite beach.
While nighttime temperatures cool nicely. Especially on the coast and in the higher elevations.
But autumn is probably the best time of year. Since the state bursts with color. As the turning leaves put on their fall display.
Okay. Thus far we have had our history lesson.
And, we have reviewed your different Massachusetts lifestyle options. For your consideration.
But unfortunately, life isn't just fun, games, and outdoor adventures.
But that's okay. And it leads us to another one of the reasons to live in Massachusetts…
Many Options For Self-Development
Because the state is populated with well-informed, educated, and economically productive people.
Here's why…
Colleges And Universities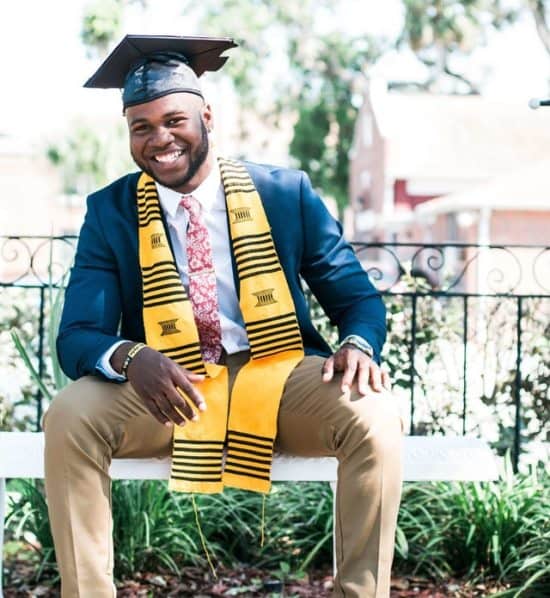 First, the state is loaded with excellent colleges and universities. There are more than 30 in the Boston area alone.
Harvard University is one of the most prestigious institutions in the world. And is part of the elite Ivy League group of schools.
It was founded in 1636. And lays claim to being the oldest university in the United States.
Other great institutions of higher learning include:
Boston College
Boston University
MIT
Tufts University
University of Massachusetts
Williams College
Then, when you are ready to put that education to work. You will find another one of the advantages of living in Massachusetts…
Robust Economy
Because the state has one of the 15 largest economies in the country. With plentiful job opportunities.
Some of the largest industries include:
Education
Health care
Technology
Hospitality
Finance
Leading to many jobs in leisure and hospitality, education, tech, and health services. Created by many businesses, large and small.
For example, almost 20 Fortune 500 companies are located in the state.
Some of the largest employers are represented by:
Boston University
Brigham and Women's Hospital
General Electric
Massachusetts General Hospital
Yet, there are plenty of startup businesses in the region too. Many of which are focused on technology, biotechnology, and science.
So, whether you're looking to start a company. Or, climb the corporate ladder.
You can blaze your unique career trail. That may lead to success and the money that comes along with it.
Thus, you will find that this is a financially well-off state. Here is why I say that…
A Wealthy State
Since Massachusetts has one of the highest average household incomes in the country. Also, one of the highest ratios of millionaire households per capita. Versus other states in the country.
On the other hand, there is more to life than money. Leading us to another one of the perks of living in Massachusetts.
Family-Friendly Environment
Because beyond the state's history, natural beauty, and job opportunities. There is even more that tells us this state is great for raising a family.
For example…
K-12 School System
First, U.S. News ranks the public school system as one of the best in the country. Perfect for getting kids ready for their college of choice.
And we already know. The state has great colleges and universities to choose from.
Low Crime Rates
Then, U.S. News ranks Massachusetts highly. For its overall low crime rate. Creating a safe environment for you and your family.
This makes sense. Because of education and affluence. Being highly correlated with lower crime.
Strong anti-gun laws may also play a role. Resulting in fewer gun incidents. Than most other areas of the country.
Pro Sports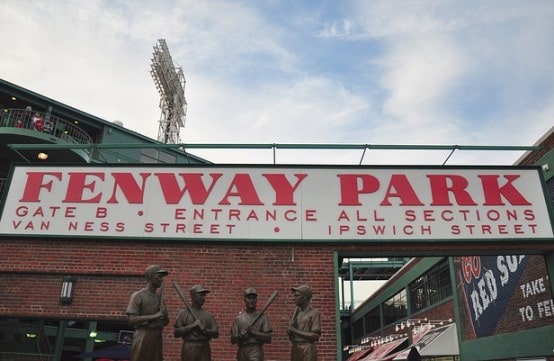 Then, get the family ready for game day. And cheer on your favorite team.
Because this state has a proud sports culture. Centered on these popular and highly competitive professional teams:
Patriots – National Football League
Red Sox – Major League Baseball
Celtics – National Basketball Association
Bruins – National Hockey League
Most noteworthy, there are some intense rivalries with teams from New York City. Especially the Yankees and Red Sox.
Great Food Options
Finally, you have to feed the family. So, why not live in a place with great food?
The state is well known for its seafood. Including:
Lobster rolls
Clam chowder
Haddock
Oysters
On second thought, maybe the kids would prefer some of the other area specialties. Such as:
Baked beans
Boston cream pie
Cider donuts
Cranberries
Fenway franks
Turkey
I don't know about you. Now, I'm hungry.
But, stick with me for a few more minutes.
Because I have another one of the pros of living in Massachusetts…
Access To Quality Health Care
Since sooner or later, we all succumb to a health issue. And when that happens, all we want is access to good care.
Fortunately, healthcare is a huge industry in the state. And represents one of the benefits of retiring in Massachusetts.
With the likes of Boston Children's Hospital, Brigham and Women's Hospital, and Massachusetts General Hospital located here. Representing some of the best institutions in the country.
As a result, the state's healthcare system ranks highly. Not only for the quality of care. But especially for access to it.
Okay. That concludes some of the best things about living in "The Bay State".
On the other hand, an article about 10 living in Massachusetts pros and cons would not be complete. Without considering the bad things about Massachusetts living.
So, let's do that now…
High Cost Of Living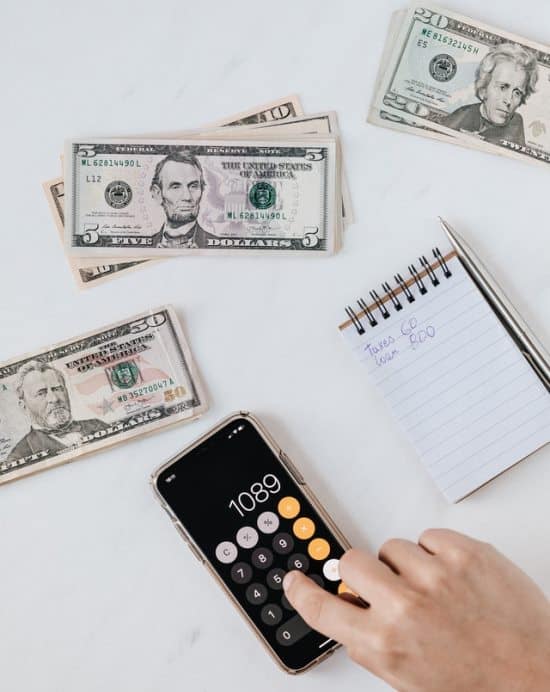 While the state has many great amenities for its residents. Unfortunately, it comes at a price.
That being a high average cost of living in Massachusetts. As it always ranks as one of the most costly states to live in.
Allow me to put some numbers to it courtesy of BestPlaces.net.
First of all, the median home value is about 75% higher. Versus the national average of all states. Making for some expensive real estate.
While groceries, utilities, and transportation costs are expensive too. All running between 5% to 15% more.
Education is also costly. As university tuition and fees are some of the highest in the country.
Meaning a top-flight degree. From a prestigious Massachusetts school. Won't be a bargain by any means.
On the other hand, there is one area where you may be able to save a little money. And that is health care.
To sum up, keep in mind these are state-wide averages.
As a result, your lifestyle choice will impact your expenses to a great degree.
For example, living in the greater Boston metropolitan area. Or, one of the most popular coastal towns.
Those choices are going to cost more. Versus selecting a small town in the western part of the state. Closer to Connecticut and New York.
Because the price of living in Massachusetts will be cheaper in these areas.
And if you are looking to squeeze a few more dollars out of your budget. Then, here are a few of my favorite money-saving tips…
Ways To Save Money Living In Massachusetts (or anywhere)
Since every dollar counts. No matter where you live.
So, to save a few bucks. As you weigh the pros and cons of living in Massachusett
Make sure your credit score is in good shape. Check it for free using Credit Karma. Then get busy improving it.
Since home mortgage lenders, and landlords will check your score.
Also, shop for mortgage rates online. To get the best deal on a house.
Furthermore, I get cashback on all my online purchases. Including the stuff that I buy on Amazon. By using the Rakuten cash rebate app.
Managing Your Money In Massachusetts (or anywhere)
Finally, manage your total financial picture for free using the app offered by Empower.
It's a great online budgeting and money management tool.
What's best? Empower and all these other apps and tools are free to sign up for and use.
For saving money. And better managing your money. No matter where you choose to live.
Next, another one of the pros and cons of moving to Massachusetts. Since snow and cold may be the worst things about living here…
Harsh Winter Weather
Because Massachusetts has some of the harshest winter weather conditions. Of all the New England states.
But, without some of the fun outlets for winter sports. That a state like New Hampshire, Vermont, or upstate New York offers.
Thus, be prepared for 40-60 inches of snowfall each winter. And temperatures that can be well below zero during the coldest months.
So, for anyone considering the pros and cons of retiring in Massachusetts. Be sure to factor in the last two cons.
The high cost of living combined with the bad winter weather. They are unfortunately two big strikes against what most people look for in a retirement location.
Next, another one of the bad things about living in Massachusetts.
High Population Density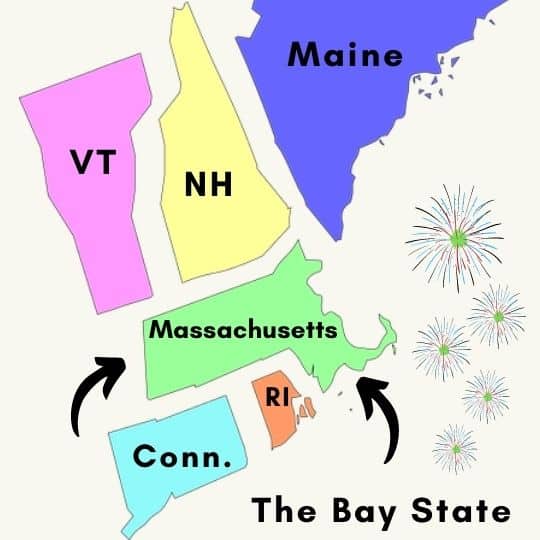 While this is one of the smallest states by land area. On the other hand, it has a large population. With nearly 7,000,000 people.
This is a recipe for high population density. To no surprise, it is most severe around Boston and the coastline.
So, if you don't like crowds and congestion. This area may not be for you.
It also leads to the next issue. Being another one of the worst things about living in Massachusetts.
Bad Traffic
Since there is no other way to say it. Traffic in and around the Boston area stinks.
The same goes for "The Cape". During the peak summer season.
So, if you need to be on the roads at peak times. In the popular places.
Then plan accordingly. Since you will spend a lot of time sitting in traffic.
And one more of the disadvantages of living in Massachusetts. Then I will wrap up. I promise…
Poor Driving Conditions
The combination of the brutal winters, road salt usage, and heavy traffic means a couple of things.
First, the roads are generally in bad condition. With plenty of potholes.
Plus road construction is a never-ending project. From early spring through the late fall season. Adding to the long-travel times.
Finally, parking in Boston is either hard to find. Or, very expensive. Or, both.
Thus, given all of the issues with driving. It makes for some very impatient, aggressive drivers.
So, consider how public transportation can fit into your life. If you are planning on living in the most densely populated parts of the state.
Okay. That's all I have. Allow me to wrap up with a summary…
Pros And Cons Of Living In Massachusetts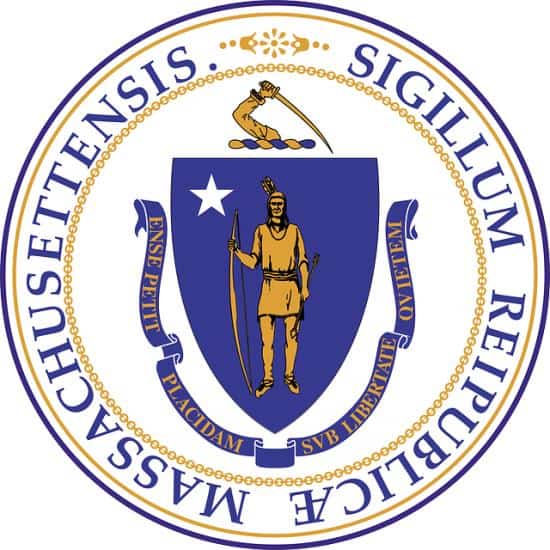 Our top 10 positives and negatives of living in Massachusetts include:
Rich in U.S. history
Lots of natural beauty
Many options for self-development
Family-friendly environment
Access to quality health care
High cost of living
Harsh winter weather
High population density
Bad traffic
Poor driving conditions
Hopefully, this discussion has helped you sort through some important questions. Such as…
1) Is Massachusetts a nice place to live?
and
2) Should I move to Massachusetts?
Good luck. No matter what you decide!
More Reading About Living In Massachusetts And Beyond
Best Money Tips For Living In Massachusetts (or anywhere)
I mentioned several excellent financial resources in the article. For making the most of your money while enjoying Massachusetts living. Or anywhere you choose to live.
They are summarized here for your convenience…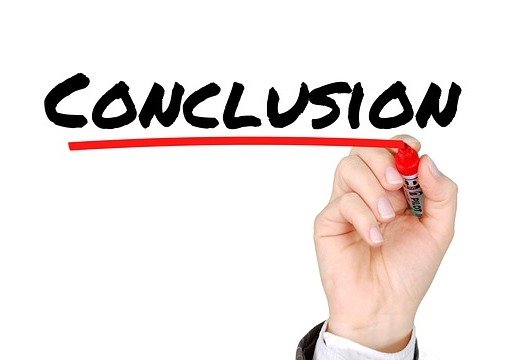 Author Bio: Tom Scott founded the consulting and coaching firm Dividends Diversify, LLC. He leverages his expertise and decades of experience in goal setting, relocation assistance, and investing for long-term wealth to help clients reach their full potential.
The Pros And Cons Of Living In Massachusetts Explained