Things To Know Before Moving To New Mexico
Allow me to present the pros and cons of living in New Mexico.
Since any place that is referred to as "The Land Enchantment". Has got to be good!
You may be wondering: is New Mexico a good place to retire?
Or, perhaps you are looking for a new space. In a new place. To get a fresh start on your life.
In any case, moving to New Mexico is a big decision.
Thus, understanding the top living in New Mexico pros and cons is important. Before you move!
So, let's get going…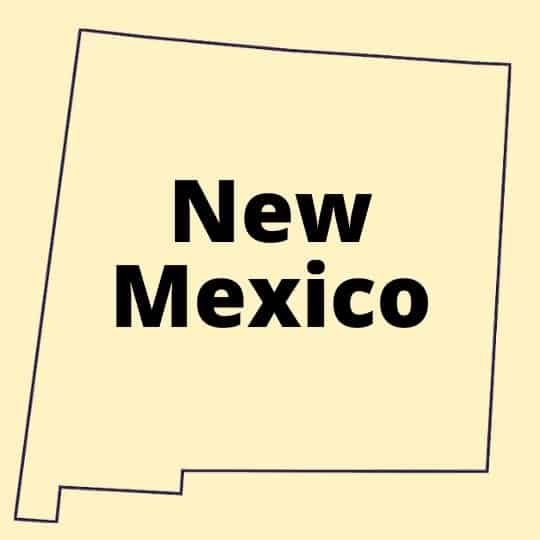 Disclosure: At no cost to you, I may get commissions for purchases made through links in this post.
Pros And Cons Of Living In New Mexico
The following list of 10 things is our starting point.
To specifically address: What is it like to live in New Mexico?
Think about these things before moving…
Rich in culture
Good food and wine
Plenty of recreational options
An abundance of natural beauty
Low cost of living
Lackluster economy and job opportunities
Poor quality K-12 education system
Bad roads
Questionable quality of life
Windy, dry weather at an elevation
But there's much more. Since we will dive into each of these New Mexico pros and cons in a moment.
First, let's answer the big question on your mind…
Is New Mexico A Good Place To Live?
Before moving to New Mexico, you should know…
The Benefits Of Living In New Mexico
First of all, this state has a lot of character. That is low-key. With a rich culture of a bygone era.
Those things alone may make New Mexico just what you are looking for!
Furthermore, the state's landscape is amazing. Making for a lot of great things about New Mexico to explore, do, and see.
While eating and drinking along the way. Some of New Mexico's amazing and unique offerings.
Best of all? Life in New Mexico can be yours. For an affordable price of living.
On the other hand, I want you to go in with your eyes wide open.
And understand the negatives that exist in "The Land Of Enchantment.".
Bad Things About New Mexico
For many, the New Mexico quality of life is fine here. But, not for all.
Be it the high crime rates, generational poverty, or drug usage in the state. That limits the potential of many adults.
And the challenges of New Mexico living do not stop there.
Because kids struggle too. Trying to achieve. And get a good start in life.
Dealing with a sub-par public school system.
All the while, these challenges facing residents. Along with deteriorating transportation infrastructure. Put a drag on the New Mexico economy.
Limiting the job market and equal opportunity. For the state's residents.
Okay. With those highlights under our belt.
It's time to dig into the details. About the 10 pros and cons of living in New Mexico.
Rich In Culture
I think of New Mexico's culture in three distinct ways.
First of all, history.
Then, diversity.
Finally, traditions.
Let's explore them one-by-one…
The History Of Living In New Mexico
The oldest cities in the U.S. were formed long before the nation as a whole.
This plays out in New Mexico too. Since the state's capital city, Santa Fe. Was established in the early 1600s.
Santa Fe lays claim to a distinct title. Being the oldest state capital city in America.
So, New Mexico has had plenty of time to establish its character. As a state with great history.
Cultural Diversity Living In New Mexico
Also, this state has great ethnic diversity. Like no other.
Because the people living here. Have influences from all over the world.
Native Americans have dwelled here for more than 1,000 years. While Hispanics and Mexicans for centuries.
In addition to these cultures, New Mexico's population includes dozens of other ethnic groups too.
As it stands now, more than one-third of New Mexico's residents are Hispanic. With a large population of Native Americans.
Then with African Americans rounding out the mix.
Traditions Of New Mexico Living
New Mexico's history and diversity make for many traditions. In architecture, art, food, music, language, and religion.
They are a significant part of the state's character. And many of them have been passed down through generations.
You will see in the state's distinctive
Old adobe homes
Mission-style churches
Christmas holiday luminaries
Lively mariachi music
Tasty hatch chile peppers
As well as in the many traditional festivals and celebrations. Held in New Mexico each year.
And another one of the best things about New Mexico…
Great Food And Wine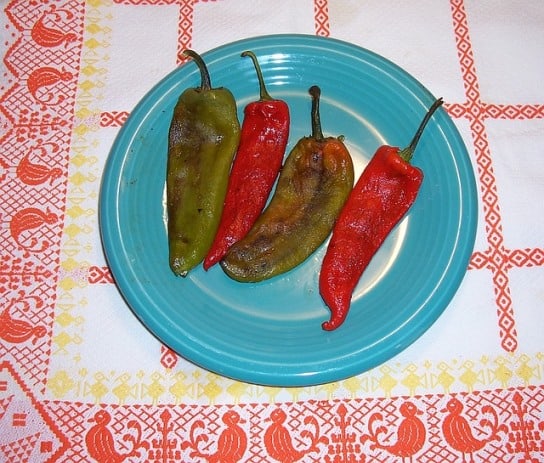 Eating and drinking. A favorite pass time for many of us.
And there are no shortages of items. To please your pallet. Another one of the reasons to move to New Mexico.
Here's why…
Food And New Mexico Living
New Mexico's cuisine is so rich! Partly because of the diverse cultures.
Here are some of the food traditions and popular dishes. When living in New Mexico…
Green chile cheeseburger
Chile Rellenos
Enchiladas
Blue corn tortillas
Sopaipillas
Huevos rancheros
Red chile sauce
This is some amazing food. That you just can't find elsewhere in the United States.
At least not of this texture, taste, and quality. That comes from New Mexico's kitchens.
Furthermore, it sounds like a good beverage would go well with these foods. Doesn't it?
Leading us to a cool fact that may not be familiar with New Mexico…
Wine And Living In New Mexico
Did you know that this state produces some excellent wines? From the vineyards around the region's towns.
Including Las Cruces, Albuquerque, and Santa Fe.
With a distinct high desert climate. Plenty of sunshine. And not too much humidity.
The soil, altitude, and temperature are well suited for growing grapes. Creating wonderful wines with flavors unlike anywhere else!
And once again. History plays in New Mexico's favor.
Since it's history with growing grapes. And wine production.
Date back nearly 400 years.
Making the state's wine-growing regions. Some of the oldest wine operations in the country.
So take a trip along New Mexico's wine trail. And sample the wines produced from these popular varieties of grapes. That are grown in the area.
Syrah
Viognier
Cabernet Sauvignon
Riesling
Zinfandel
Be sure to open up to living in this state. You won't be sorry!
And I have more. Another one of the good things about New Mexico…
Plenty of Recreational Options
New Mexico is a great place for enjoying outdoor activities.
Because of the landscape (more on that in a bit), outdoor enthusiasts have a lot to choose from.
Such as:
Hiking in the mountains
World-class downhill skiing
Mountain biking
Fishing
White-water rafting
Rock climbing
Camping under the stars
And for the less adventurous. New Mexico will not disappoint.
In this family-friendly state. There is much fun to be had. And part of the pros and cons of living in New Mexico.
Here is a sample of things to consider doing. After you move to New Mexico:
Cumbres and Toltec scenic railroad
International UFO museum
New Mexico museum of natural history and science
Albuquerque international hot air balloon festival
New Mexico Museum of art
ABQ BioPark Botanic Garden
The New Mexico state fair
Next, another wonderful thing about the state of New Mexico…
An Abundance Of Natural Beauty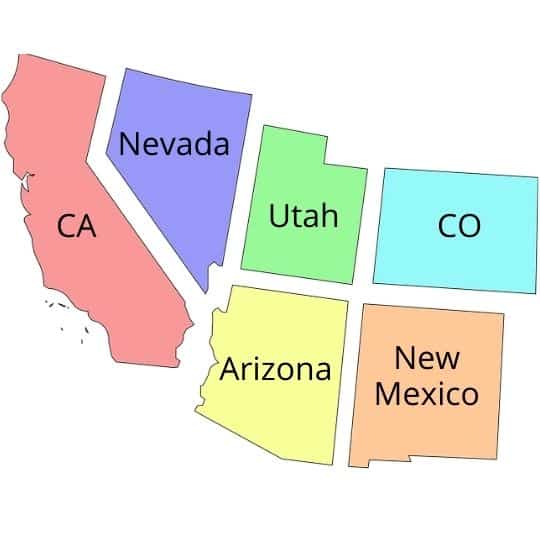 There is a good reason for the popularity of outdoor activities in the state.
It is its diverse landscape. And this state's awe-inspiring natural beauty.
But, the terrain is partly flat here. And partly mountainous. Here's why…
The Great Plaines Region Of New Mexico
First of all, the eastern third of the state. Is covered by the Great Plaines.
Notable for its vast high plateau of semiarid grassland.
New Mexico's Rio Grande River Valley
Furthermore, the Rio Grande river valley sits in the central part of New Mexico. Stretching from Colorado to the north. Heading south into the state of Texas.
And giving rise to the amazing Rio Grande gorge. Located in Northern New Mexico.
This river valley contains a wide variety of landscapes. Including desert, plains, forests, meadows, mountains, and cliffs.
The Rocky Mountains Of New Mexico
Finally, this state has mountain ranges. They are part of the Rocky Mountains.
There is the Sangre de Cristo (Blood of Christ) Mountain range. Where Wheeler Peak can be found. The highest point in New Mexico.
And to the west of the Rio Grande. Are the Nacimiento and Jemez Mountain ranges.
Thus, New Mexico's landscape. And lack of population density in this state. Allows easy access to mountainous areas.
Where you can enjoy the view from a different angle. That will take your breath away!
And best of all. New Mexico enjoys warm sunny weather. From spring through fall.
So, there is no excuse for staying in. Get out and enjoy the natural beauty here.
Next, one of the very important reasons to live in New Mexico…
Low Cost Of Living
Since the average cost of living in New Mexico is an important factor when moving. Because your quality of life depends a lot on it. And to be honest…
The cost of living index in New Mexico is really low! So, a dollar goes a long way here!
Making it another one of the good things about New Mexico. And one of the important pros and cons of retiring in New Mexico on a budget.
Here's why this is one of the cheap states to live in…
Moderate Median Home Value For Living In New Mexico
First of all, according to BestPlaces.net, the median home value in New Mexico is very reasonable.
It is about 14% lower than the U.S. national average.
Apartment Rents For New Mexico Living
On the other hand, you may prefer to rent. Rather than buy a home.
According to World Population Review. Rents are nearly 16% less than averages across the U.S.
Save More On Your Housing In New Mexico
Here are a couple of tips. To help you save money in the housing market.
No matter where you choose to live.
First, if you need a mortgage. Consider Lending Tree for competitive online options.
Then whether you choose to rent or buy. Make sure your credit score is in good shape.
You can check yours for free with Credit Karma.
Affordable Education Living In New Mexico
Next, here's another great way to save money in New Mexico.
Since it is one of the few states. Where higher education won't bankrupt you.
Because in-state college tuition is much less. Versus other places in the country.
Consider these New Mexico schools:
University Of New Mexico
New Mexico State University
Eastern New Mexico University
Where 4-year college degrees. Can be had. For much less than schools in most other states.
According to Move.org, New Mexico's in-state tuition is 2nd lowest in the country.
Bested only by residing in the state of Wyoming. And going to school there.
Other Living Costs In New Mexico
Finally, other costs, like groceries, health care, and transportation. Are also below other areas in the country.
Making New Mexico an affordable place to live.
But here are a couple of my favorite tips. For shaving a little more off the price of living in New Mexico.
First, try Rakuten. And get cash rebates on all of your online purchases.
Second. you will want to give the Ibotta app a try. To save money on food. When you go to the grocery store.
Rakuten and Ibotta. They are an excellent one-two punch. For saving money. No matter where you live.
Okay. That completes 5 advantages of relocating to New Mexico.
But, the pros and cons of New Mexico would not be complete. Without reviewing 5 reasons not to move to New Mexico in the first place.
To complete the set of 10. Here goes…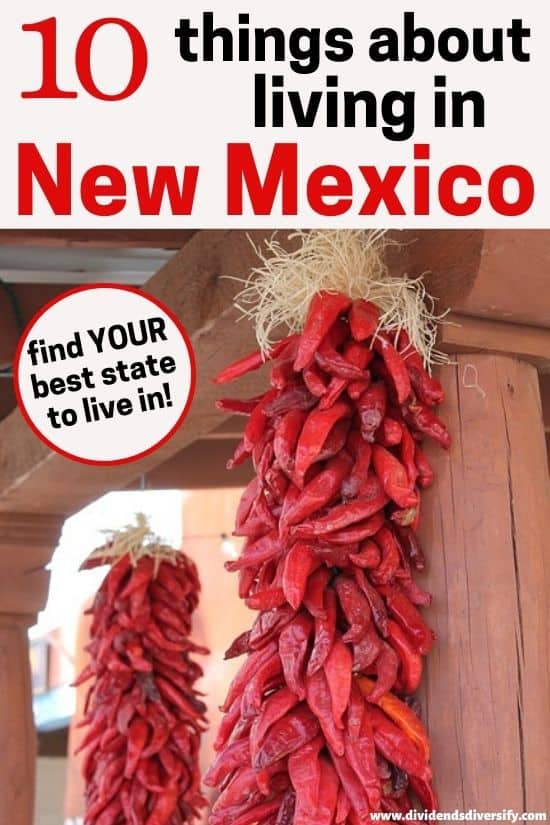 Lackluster Economy And Job Opportunities
New Mexico is not well known for economic opportunity. This is exhibited in the state's unemployment rate.
It is one of the highest in the country. And well above the national average.
Furthermore, incomes are comparatively low.
And New Mexico is poor versus other vibrant state economies. Such as what Texas has to offer.
Much of New Mexico's economy is service-based. Although agriculture and manufacturing contribute their fair share.
Oil and natural resource extraction also play a large role. Since the state is a large oil producer in this country.
So, if you are thinking about moving to New Mexico pros and cons. First, consider how your budget and financial resources stack up.
The state may be best if you:
Have retirement income sources
Work remotely
Have a local job offer in hand
And here is one tool that will help you take stock of your financial condition. Before making a move.
It is the online tool from Personal Capital. I use it to make budgeting and managing my investments less of a chore.
Most importantly, Personal Capital pulls all aspects of your money together in one place. Making life a little easier.
Best of all, Personal Capital is free. To sign and use.
And another one of the disadvantages of living in New Mexico…
Poor Quality K-12 Education System
Given today's world we live in. Education and economic productivity tend to be closely linked.
And New Mexico doesn't do itself any favors here. Since this state is poorly ranked for K-12 education.
For example, WalletHub recently ranked the schools dead last in New Mexico. Among the 50 states.
For quality education. And the safety of the school system.
So, if you are the parent of school-age children. Living in New Mexico means you will have to keep a close eye on your kids progress.
Don't leave it to the teachers. Because you may be disappointed.
Or, consider budgeting for private school education.
But once you get them through high school. As I just mentioned, be sure to take advantage of the affordable public universities.
And here's another one of the reasons New Mexico sucks…
Bad Roads
Although, except for Albuquerque. Traffic jams are fairly rare throughout the state.
But, the transportation infrastructure is lacking. Once again, providing a weak foundation for the state's economy.
Motortrend ranks New Mexico's urban road conditions in the bottom quarter. Versus other states.
And when you venture onto the rural roads in rural areas. It doesn't get much better.
Making for slower. And less safe driving conditions.
Finally, several of the cons of living in New Mexico that we have discussed. Start to build up each other. And the result isn't good…
Questionable Quality Of Life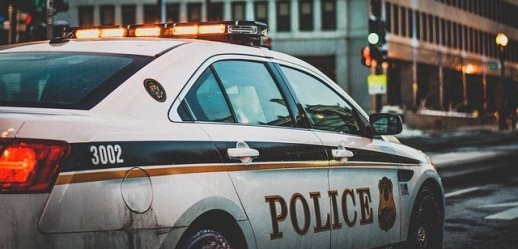 I look at some of the disappointing things about the quality of life in New Mexico. And put them in three categories: crime, poverty, and drugs.
Let's discuss…
Crime Rates
USA Today ranks New Mexico as a state with one of the worst crime rates. Especially violent crime.
Noting that crime rates are typically high. Where residents are struggling with their lives.
Poverty Rates
Then there is poverty. It is high in New Mexico.
Poverty goes hand-in-hand with the poor educational system. And the low incomes that people can earn in the state.
Resulting in nearly 2 out of every 10 residents. Living below the poverty line. This is an extremely high rate.
Drug Usage
Finally, drug addiction is high in New Mexico.
Another WalletHub study has the state ranked very low. Based on
Drug use and addiction
Law enforcement
Health issues and rehabilitation
So, I do not mean to bring you down. With all of these depressing things about living in New Mexico.
Maybe they are the worst things about living in New Mexico. I'm not sure. They certainly do not impact all of the population.
But I do want to present a balanced argument for your consideration.
And I have one more of the reasons not to move to New Mexico…
Windy, Dry Weather At Elevation
Although this state has many pleasant, warm, sunny days. To enjoy in and around New Mexico. Be aware that the weather can be a little challenging.
First, it's very dry. With little humidity.
And can be windy at times. Making for dry dusty conditions.
Peak summer days here can be very hot. And the winters are cold with plenty of snow in the higher elevations.
And speaking of elevations, be ready for it.
Since cities like Santa Fe and Taos are approximate 7,000 feet above sea level.
And significantly higher than "The Mile High City" of Denver. Just several hours of driving to the north. In case you are impacted by altitude sickness.
Okay. That wraps up 10 things to know about New Mexico.
So, let's conclude with a summary.
Pros and Cons Of Living In New Mexico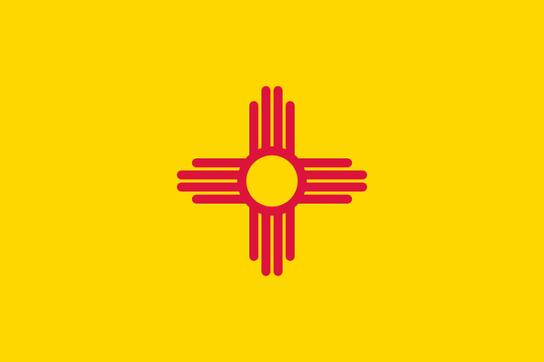 Thinking about moving to New Mexico? Then consider these pros and cons of living in New Mexico before you do:
Rich in culture
Good food and wine
Plenty of recreational options
An abundance of natural beauty
Low cost of living
Lackluster economy and job opportunities
Poor quality K-12 education system
Bad roads
Questionable quality of life
Windy, dry weather at an elevation
As I said. Whether you are considering retiring in New Mexico. Or, looking for a fresh start in "The Land Of Enchantment".
There are plenty of benefits to living in New Mexico. And, some things you will want to watch out for. When considering New Mexico life.
So now, you should be able to answer the question: is New Mexico a good state to live in?
More Reading About Living In New Mexico And Beyond
My Favorite Resources For Before, During, And After Your Move
Throughout this living in New Mexico review. I shared some of my favorite resources.
I've summarized them here for your use. Best of all they are free.
And will help you make the most of your money in New Mexico.
Or, anywhere you decide to live.
Author Bio, Disclosure, & Disclaimer: Please join me (Tom) as I try to achieve my goals, find my next place to live, and make the most of my money. However, I am not a licensed investment adviser, financial counselor, real estate agent, or tax professional. Instead, I'm a 50-something-year-old, early retired CPA, finance professional, and business school teacher with 40+ years of DIY dividend investing experience. I'm here only to share my thoughts about essential topics for success. As a result, nothing published on this site should be considered individual investment, financial, tax, or real estate advice. This site's only purpose is general information & entertainment. Thus, neither I nor Dividends Diversify can be held liable for losses suffered by any party because of the information published on this website. Finally, all written content is the property of Dividends Diversify LLC. Unauthorized publication elsewhere is strictly prohibited.
The Pros And Cons Of Living In New Mexico Explained