A High-Quality Dividend Investing Book For Learning About Dividend Stocks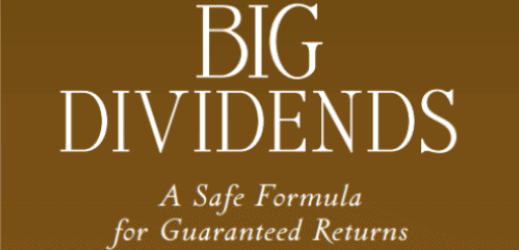 The Little Book Of Big Dividends book report and summary follows.
My goal is to read more dividend investing books. So, I have started with some of the best dividend investing books I can find.
In contrast, I have learned about dividend stock investing mainly from investment newsletters. Also, I have over 40 years of buying, holding and sometimes selling dividend stocks for my account. Practical experience is a great teacher.
You can see some of my favorite dividends stocks in my model dividend stock portfolio.
Each stock in the model portfolio is linked to its most recent dividend stock analysis.
Reading dividend investing books often confirms how I approach dividend stock investing. But, it is a good idea to get new and different ideas.
So, here's my The Little Book Of Big Dividends book review.
Related: How to pick dividend stocks
When Was The Little Book of Big Dividends Published?
The Little Book of Big Dividends was published in 2010.
However, the author does an excellent job of presenting timeless concepts and examples. I did not feel like I was reading an older, outdated book.
Related: 5 high growth dividend stocks for big dividends
Who Is The Author Of The Little Book Of Big Dividends?
Charles B. Carlson is the author of The Little Book of Big Dividends. Mr. Carlson is a Certified Financial analyst.
He is also the CEO of Horizon Publishing, an investment newsletter publisher. And, he is the CEO of Horizon Investment Services, a money management company.
Horizon Investment Services and Horizon Publishing are sister companies. Also, Horizon Publishing produces several investment newsletters.
The newsletters include:
Dow Theory Forecasts
Upside
DRIP Investor.
DRIP stands for a Dividend Reinvestment Plan.
Mr. Carlson is the editor of the DRIP Investor. He is a contributing editor to Dow Theory Forecasts. Finally, he is the author of 9 books. His other books go beyond the topic of dividends and dividend investing.
The Big Picture On The Little Book Of Big Dividends
The Little Book of Big Dividends covers 10 major dividend investing topics. Here is a very brief summary of each topic.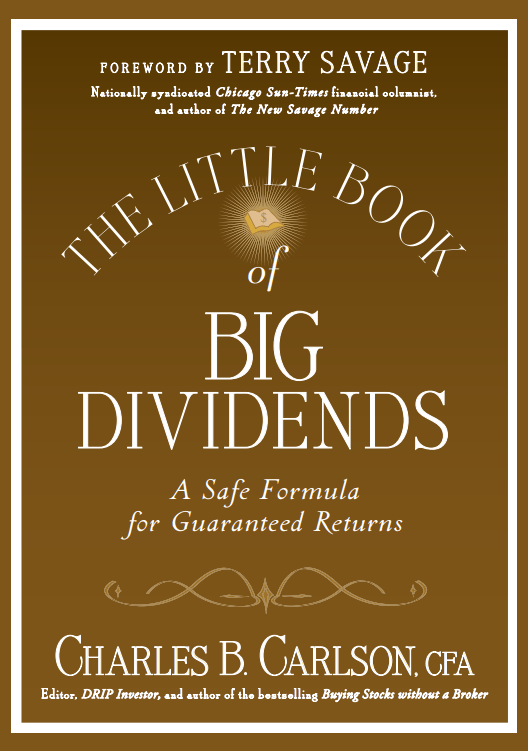 The Case For Dividend Investing
Every investing book I have read makes its case for why the book's investment strategy is a good one. And, The Little Book of Big Dividends is no different.
Here is one quick fact. Historically, 40% of the stock market's long-term total return comes from dividends.
This is such a striking fact. That it's hard to see how anyone could make an argument that dividends do not matter.
Key Dividend Stock Metrics
When identifying a high-quality dividend stock, the book keeps dividend investing metrics to a minimum focusing on:
Potential for total return
Dividend safety
Total return potential is measured by a rating system called a Quadrix score. Dividend safety is measured by a metric called a Big Safe Dividend score.
I will have more on these scores a little later.
The Universe Of Dividend Stocks
Mr. Carlson believes in diversification when looking for dividend stocks. He breaks diversification into 3 broad categories:
Diversification by market capitalization
Higher yield alternatives
Related: A dividend stock with high yield – read my review
Direct Stock Purchase Plans
The merits of buying stock directly from a company are discussed. This can be done through a direct stock purchase plan. Or, company dividend reinvestment plans.
Dividend Stocks As Inflation Hedge
The book makes a case for dividend growth stocks. Why?
Because companies that consistently raise their dividends are an excellent way to hedge your investment income against inflation. This is important if you want to live off dividends during retirement.
Other Forms Of Dividends
One chapter is dedicated to alternative forms of dividends. Examples include:
Master limited partnerships (MLPs)
Royalty trusts
Preferred stock
Open-end mutual funds
Closed-end mutual funds
Mr. Carlson views these options with a healthy dose of skepticism. On the other hand, he prefers to stick with:
I prefer these characteristics too! They are the foundation for receiving $100, $200, even $500 a month in dividend payments.
The Merits Of Reinvesting Dividends
He makes a persuasive case for reinvesting all dividends. And he especially likes automatic dividend reinvestment plans for these benefits:
Dollar-cost averaging
Removing emotion from the buying decision
Purchase discounts when offered by company-sponsored dividend reinvestment plans
Related: 4 ways to increase your dividend income
Asset Allocation
Asset allocation is covered. The book addresses these topics:
How much money you should have in stocks versus other asset classes
The amount of money you should have in each stock
How often to rebalance your dividend stock portfolio
Related: My favorite dividend-paying exchange-traded fund
What is Unique About The Little Book of Big Dividends
The Little Book Of Big Dividends explains the fundamental concepts of dividend stock investing. This is similar to other dividend investing books I have read.
However, with 2 metrics, the book sets itself apart. Here are the 2 metrics explained in summary form.
Dividend stocks are evaluated based on 2 proprietary metrics.
Big Safe Dividend (BSD) score
Quadrix score
The advanced BSD score uses 10 factors to evaluate dividend stability and growth. Those factors are:
Dividend payout ratio
Interest coverage ratio
Cash flow to net income ratio
Dividend yield
Last 6 months stock price performance
One year change in tangible book value
Long-term expected profit growth
Cash flow growth-last 3 years
Dividend growth-last 3 years
Earnings growth-last 3 years
The quandrix score is based on:
Momentum in business fundamentals
Past investment returns
Debt levels
Earnings estimates
Stock price performance
How To Find Big Safe Dividends Using The BSD And Quadrix Scores
You might think that those scores are great. But, does the average dividend stock investor get access to those scores?
Here's the good news. There is a free website called Big Safe Dividends.
Register on the site with your email address. Then you can access the BSD scores and Quadrix scores.
The site covers a wide range of stocks. Since each dividend-paying company in the S&P 1500 is included.
Mr. Carlson suggests using the site as a dividend stock screener. Scores range from 0-100 for the BSD and Quadrix ratings.
And he recommends screening for dividend stocks that have a Quadrix score of 75 or more. Also, a BSD score of 80 or more.
What I Liked About The Little Book of Big Dividends
Here is what I liked about The Little Book Of Big Dividends:
Concise and easy to read – it is a little book!
Covers the fundamentals of dividend investing
Takes a conservative approach by not over hyping high yield options
Places emphasis on automatic dividend reinvestment
Has a free screening process using the BSD and Quandrix scores
Emphasizes that dividend yield is a pretty good proxy for investment risk
I believe the last point is an important one. So, I try to stick with dividend stock yields between 3 and 5%.
If a stock's dividend yield goes much above 5%, usually the market is trying to tell us something. That something is usually a higher investment risk.
Where My Views Differ From The Little Book of Big Dividends
Mr. Carlson prefers more global diversification than I do. Also, he likes diversification by market capitalization.
On the other hand, I prefer to stick with large-capitalization, US-based dividend-paying stocks. I get most of my international investment exposure through exchange-traded funds.
The emphasis on direct stock purchase plans and company managed dividend reinvestment plans. These plans do have advantages.
But, they also have drawbacks. Each direct-purchase plan is separately managed with individual statements and tax forms. I much prefer owning my stocks through a broker for consolidated reporting. And consolidated online access.
Today, zero commission trading and free dividend reinvesting through online stock brokers are very common. So, I do not see the advantages of company direct stock purchase plans.
Get Your Copy Of The Little Book Of Big Dividends Free
I borrowed the book from my local library. But The Little Book Of Big Dividends is also available online for free in pdf format.
You can get the pdf version here: The Little Book Of Big Dividends pdf
Further Reading On Dividend Investing Books, Newsletters, & How-To Guides
Author Bio, Disclosure, & Disclaimer: Please join me (Tom) as I try to achieve my goals, find my next place to live, and make the most of my money. But understand, I am not a licensed investment adviser, financial adviser, real estate agent, or tax professional. I'm a 50-something-year-old guy, CPA, retired finance professional, and part-time business school teacher with 40+ years of DIY investing experience. I'm just here because I enjoy sharing my findings and research on important topics. However, nothing published on this site should be considered individual investment advice, financial guidance, or tax counsel. Because this website's only purpose is general information & entertainment. As a result, neither I nor Dividends Diversify can be held liable for any losses suffered by any party because of the information published on this blog. Finally, all written content is the property of Dividends Diversify LLC. Unauthorized publication elsewhere is strictly prohibited.
I hoped you enjoyed this review of The Little Book Of Big Dividends!