Things To Know Before Moving To Connecticut
The pros and cons of living in Connecticut are on today's agenda.
Whether you are in search of the benefits of living in Connecticut. Or, some reasons not to move to Connecticut in the first place.
Either way. We have both of these angles covered.
So, there is no reason to delay. Let's dig into the living in Connecticut pros and cons.
And do so, right away…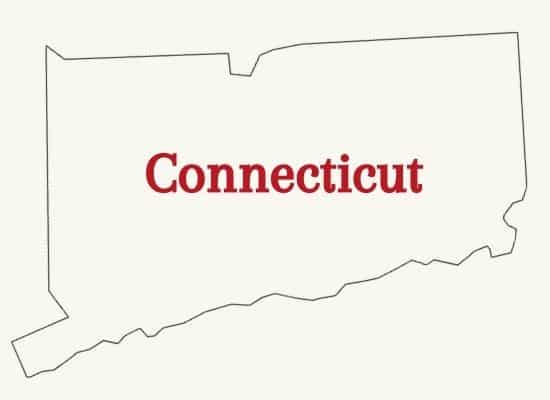 Disclosure: At no cost to you, I may get commissions for purchases made through links in this post.
Pros And Cons Of Living In Connecticut
Our top 10 list of Connecticut pros and cons include:
Multiple lifestyle options
Opportunities for self-development
Lots of natural beauty
Many fun things to do
Easy access to major metro areas
High cost of living
Heavy tax burden
Bad traffic
Tough winter weather
Troublesome trends
I'm going to review each of these advantages and disadvantages of Connecticut living.
But, before I do so. Let's hit on an important question right away…
Is Connecticut A Good Place To Live?
And the answer is? Yes.
This state is a good place to live. But, it won't be for everyone.
Here's why I think that…
Reasons To Move To Connecticut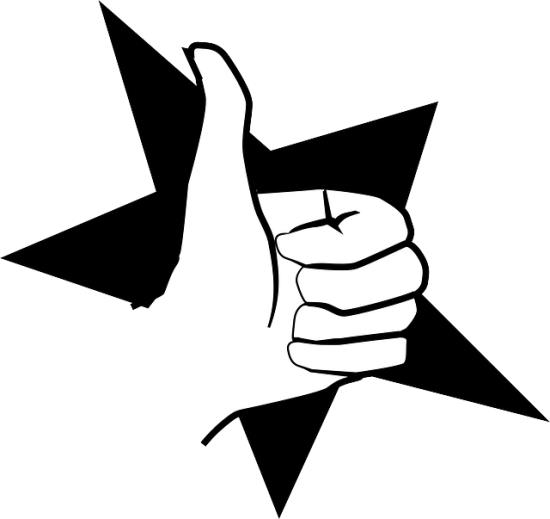 First of all, there are several lifestyle options to choose from. Including rural, small town, urban, or coastal.
Next, the educational system is high quality. Whether you are looking at K-12 for your kids. Or college and university options.
And for those who want to put that education to work. Household incomes are well above the national average.
So you can make a good living in Connecticut. If you choose to.
Furthermore, the state is beautiful.
Making it a great place to pursue outdoor activities. Enjoy the four seasons. Or, just be inspired by the beauty of autumns turning leaves.
Finally, the state is full of history, culture, and entertainment. Has some excellent regional foods. Plus, great local beers and wines. To wash it all down.
And when it's time to get out of state. Two world-class cities are at Connecticut's doorstep.
Sounds great. Doesn't it?
But wait. All is not perfect in this state.
In addition, an article about the pros and cons of living in Connecticut. Would not be complete. Without addressing the other side of the argument.
Here goes…
Reasons Not To Live In Connecticut
Many of the bad things about Connecticut come down to one thing.
What's that? Your money.
Since Connecticut is a great place to live. As long as you have the means to pay for it.
Because homes are expensive. The cost of living is high. And taxes take a large cut out of a family's budget here.
Throw in the cold snowy winters. Heavy traffic for when you are trying to get around.
And you will find, this state is not for everyone. As a result, there has been little to no population growth in the state. Which is never a good sign.
Okay. With those highlights about the Connecticut quality of life taken care of.
It's time to dig into the details. And cover each of the 10 pros and cons of living in Connecticut…
Multiple Lifestyle Options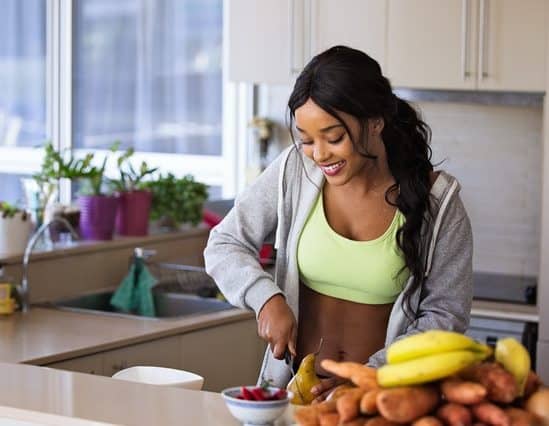 First of all, the land area is divided by the Connecticut River. Running north to south and passing near the capital city of Hartford.
Furthermore, there is yet another way to look at this state. You have Fairfield County in the southwest. And then, there is everyplace else.
Why is knowing the different areas of the state important? Because they play a large role in Connecticut residents' lifestyles.
Providing for multiple living options here. This is what I mean…
Rural Living In Connecticut
First, there are the towns east of the river. They are largely rural and peaceful. Holding most of Connecticut's farms.
If you are interested in a country living in Connecticut option. Be sure to check out the farmland for sale at AcreTrader.
Second, in these rural areas of the state, there is a down-to-earth vibe. Where people perform important work. That is primarily "blue-collar" in nature.
On the other hand, do you desire a little more convenience and activity in your life? Then think about this…
Small Town Living In Connecticut
Connecticut offers many small-towns to choose from. Especially outside of the Fairfield County region.
People here live in smaller, close-knit communities. With easy access to stores, pharmacies, hospitals, and other conveniences.
No matter where you live these things are within reach. Since the state is relatively small.
Overall, these towns are nices places to raise a family. With good schools and low crime rates.
Next, yet another one of the best things about Connecticut living…
Coastal Connecticut Lifestyle
Since the state has miles of pristine shoreline. Directly across from Long Island.
Which creates a barrier. From the rougher waters of the Atlantic Ocean.
There are small coastline towns. New London and Mystic as examples. Offering a rich history of boating. Including the Mystic Seaport Museum.
And larger coastal cities too. Such as Bridgeport, Stamford, and New Haven. Three of the largest cities in the state. With more than 100,000 residents each.
The coast offers many coveted locations for cottages and homes. That range from very modest. To magnificent.
Speaking of city life…
Urban Living In Connecticut
For anyone desiring an intensely urban setting. There is Fairfield County. Partly defined by its proximity to New York City.
First, it has one of the highest per capita incomes in the United States. Since residents tend to be commuters. Earning large salaries based out of NYC.
As a result, the area looks and feels like a wealthy suburb of "The Big Apple". Where money and the city influence much of the culture.
On the other hand, the further you go away from Fairfield County. The more peaceful, rural, down-to-earth, and small-town the state becomes.
Okay now. You have the lay of the land. And the different lifestyle options it offers.
Next, let's see what we can make of ourselves here. Another one of the reasons to live in Connecticut…
Opportunities For Self-Development
Since options to improve one's knowledge, skills, job, and income are available. Starting with schooling…
Education When Living In Connecticut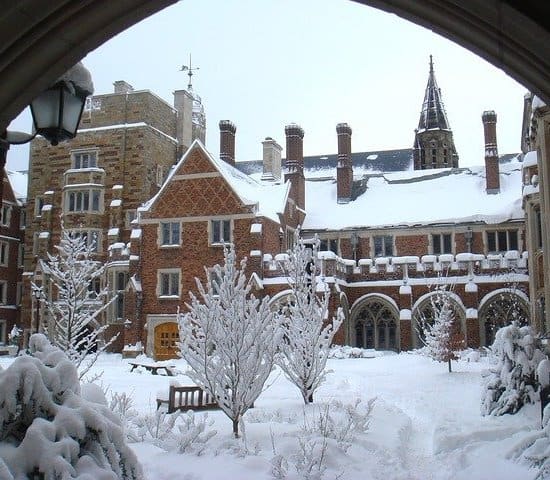 First of all, kids have an opportunity for a good education here. Since U.S. News ranks the state as having one of the best K-12 school systems in the country.
Furthermore, there is no need to go far. To pursue higher education.
Colleges And Universities
Some of the well-regarded and prominent colleges and universities in the state include:
Capital Community College
Central Connecticut State University
Connecticut College
Gateway Community College
Quinnipiac University
Sacred Heart University
Southern Connecticut State University
Trinity College
University of Hartford
UConn (University of Connecticut)
University of New Haven
University of St. Joseph
Western Connecticut State University
Yale University
The list goes on. But, more importantly, some key points about higher education in the state include…
First, there is a very good community college system. Great for anyone looking to stay close to home. And save a little money getting started on that degree.
Furthermore, the University of Connecticut is the state's flagship university system. Known as UConn for short.
The main campus is located near Hartford. With several satellite campuses located in other cities.
And we must not forget prestigious Yale University. Even if you do not attend there. You can discover amazing architecture. While strolling through the scenic campus. Becoming absorbed in its 300 plus years of history.
What does it all mean? If you like being around well-educated people. You may like life in Connecticut.
Next, another one of the perks of living in Connecticut…
Employment And Income
Since residents can put that hard-earned education to work. In a good job market. Comprised of top-notch employers.
Major industries in the state include:
Aerospace and defense
Bioscience and health care
Consumer goods
Media
Financial services
Insurance
Also, more than a dozen Fortune 500 companies are headquartered here. With so many more small to mid-size businesses. Contributing to the robust employment picture here.
As a result, the state has among the highest average household incomes. Compared to all states in the country.
Also, Connecticut is a state with one of the highest ratios. Of millionaire households per capita.
So, you can see some folks have big money in this state. And a little later you will find why they need it.
But for now. We have explored Connecticut's lifestyle options. And know there are plenty of good places to work.
So, it's time to unwind. And the good news?
There are plenty of cool things about Connecticut. To help you relax and have a good time…
Lots Of Natural Beauty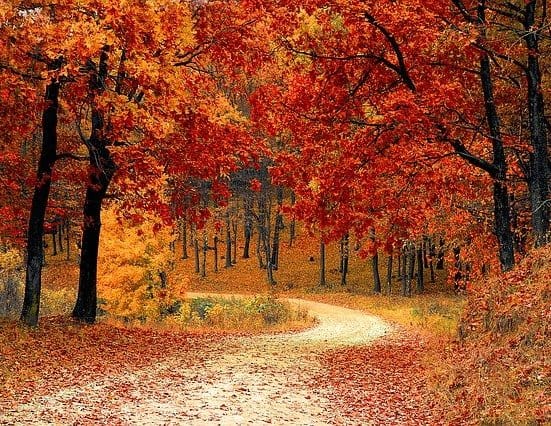 First, there is the scenic landscape here. It can transport magically. From working hard. To hardly working!
You will find that much of the state is hilly. With rolling, quiet, winding roads. Also, thick woods and lush forests.
That extends from the Long Island Sound shoreline. Climbing to scenic mountain ranges.
Thus, residents are spoiled for choice. Making it a great state for those who love the outdoors.
And adding to the variety. Is the ever-changing weather…
Four Season Living In Connecticut
Since the state experiences all kinds of weather patterns. Marked by the four seasons.
In the winter, temperatures are cold and snowfall is frequent. Blanketing the state in white.
The spring brings a welcome thaw. Accompanied by many cool, rainy days. Allowing the forests and some of the finest flowering blossoms to come to life.
The summers are warm. Delivering brief periods of high heat and humidity. Perfect for heading to your closest beach on the shore.
But the autumn season is the best of all. When crisp temperatures fill the air.
And the turning leaves. Put on an amazing fall color display. Unmatched by almost any other state in the nation.
So, all this natural beauty may inspire you into action. Another one of the good things about Connecticut…
Outdoor Activities
Since residents know how to enjoy the outdoors here. For example, there is…
Biking
Boating
Fishing
Hiking
Hunting
Ice skating
Skiing
Sledding
Swimming
Just to name a few of the options.
And here are a few things to note. About the best outdoor activities…
Beaches And Water
First of all, from almost anywhere in the state. You are less than 100 miles away from the coast.
There are numerous options for exploring. Including…
Calf Pasture Beach – Norwalk
Hammonasset Beach State Park – Madison
Ocean Beach Park – New London
Rocky Neck State Park – East Lyme
Silver Sands State Park – Milford
Besides the parks, most towns on the coast will have waterfront access. Making for a nice environment to relax. On summer evenings.
For more fun on and around the water. There is the ferry system. It is something you should experience. As you consider the moving to Connecticut pros and cons.
You can jump on the Bridgeport-Port Jefferson Ferry. Taking you on a picturesque journey to Long Island.
Or enjoy a different type of experience. Ferrying across the Connecticut River. With one route between Rocky Hill and Glastonbury. Or, the other between Chester and Hadlyme.
State Parks And Hiking
Next, do you need your feet on solid ground? Then Connecticut is a great place for hiking.
Including a stretch of the Appalachian Trail. Located in the northwest corner of the state.
A few good places to consider for you hikers in the crowd include:
Bigelow Hollow State Park – Union
Kent Falls State Park – Kent
Macedonia Brook State Park – Kent
Mount Tom State Park -Litchfield
Sleeping Giant State Park – Hamden
This is just a sampling. There are dozens more to visit and explore.
Winter Sports When Living In Connecticut
Finally, when the snow flies. Get your fill of winter sports activities. Such as skiing.
Great places to check out include Mohawk Mountain or Powder Ridge Mountain Park and Resort. Just to name a couple.
Even better since Connecticut life means you are close to upstate New York. In addition to Vermont and New Hampshire. All of which offer more skiing and winter sports options.
Now, if the outdoors aren't your thing. I understand.
Not to worry. Because there are other ways to stay entertained.
It is another one of the advantages of living in Connecticut…
Many Fun Things To Do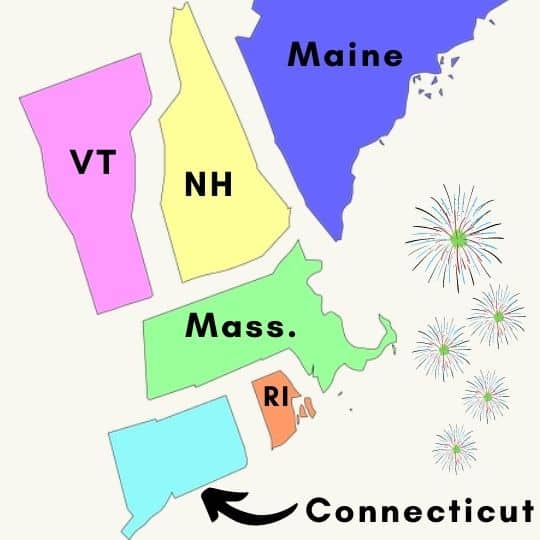 Culture, entertainment, history. You name it. And you can probably find it in Connecticut.
Culture And Entertainment
First, the state has some excellent museums and art galleries. To inspire your cultural side.
Some to consider as you venture about the state include…
Connecticut Science Center
Mashantucket Pequot Museum and Research Center
Mystic Aquarium
Yale Peabody Museum of Natural History
Yale University Art Gallery
And speaking of art, each spring different artist collectives do open studios across the state. Furthermore, there is the Connecticut Art Trail. A collection of excellent museums and historic sites.
Furthermore, the state has a vibrant live music scene too. From arenas with thousands of seats. To elegantly appointed concert halls. Or, bars and cozy clubs.
Whatever suits you. The state has a music venue to meet your taste. Be sure to consider:
College Street Music Hall – New Haven
Sidedoor Jazz Club – Old Lyme
Being a couple of popular choices. For smaller, more intimate musical experiences.
Next, I don't know about you. But all of this talk of outdoor fun. Has made me a little hungry.
And what's great about that?
Being able to satisfy your taste buds. Is another one of the pros of living in Connecticut…
Good Food And Drink
For happy hour, you have many options. There are many local pubs and microbreweries. Serving your favorite cocktail and fresh craft beers. So popular throughout the state.
Need to find your next favorite bottle? Be sure to try the Connecticut Wine Trail.
It includes more than 20 different wineries. From Stonington to Litchfield Hills to Goshen. It is a wine lover's dream.
Ready for something to eat? Good. Because this state has some great comfort food.
You must know that Connecticut claims to be the birthplace of the hamburger. What's more, you can still go to the Louis' Lunch sandwich shop in New Haven.
And try the original burger. But beware. Since it is served on toast!
Then, some locals will tell you that Italian is the best food choice here. Stemming from Italian immigrants that know how to make a good pizza. Among other things.
Be sure to try "apizza". A New Haven-style pie. Featuring a hotter, crispier, charred descendant of the Neapolitan style.
Finally, thanks to the coastline. This state has an abundance of incredibly fresh seafood.
So, be sure to be on the lookout for oysters, clams, and raw bars. To get your seafood fix.
Last but not least. Another one of the positives of living in Connecticut.
Easy Access To Major Metro Areas
Since we all need to get away from time to time. You will find that Connecticut is perfectly positioned. To get you on your way.
New York City And Boston
Because of its proximity to two major metropolitan areas.
For example, from the state's capital city, Hartford. Located in the center of the state.
New York City is just 125 miles away. To the southwest.
While you can cross into the state of Massachusetts. To visit Boston which is just 100 miles away. To the northeast.
So, you can enjoy small-town living in Connecticut. But also venture to either one of these great cities. When you feel the need for the big-city vibe.
This also opens up the doors to additional work and career opportunities. Within commuting distance. But outside of the expensive city limits.
Private And Public Transportation
Finally, the transportation network is pretty good. With a decent rail system compared to many U.S. locations.
As well as the interstate highways I-95, I-84 I-91, and I-395. That pass through Connecticut in just about every direction you might need to go.
While Amtrak is great for inter-city journeys too. And for reaching airports like JFK and LaGuardia.
Okay. That completes the list of great things about Connecticut.
On the other hand, this article about the pros and cons of living in Connecticut would not be complete. Without addressing the bad things about Connecticut.
Let's do that now…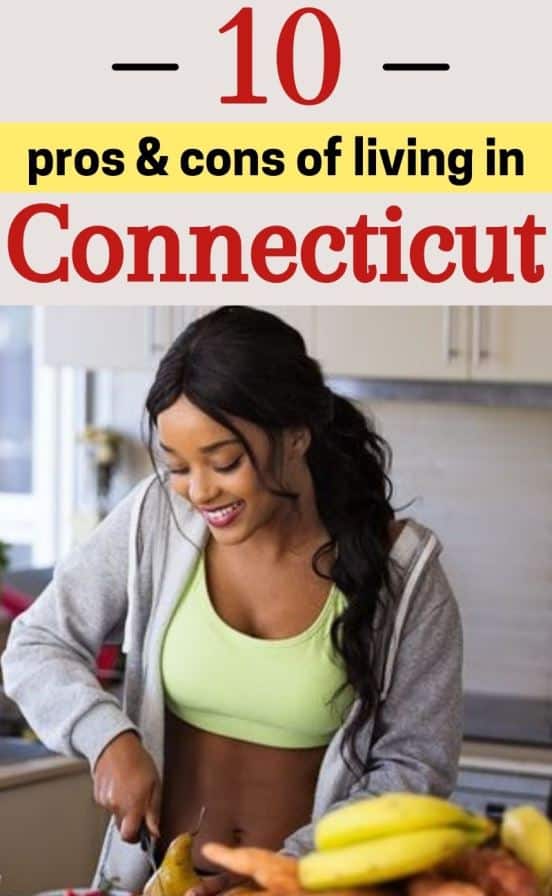 High Cost Of Living
You should take a close look at your finances and budget. As part of thinking through the pros and cons of moving to Connecticut.
Since the region consistently ranks as an expensive state to live in. Compared to other areas of the United States.
And some of the most expensive places are in Fairfield County. Specifically, Stamford.
Since it is just over the state border. From the New York City metropolitan area.
On the other hand, settle down in the more rural areas. And your costs will be lower.
But, to give you an idea. Let's look at the average cost of living in Connecticut. Courtesy of BestPlaces.net.
First of all, the median home value is about 9% higher. Compared to the national average.
Groceries, utilities, and transportation all cost more too. Ranging anywhere between 5% to 20% more. Versus averages across the country.
So, if you can afford to live here. Then you know there are plenty of advantages to enjoy.
On the other hand, fewer people are finding it possible to do so. Because of high Connecticut living costs.
Ways To Save Money Living In Connecticut (or anywhere)
If you are like most people. Shaving some dollars out of your budget. Without compromising your lifestyle is an important goal.
A few dollars here or there won't make the difference. Between affording a Connecticut lifestyle. Or not.
But let's face it. Every dollar counts. No matter which state you live in.
So, here are a few suggestions. To make the most of your money.
Ready to buy a new home? Or get an apartment in Connecticut?
Then make sure your credit score is in good shape. Check it for free using Credit Karma. Then get busy improving it.
Also, shop for mortgage rates online. To get the best deal on a Connecticut home price. Do so by using Lending Tree.
Furthermore, I get cashback on all my online purchases. Including the stuff that I buy on Amazon. By using the Rakuten cash rebate app.
And for trips to the grocery store. Consider Ibotta.
It is my cashback app of choice. To save on groceries using Ibotta.
Saving money is important. But, there is more to it.
So, manage your total financial picture for free. Using Personal Capital. It's a great online budgeting and money management tool.
Best of all, these tools are free to sign up and use. For saving money. And better managing your money. No matter where you choose to live.
Next, another one of the living in Connecticut pros and cons. And I'm not done with your finances…
Heavy Tax Burden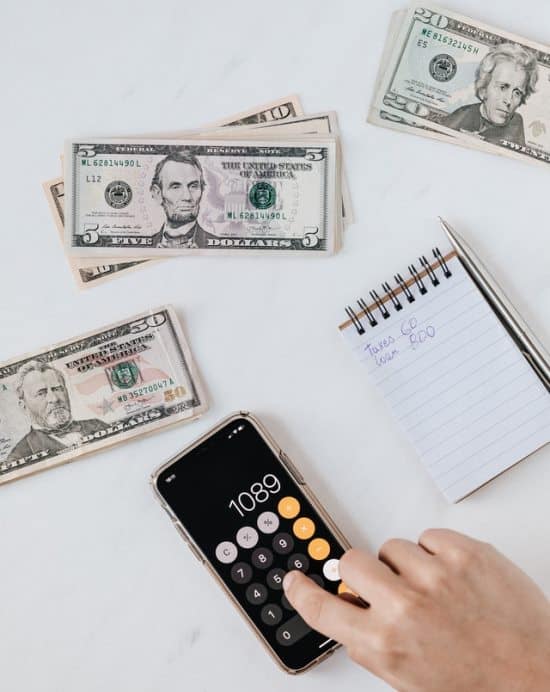 Because Connecticut residents pay a lot of money in taxes. And they come from all different directions.
Income Taxes
First of all, Connecticut has one of the highest income tax rates in the country. Since the top tax rate goes all the way up to nearly 7%.
It is a progressive tax system. Meaning the more you make. The higher your tax rate.
So, on one hand, most residents won't pay the highest rate.
On the other hand, an average tax rate of 5-6% is common.
Your rate will depend on your specific tax situation. Mainly, how much money you make.
Compare this to New Hampshire, another New England state. Where no taxes are charged on earned income.
Property Taxes
Next, the state has one of the highest property tax rates in the country. One of only a handful of states where the average rate is higher than 2%.
The rate is applied to the value of your property. Which makes the high rate even worse. Since it is applied to the state's high real estate values.
Every state has property taxes. But Connecticut's appear excessive to me.
Sales Taxes
There are no breaks on your purchases either. When it comes to sales taxes.
Since the state's average sales tax rate is high. Exceeding 6%.
On the other nad, you could move down the east coast to Delaware. And not pay a penny in sales tax.
The same goes for New Hampshire. A very tax-friendly state.
Gasoline Taxes
Finally, you will pay at the pump too. Since the state adds on a hefty per gallon gas tax.
It's not one of the highest rates in the country. More like in the middle of the pack. But hey, all of these taxes add up. By taking a big chunk out of your disposable income.
Okay. At last. I'm done with your money.
But, I'm not done with all the worst things about living in Connecticut…
Bad Traffic
By land area, Connecticut is one of the smallest states. Yet, it has a large population.
Making it one of the most densely populated states in the country.
So, despite having an impressive rail and interstate highway network. Having all the people in a small area. Make it common to get stuck in traffic jams during peak travel hours.
And being located between NYC and Boston doesn't help matters. As people come and go for work and pleasure. And do so at a very high rate.
All of which can test your patience. And so can the next one of our disadvantages of living in Connecticut…
Tough Winter Weather
The winters in Connecticut can get extremely cold. Residents also have a lot of snow to deal with.
Making the traffic congestion all that much worse. When the roads are slippery.
For example, high temperatures in Hartford do not hit 20 degrees. During the coldest months.
And several feet of snow can fall. Especially in the northern parts of the state.
Finally, I another one of the downsides to Connecticut living. Then I will wrap up. I promise.
Troublesome Trends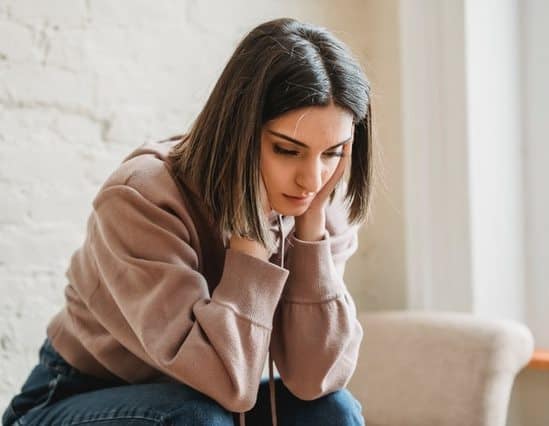 There are a few other negative points about Connecticut. That you should know before moving here.
First of all, most of the rural areas have little crime. That's good.
But, some of the cities struggle with higher crime rates.
It varies from place to place. So, it's important to do your homework. Depending on where you choose to live.
Then there is wealth inequality. On one hand, Connecticut is a rich state. But, it also has areas that are some of the poorest in the nation.
Next, the state's governance is questionable.
I say this because taxes are very high. But, from a financial standpoint, Connecticut has one of the worst financial situations in the country.
Finally, according to the last 10-year census. The state's population has barely changed. While almost every other state in the nation grew.
This tells me that people are leaving. And that is never a good sign. When people cast their vote. By moving out.
What does it mean? Well, a high cost of living, heavy taxes, and cold winters. Aren't a good combination.
For people who have choices. And especially for anyone considering retirement in Connecticut.
Enough said! So, allow me to wrap up with a summary…
Pros And Cons Of Living In Connecticut
Here are my top pros and cons of Connecticut life…
Multiple lifestyle options
Opportunities for self-development
Lots of natural beauty
Many fun things to do
Easy access to major metro areas
High cost of living
Heavy tax burden
Bad traffic
Tough winter weather
Troublesome trends
Hopefully, this discussion has helped you answer some important questions. Such as…
1) Is Connecticut a good state to live in?
and
2) Why should I move to Connecticut?
So, that's all for today.
Most importantly, good luck with your decision. No matter where you decide to settle down.
More Reading About Living In Connecticut And Beyond
Financial Resources For Connecticut Living (or anywhere)
We now know Connecticut is an expensive place to live.
Regardless, manage your money better. And save where you can. Since it all adds up!
Here are my favorite tools. For doing just that…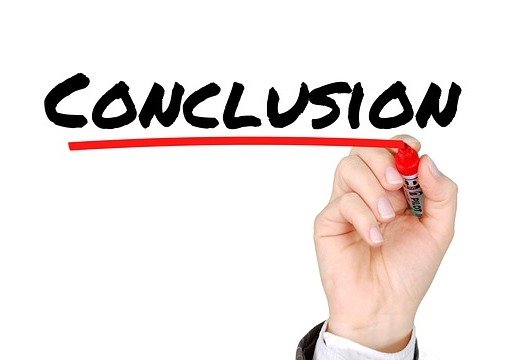 Disclosure & Disclaimer: I am not a licensed investment adviser, financial adviser, or tax professional. And I am not providing you with individual investment advice, financial guidance, or tax counsel. Furthermore, this website's only purpose is information & entertainment. And we are not liable for any losses suffered by any party because of information published on this blog.
The Pros And Cons Of Living In Connecticut Explained