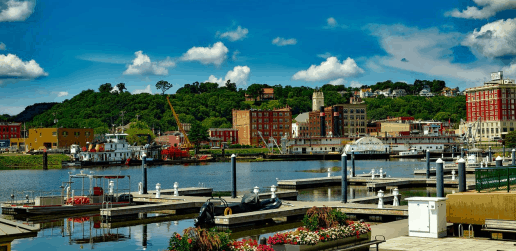 Are you looking for the most affordable states to live in?
Perhaps you want to save money, be financially independent, or retire early? Maybe you just want to manage your money better? Then, where you live can make a significant difference.
Every state has something unique to offer, especially when it comes to your budget. So, it is important to take a look at some big-hitting expenses. These costs can really take a bite out of your cash flow when considering where to live.
Large Budget Categories For Most Of Us
For most families, the following expenses take the greatest share of our money:
It just makes sense that these represent the largest expenses for most of us. We all need a place to live, food to eat and a means to get where we need to go. Managing these expenses well will limit your financial risks.
Don't Forget Health Care Costs
Health care costs are another area to check into. But health care impacts some of us more than others.
Are you in your 20's and ready to strike out on your own? Well, health care costs are probably not a big deal.
On the other hand, as we get older, health care costs become a bigger concern.
And Last But Not Least: Taxes
But, I also want to throw in income taxes to this discussion. Don't forget to consider tax-friendly states. And, I will have a little more on a few of those states in a moment.
So, if you are looking to make a move to somewhere with a lower cost of living? Then, any of the following states are viable contenders.
Let's take a closer look at several of the most affordable states to live in for the year 2020. Keeping your living costs in check will help you avoid common money problems in the future.
Most Affordable States To Live In: Texas
They say everything is bigger and better in Texas, and it's the truth. But did you know that Texas is also one of the cheapest states to live in?
Texas is a land of opportunity with a strong foundation for entrepreneurial exploration and growth. It also boasts a relatively low cost of living, with the main metropolitan areas– Austin, Dallas, and Houston– being more affordable than similar cities throughout the country.
In addition to one of the lowest costs of living in the U.S. and high earning potential, Texas is a deregulated state with progressive energy options. With strong green initiatives, you can save money while saving the environment: click here to learn about free green energy.
Most Affordable States To Live In: Iowa
Iowa is an overlooked state that's often stereotyped for being all farming. However, this affordable state is one of the cheapest places to live in America. And also has some of the best options for healthcare and education in the country.
The capital is Des Moines. And Des Moines is rated as one of the top five cities to live in across America. The city gets high marks for having an excellent median home value to median income ratio as compared to similar-sized cities.
Utilities are on par with the national average. But, housing costs are significantly cheaper.
The median housing cost in the USA is around $230,000. However, in Iowa, it's only $141,000.
Do you work in the education or healthcare industries? Then, consider Iowa as a great place to make a living without paying extremely high rent and transportation costs.
Most Affordable States To Live In: Kansas
There's no place like home, especially if your home is in Kansas. This state makes the list for most affordable places to live every year.
It's known for its low housing and transportation costs. Also, grocery costs are significantly lower than the national average. These features make it one of the cheapest places to live in the USA.
While Kansas isn't as entrepreneur-friendly as other states, it offers a few industries with robust employment opportunities. Kansas has growing healthcare, manufacturing, and agriculture industries that frequently have openings available for skilled workers.
Most Affordable States To Live In: Arkansas
Arkansas boasts the second-lowest-cost of living in the U.S.  Housing, transportation, groceries, utilities, and healthcare all fall below the national average, with transportation being significantly so. The low cost of living makes it an attractive option for those who make minimum wage.
One of the other perks of living in Arkansas is that healthy food is extremely affordable when compared with other states. Those living on a shoestring budget will be able to eat well and don't have to worry about sacrificing their health due to monetary limitations.
Most Affordable States To Live In: Oklahoma
Oklahoma is one of the best states to live in for the cost of living. It has both a low cost of living and a low unemployment rate, making it an affordable option for 2020. Housing costs are only 75% of the national average, and the job market is diverse for both skilled and unskilled laborers.
Not only does Oklahoma have a bustling economy, but there are also a lot of undeveloped areas. So, while living in Oklahoma, you have the option to buy an extremely affordable house that comes with plenty of extra land.
Most Affordable States To Live In: Missouri
Missouri is another state with extremely affordable housing rated at about 70% of the national average making it one of the cheapest areas to live. While the cost of groceries and utilities are on par with the rest of the country, the saving opportunities are tremendous.
Missouri also offers a rich job market in specialty areas like biotech, as well as plenty of opportunities in retail and service. St. Louis is ranked as one of the best American cities to live in as a result of its affordability and vibrant culture.
Most Affordable States To Live In: Tennessee
Tennessee is one of the best states to live in for cost of living. It is 11% lower than the national average.   And, employment opportunities are plentiful.  Tennessee boasts an unemployment rate lower than the national average. And, plenty of land for recreation or business use.
And let's not forget about another cost of living factor: taxes! Sometimes people overlook taxes when looking for an affordable place to live. And Tennessee checks in as a very tax-friendly state.
Tennessee has no tax on earned income. And, property taxes are very low.
There is a quirky tax on dividends and interest. It is called the Hall tax.
But here's the good news. The Hall tax is being phased out. And, it will be completely repealed starting in 2021.
Some Other Tax-Friendly States
Tennessee will join seven other states that do not impose an income tax. The other states are:
Alaska
Florida
Nevada
South Dakota
Texas
Washington
Wyoming
New Hampshire doesn't tax earned income either. But they have their version of Tennessee's Hall tax. It taxes investment income, in the form of interest and dividends at 5%.
As you might imagine, we are not big fans of special taxes on dividends here at Dividends Diversify!
Finally, take it from me. I live in a high tax county in a high tax state.
The tax burden is driving people away.  And that is putting downward pressure on our home values.  And a bigger tax burden on those of us who choose to stay or have to stay. So don't forget about taxes when looking for the least expensive state to live in.
Most Affordable States: Summary and Wrap Up
There are many affordable states in which to live, work, and play during 2020. Find the state that meets your needs and set off on a new adventure. Be sure to consider these states for their lower costs of living:
Texas
Iowa
Kansas
Arkansas
Oklahoma
Missouri
Tennessee
It is interesting to note that states on the East and West Coast are not represented.
And don't forget to consider tax-friendly states such as:
Alaska
Florida
Nevada
South Dakota
Texas
Washington
Wyoming
Finally, it looks like Texas is the big winner making both my cost-friendly and tax-friendly lists. It ranks very high as one of the cheapest states to live in.