Cheap Vacations!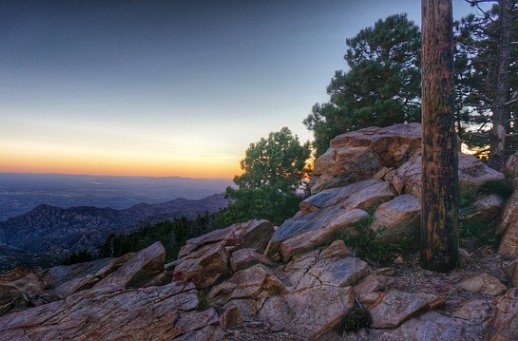 This past summer, Mrs. DD and I took a vacation. We went to Fort Collins, Colorado for 10 days and had a great time.
First of all, it was one of my favorite cheap vacations that we have taken over the years. There is a lot to do in Fort Collins. A 30-minute drive out of town puts you in the Western range of the Rocky Mountains. And the town is home to Colorado State University (CSU), about 30 microbreweries and several distilleries. It has a great downtown area and provides a good mix of different recreational activities.
Even though I don't write about saving money a lot, I'm a little on the frugal side. So I like cheap vacations. But I love getting away from the routines of our day to day lives. And seeing a different part of the country. So I thought I would put together a few of our personal tips on how to take cheap vacations.
CHEAP VACATIONS – MAKE IT A ROAD TRIP
Fort Collins is a little less than 1,000 miles from where we live. So we decided to drive. This saves money in 2 ways. First of all, we didn't have to purchase airline tickets. Furthermore, we didn't need to rent a car once we arrived.
Of course, we had to pay for gas on the trip. In addition to wear and tear on my car. Of course, I drive a 9-year-old Toyota Camry with 140,000 miles on it. I'm pretty sure it had the same value as before we left. Most noteworthy, these road trip costs were minimal compared to airline fares and rental cars. So we saved a bunch of money right there.
The disadvantage is it took a little more time to drive than fly. Versus flying and renting a car, it cost us an extra half day going out and then coming home. As the saying goes, there is no such thing as a free lunch.
CHEAP VACATIONS – RENT A PLACE WITH A FULL KITCHEN
We rented an apartment for our stay. It was right across from the CSU campus and about a mile from downtown Fort Collins. Above all, it had a fully equipped kitchen. Here it is: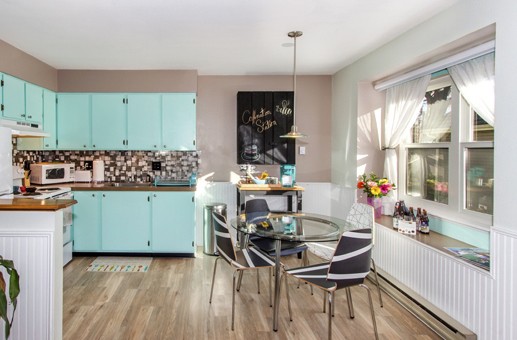 Mrs. DD and I like to eat in restaurants on occasion. However, we get tired of eating out. For that reason, we like to stay in a place that has a kitchen.
We relax in the morning and have breakfast before we head out for the day. In addition, we usually pack a lunch and throw it in a backpack depending on what our chosen activity is for that day. Finally, we will throw a few dinners together in the kitchen rather than going out to eat every night.
During our trip, we only ate in a restaurant 3 times. In addition, we went to the weekly food truck rally at one of the Fort Collins city parks. It was a lot of fun. Families, college kids and all kinds of people were there. There were about 20 food trucks lined up in the park and the food was great. They had a good band playing and a puppet show for the kids. The first part of the puppet show was hilarious.
So that's four restaurant meals over 10 days. Otherwise, our food cost was no different than being at home.
CHEAP VACATIONS – RECREATION DOESN'T HAVE TO BE EXPENSIVE
Mrs. DD and I love day hiking in the mountains. That is what we did on four of our days. One of those days was in a state park which cost $7. Otherwise, the hiking was free and we packed lunch for those days. Great exercise, beautiful scenery and lots of fresh air. We saw a lot of bear poop. And this area does have rattlesnakes, but fortunately, we didn't encounter one. I don't like snakes.
Here's your author ready to wrestle a bear and looking out for snakes on the top of a mountain.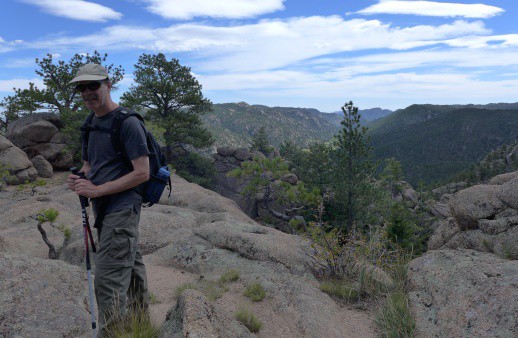 On our other days, we explored the town, walked the beautiful CSU campus and went to the Tour de Fat bicycle parade on our last day. There were hundreds of people riding bikes in costumes. It was wild and a lot of fun.
I like people watching and there were plenty of people to watch. It was a circus-like atmosphere. And I wasn't the only clown! For example, here's a man with a pink wig pulling his stereo system behind his bike.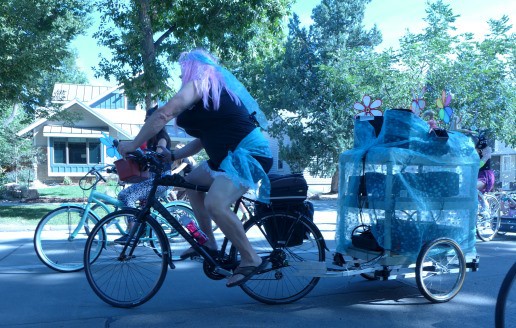 CHEAP VACATIONS – WRAPPING IT UP
There you have 3 ways to save on your upcoming cheap vacations.
Drive to your destination

Stay in a place where you have access to a kitchen

Choose fun but inexpensive recreational activities
How do you save money on vacation?
BE SURE TO SUBSCRIBE
As part of your subscription to Dividends Diversify, you will get 20 wealth building and investment tips free! In addition, never miss a new post. I will send a weekly email to all subscribers with a link to the current weeks new content. Finally, thanks for visiting.
PINTEREST
Are you a Pinterest user? Then be sure to follow Dividends Diversify on Pinterest by clicking this link: Pinterest Home Page. Then click the red follow button. And thanks for following!